Tech Salary Guide for 2014
If you work in the tech industry, the good news is that overall salaries are up year-over-year. But you're probably thinking, 'Fine, but what does that mean to me?' If you want to see where you fit, this IT salary guide covers every tech job from CIO to help desk professionals.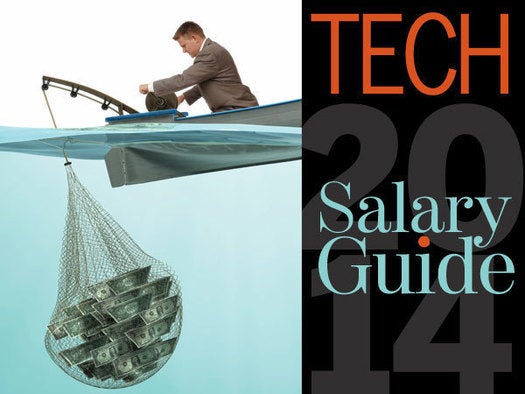 How much are you getting paid? Let's hope you're in the ballpark of your peers. Robert Half Technology has come out with tech salaries for 2014. The good news is that salaries are up across the board from last year. The following slides list just about every tech position and its salary range in the United States. (Of course, salaries vary depending on location.) You can check out Robert Half Technology's full report here.
IT Management
CIO: $153,000 - $246,750 (+ 5.1%)
CTO: $132,250 - $205,750 (+5.3%)
CSO: $126,750 - $189,750 (+5.9%)
VP of IT: $134,750 - $196,750 (+5.5%)
IT Manager: $99,000 - $142,250 (+5.3%)
Project Management and Analysts
Project Manager: $88,500 - $131,500 (+ 6.0%)
Manager: $100,500 - $142,250 (+5.4%)
Systems Analyst: $76,250 - $108,750 (+5.1%)
Business Systems Analyst: $75,500 - $109,750 (+6.3%)
CRM Business Analyst: $80,000 - $109,000 (+5.3%)
ERP Business Analyst: $83,750 - $115,250 (+5.6%)
ERP Technical/Functional Analyst: $90,000 - $125,000 (+5.7%)
Developer/Programmer Analyst: $69,250 - $122,750 (+7.1%)
Application Development
Mobile App Developer: $100,000 - $144,000 (+ 7.8%)
Applications Architect: $109,750 - $148,750 (+5.8%)
CRM Technical Developer: $89,500 - $119,750 (+6.6%)
ERP Technical Developer: $94,250 - $130,250 (+6.8%)
Database Developer: $92,000 - $134,500 (+6.5%)
Lead Applications Developer: $99,750 - $137,750 (+6.0%)
Technical Writer: $53,000 - $83,500 (+3.2%)
Consulting & Systems Integration
Director, Consulting/Systems Integration: $113,750 - $169,500 (+ 6.0%)
Practice Manager: $113,500 - $155,750 (+6.3%)
Project Manager/Senior Consultant: $94,500 - $135,500 (+6.1%)
Staff Consultant: $73,750 - $102,750 (+6.5%)
Senior IT Auditor: $106,750 - $146,750 (+6.4%)
IT Auditor: $91,500 - $127,000 (+6.1%)
Data and Database Administration
Data Architect: $111,750 - $153,750 (+ 7.2%)
Database Manager: $107,750 - $149,000 (+5.9%)
Database Admin: $87,500 - $126,000 (+5.4%)
Data Analyst/Report Writer: $67,750 - $101,00 (+5.3%)
Data Modeler: $97,250 - $134,250 (+5.8%)
Data Warehouse Manager: $115,250 - $154,250 (+5.9%)
Data Warehouse Analyst: $99,000 - $133,750 (+5.8%)
Business Intelligence Analyst: $101,250 - $142,250 (+7.4%)
Portal Admin: $91,250 - $121,000 (+5.6%)
Quality Assurance and Testing
Quality Assurance/Testing Manager: $87,500 - $116,750 (+ 5.1%)
QA Associate/Analyst: $60,250 - $93,500 (+4.9%)
Internet and Ecommerce
Sr. Web Developer: $97,750 - $135,250 (+ 6.3%)
Web Developer: $70,000 -$113,500 (+6.5%)
Web Admin: $63,500 - $95,750 (+3.2%)
Web Designer: $60,250 - $99,000 (+5.8%)
EDI Specialist: $72,250 - $102,250 (+5.4%)
E-Commerce Analyst: $79,500 - $114,750 (+6.0%)
Messaging Admin: $68,500 - $99,750 (+5.0%)
Networking and Telecommunications
Wireless Network Engineer: $91,500 - $125,250 (+ 7.0%)
Network Architect: $109,250 - $156,500 (+6.8%)
Network Manager: $94,000 - $130,00 (+6.2%)
Network Engineer: $86,250 - $124,250 (+6.9%)
Network Admin: $66,750 - $99,500 (+6.6%)
Pre-Sales Engineer/Technical Engineer: $82,740 - $116,750 (8.4%)
Telecommunications Manager: $82,250 - $111,750 (+4.7%)
Telecommunications Specialist: $56,500 - $85,750 (+4.6%)
Operations
Operations Manager: $64,250 - $89,250 (+ 2.8%)
Computer Operator: $33,750 - $46,500 (+2.8%)
Mainframe Systems Programmer: $59,000 - $82,000 (+2.5%)
Security
Information Systems Security Manager: $115,250 - $160,000 (+ 6.8%)
Data Security Analyst: $100,500 - $137,250 (+5.8%)
Systems Security Admin: $95,250 - $131,500 (+6.3%)
Network Security Admin: $95,000 - $130,750 (+5.9%)
Network Security Engineer: $99,750 - $131,250 (+6.6%)
Software Development
Software Developer: $80,250 - $127,250 (+ 7.7%)
Product Manager: $99,250 - $136,000 (+4.1%)
Software Engineer: $89,750 - $137,250 (+7.5%)
Help Desk and Technical Support
Help Desk Tier 3: $53,000 - $68,500 (+ 5.7%)
Help Desk Tier 2: $42,000 - $54,500 (+4.9%)
Help Desk Tier 1: $33,000 - $44,250 (+4.0%)
Manager: $76,500 - $109,000 (+5.1%)
Desktop Support Analyst: $49,750 - $73,000 (+3.2%)
Systems Admin: $62,250 - $96,500 (+4.4%)
Systems Engineer: $76,750 - $111,250 (+3.6%)
Instructor/Trainer: $52,250 - $83,000 (+4.45)
PC Technician: $32,250 - $47,500 (+3.2%)
Business Continuity Analyst: $87,750 - $125,000 (+5.5%)
Next Up: Check out these related slideshows