10 things we like about Ubuntu Linux 12.04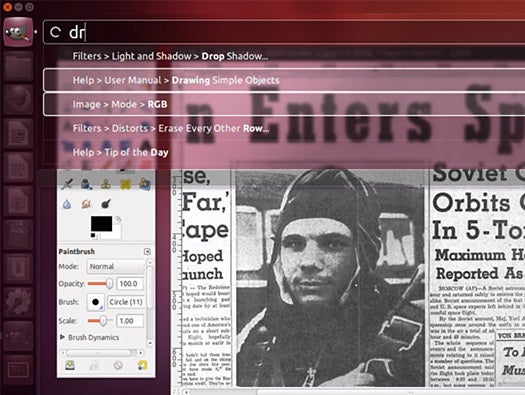 Head-Up Display (HUD)
HUD provides an alternative to menu-based navigation. With HUD, instead of clicking on menu items, you tap the alt key to bring up the HUD and start typing what you want to do. Reminds us of the autofill feature found on most search engines.
Video Lens
Video Lens makes it easy to find videos. Just click on the icon on the dashboard and enter a search term. Video Lens searches your computer, YouTube, etc., to deliver a list of matching content.
App store
The new Ubuntu Software Centre takes a page from Apple and provides instant access to thousands of apps. You can see the top-rated apps, compare apps by rating and user reviews, keep track of what you've installed, and sync apps between all your Ubuntu computers.
5-years of support
In a bid to increase its appeal to the enterprise, Ubuntu is now offering five years of support on both desktop and server versions of its software.
MaaS appeal
The new MaaS feature (machine-as-a-service) allows you to distribute multiple server instances into your own private cloud with comparative ease.
Easy third-party updates for media playback
Ubuntu allows you to get at least a handful of updates, and allowed us to install the Fraunhofer IIS and Technicolor codes needed to play back MP3s and videos.
International language and keyboard support
Ubuntu 12.04 is truly international in language and keyboard support. Imagine: left and right handed Dvorak keyboards, with variations. Although much of the underlying elements are in U.S. English, language support is truly outstanding in this release.
Encryption options
You're encrypted -- at least the administrator's home folders, and more can be added. Encryption is installed by default if you select it.
Strong password protection
Ubuntu also is a slave driver for tough passwords. Imagine that our usually strong passwords were judged to be just "fair."
Manage updates with Landscape
Clearly Canonical believes in updates. Instead of making any cut of 12.04 LTS ready to go, all of them needed updates. That's where Landscape comes in, offering sophisticated update and management control.
Copyright © 2012 IDG Communications, Inc.
Next Up: Check out these related slideshows