Geekiest Peeps scenes: Easter candy like you've never seen it
Star Wars, video games and more get Peeps makeovers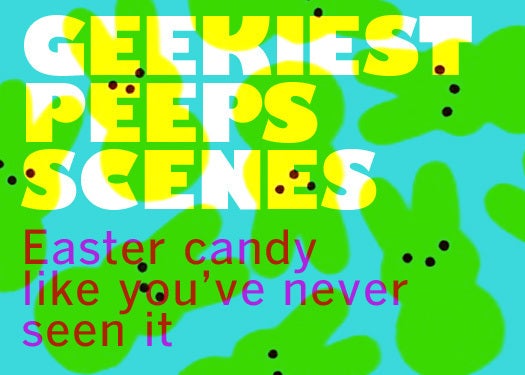 Peeps, the marshmallowy soft yet slightly crunchy delicacy that emerges in time for Easter each year, might seem too delicious to use as props in art displays. But we can make exceptions when the displays are geeky enough, which these certainly are. The maker of Peeps encourages such displays, partnering with news and other organizations to run contests to collect the best.
Super Mario Peeps
This masterpiece appeared in the Washington Post's annual Peeps Show competition in 2010. Clearly the work of a longtime fan of Mario, Luigi and friends/enemies from Super Mario Bros. games.
Battlestar Galactica Cylons
The dreaded Cylons live on in this Peeps diorama of a rebirthing tank.
Steve Jobs presents the iPeep Nano
Apple's late co-founder shows off "the iPeep Nano in Peep Chromatic colors."
Potter Peeps
Blogger Julie Halpern in 2010 wrote "During my year off, I intend to subject my family to a visit to the new Harry Potter World at Universal Studios. I am afraid they will leave me from sheer embarrassment after I implode from excitement. Need I remind you of my Weasley Family Peeps Diorama?"
D&D & Peeps
Naturally, there's a role for Peeps bunnies and chicks on the RPG scene.
Rubik's Peeps Cube
Wonder how many people would solve the puzzle before eating it?
Peeps Tweet
Social media and Peeps are match made in heaven.
Peep Troopers
You didn't think Star Wars would get overlooked by the Peeps people, did you?
Got a geeky Peeps creation of your own? Send along an image and we'll consider adding it to the slideshow. Thanks!
Copyright © 2012 IDG Communications, Inc.
Next Up: Check out these related slideshows