Scenes from Interop NYC 2013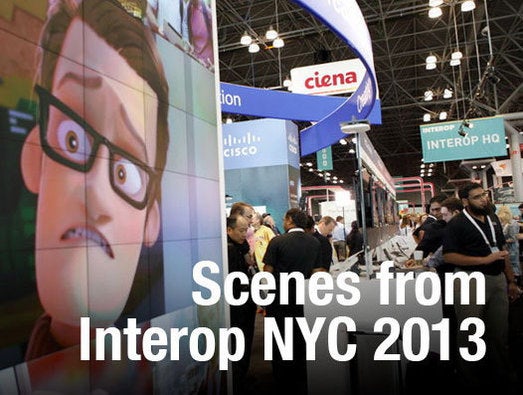 Interop New York is a smaller version of the big show that takes place in Las Vegas each spring, but the fall show drew big names and has been filled with colorful action as well.
The Doctor was in when Chambers delivered his keynote, as longtime stage sidekick Jim Grubb shows an example of how the Internet of Things could allow hospital patients to check in more easily via mobile devices.
Networking fashion was on display at the show.
Ciena CTO Stephen Alexander told the audience that SDNs are "underhyped."
IBM's Angel Luis Diaz, vice president of software standards, Cloud Labs & HiPODS for IBM Software Group.
It wasn't just vendor execs doing the talking at Interop: CIOs had their say as well. Shown in foreground here, Aurelia Boyer, CIO at New York-Presbyterian Hospital and New York-Presbyterian Healthcare System.
William Murphy, CTO of financial firm Blackstone Group, posed the question: "Is IT irrelevant?"
Michelle Lee, CEO of Textizen, discusses her company's platform for text messaging-based surveys and feedback.
Mark Headd, chief data officer, City of Philadelphia, is a leader on the open data and government transparency front.
Next Up: Check out these related slideshows