Meet the real Satya Nadella, Microsoft's new CEO
Multilingual engineer betting on the future of the cloud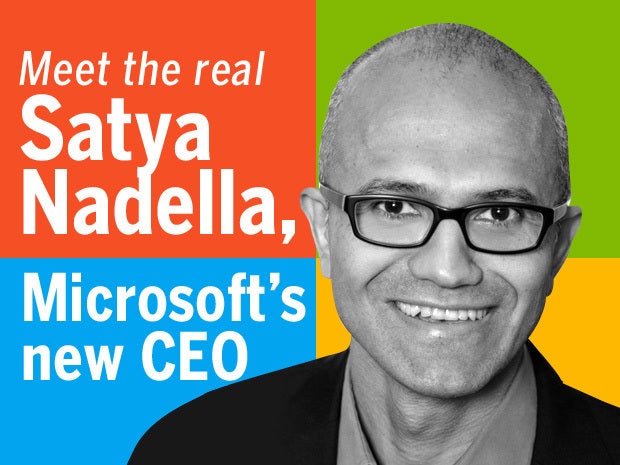 Satya Nadella takes over as Microsoft's third CEO as of Feb. 4, 2014, immediately replacing Steve Ballmer who heads for immediate retirement. Nadella, 46, has worked at Microsoft for 22 years, notably heading up development of the Bing search engine, then its server and tools division. With a reorganization last year he became executive vice president of Cloud and Enterprise. (Read the story of the annoucement that appoints Nadella as CEO.)
Native of India
Nadella is from Hyderabad, India, where he was a product of the public schools and where he met his future wife, Anupama. They have three children. He holds a B.S. in Engineering in Electronics and Communication from Manipal University.
Advanced degrees
He earned an M.S. in Computer Science from the University of Wisconsin at Milwaukee, and an MBA from the University of Chicago.
Polyglot
In addition to English, he speaks Telugu and Hindi.
Nadella on Nadella
"[L]ike anyone else, a lot of what I do and how I think has been shaped by my family and my overall life experiences. Many who know me say I am also defined by my curiosity and thirst for learning. I buy more books than I can finish. I sign up for more online courses than I can complete. I fundamentally believe that if you are not learning new things, you stop doing great and useful things. So family, curiosity and hunger for knowledge all define me."
Executive experience
Nadella has already run a $19 billion business – Microsoft's servers and tools division and is credited with bringing those platforms to the Azure cloud as services. As head of cloud services, he grew revenues from 16.6 billion to $20.3 billion between 2011 and 2013. Before Microsoft, he worked on the technical staff at Sun. He serves on the board of Riverbed Technology.
RELATED: What new CEO Nadella's promotion means for Microsoft's cloud 
Finances
In 2013, he was compensated $7.6 million. That includes $669,167 in salary plus a $1.58 million bonus and $5.4 million in stock. $4.9 million in stock that was granted earlier vested, during the year, and he holds 454,000 shares that had not vested.
On the future
"If you look at what happened from minis to client-server it's just that you could get more done with less. What happened with virtualization is you could get more done with less. What's happening with cloud is you can get more done with less, and that's a secular change in the backend. That's what we're doing with our cloud platform and what we're doing with our devices."
How Microsoft will survive
"You renew yourself every day. Sometimes you're successful, sometimes you're not, but it's the average that counts. We wouldn't be here at 30 years since our founding if we were not able to ride the new waves of technology, and some more successfully than others. There's no question of that. So at the same time the fact that we have the capability that allows us to go and hunt for the new concept I think is key to this business and longevity."
On cloud
"The way I frame what has to happen in the cloud especially for enterprise customers or business customers there are three things that people are looking for. One is everything that they do they want it as a service. … Then you've got to be able to run a public cloud infrastructure yourself globally, and that's what we do with Windows Azure. … And then one other thing that we do is we take it, everything that we are learning and doing underneath our cloud and make it available for others to stand up their cloud."
On NSA surveillance
"It is problematic in the sense that businesses and users are going to use technology only if they can trust it, and clearly it's the responsibility of governments, the U.S. government included, to restore that trust. The only mechanisms that I think we have learned is the respect for the liberties of people and the rule of law is the one way to have societies thrive. So at this point I think that the surveillance system has to be reformed. And the best way to reform it is to have laws govern it, which respect, then, individual privacy of both citizens of the United States and of the citizens of the world."
Next Up: Check out these related slideshows