NAS goes outside the box
Reviews of five software-based network attached storage (NAS) products that can be deployed in the cloud, on virtual machines or on the hardware of your choice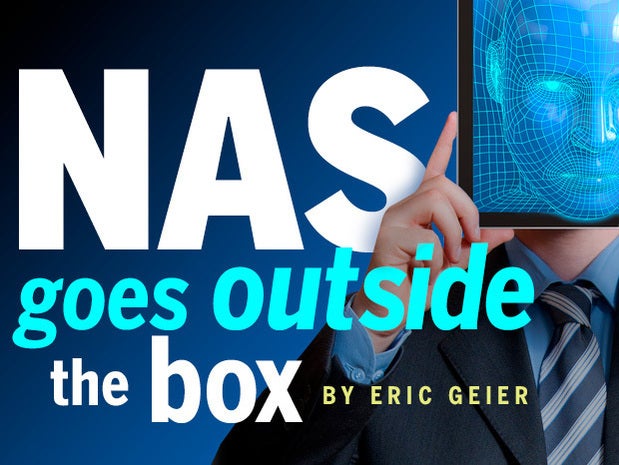 Earlier this year we tested Network Attached Storage (NAS) appliances. Now we're reviewing software-based NAS that you can load onto your own equipment—whether it's a PC, server, virtual machine, or in the cloud. We looked at FreeNAS, Openfiler, Open-E DSS, NexentaStor, and SoftNAS. All offer some sort of free solution or service, with some being fully open sourced. 
Here are the individual reviews:
Read the story version of this test.
FreeNAS
FreeNAS is one of the most popular free open source NAS software solutions.  Primarily developed by iXsystems, it's FreeBSD-based and can run on nearly any hardware platform. FreeNAS claims to be the first and only open source project to offer encryption on ZFS volumes. ZFS Snapshots provide local and remote backup/replication and restoration. Snapshots can be sent to a remote ZFS file system and future backups can be made incrementally including just changes to the file system to reduce backup transfers.
FreeNAS
After booting from the CD/DVD, you see DOS-like install screens. Once installed it will boot into a setup menu where you can configure the network settings, restore the FreeNAS defaults, and access the shell. It also displays the address where you can access the web-based interface. The web-based interface has multiple tab support and integrated pop-up dialog windows. We found some usability issues: the main menu wouldn't show in Internet Explorer and the way the tabs work could be improved to reduce tab clutter. And though it doesn't provide a get started menu/checklist, it does have a convenient alert icon to notify you of any issues.
Openfiler
Openfiler provides a free, open source NAS solution, plus commercial editions with more functionality. The open source edition is released under the GNU General Public License version 2. It's based on the Linux 2.6 kernel and the rPath Linux distribution, compatible with industry standard server hardware or virtual platform.The Open Source Edition (OSE) delivers block-level and file-level storage export protocols. The Commercial Edition requires you to sign-up for support subscriptions starting at $1,000 per year. It provides enhancements such as block-level replication, high availability, iSCSI target for virtualization ($1,295), and Fibre Channel target support ($1,280).
Openfiler
Openfiler supports most of the popular network sharing protocols: SMB/CIFS, NFS, HTTP/WebDAV, and FTP. However it lacks support for AFP. Openfiler can create automatic point-in-time snapshots and supports the shadow copy feature of SMB/CIFS. It also provides synchronous and asynchronous volume migration and replication. Openfiler can be installed via a graphical or text mode. Once installed, it will boot to a command-line interface where you can login to the console and it also displays the address of the web-based interface. The web-based interface is not as slick as most of the other solutions we reviewed but doesn't greatly affect usability.
Open-E
Open-E provides an enterprise-level NAS/SAN solution called Open-E Data Storage Software (DSS). There's a feature-limited free Lite version for use up to 2TB of storage and a full commercial offering. After a 60-day free trial, pricing starts at $895 for up to 4TB storage and with varying levels in between. Pricing goes up to $2,716 for unlimited storage. Open-E supports all of the major NAS protocols; it supports continuous and automated data, volume replication and snapshots, as well as automated updates and rollbacks of OS. Plus it supports many backup agents, such as Backup Exec, Retrospect, and BrightStor.
Open-E
The Open-E installer and console are both DOS-like interfaces. On your first visit to the web-based interface you must configure the product key; enter one if purchased or register for the free trial or Lite version. Then on your first login you're presented with an initial setup wizard, helping you configure language, password, network, and other general settings. Although the web-based interface is fairly simple (doesn't support multiple tabs or pop-us) we still found it to be user-friendly and attractive. The integrated help is very convenient; there's a question mark icon next to each setting menu that takes you to the documentation on that particular menu.
NexentaStor
NexentaStor is an enterprise-class NAS/SAN OS based on the community supported IllumOS that sports the ZFS file system. The community edition supports most features but is limited to 18TB of storage and is not supposed to be used in commercial production. The enterprise edition costs $1,725 for 8TB. NexentaStor reaps some of the same ZFS-based benefits as FreeNAS: snapshots, RAID-Z support, integrated replication, and enhanced data protection. It supports the usual NAS protocols except for AFP. And for SANs, it offers iSCSI and Fibre Channel. It integrates with Active Directory and LDAP, including UID mapping, netgroups, and X.509 certificate-based client authentication.
NexentaStor
When booting the CD/DVD image we were presented with a DOS-like installer that displays the basic system and login information. On the first boot you must enter a trial or commercial registration key and set the basic network and web GUI access settings. On your first visit to the web-based interface you're presented with an initial configuration wizard to set the hostname, localization, password, and notification settings. Then you're taken to another wizard to get you started with the NAS configuration. Although the web-based interface isn't the slickest, it's easy to use.
SoftNAS
SoftNAS takes a different approach than the other vendors. Its NAS software is designed for running on virtual machines (VMware ESXi 4.x/5.x and Microsoft Hyper-V) or in the cloud via Amazon EC2 instances, and it does not offer a downloadable CD/DVD image. The company offers free solutions designed for home or small offices and commercial solutions for use in larger businesses and enterprise environments. SoftNAS supports sharing via SMB/CIFS, NFS and iSCSI. Although it doesn't by default support other protocols, like AFP, FTP, and WebDAV. They could be added via CentOS.
SoftNAS
SoftNAS offers two editions. SoftNAS Essentials is provided free with up to 300GB of storage. It can be deployed on VMs or the Amazon EC2 cloud. Pricing starts at $29.95 per month per TB or $195 per month per TB, or a perpetual license for $295 per TB. SoftNAS Professional starts at $49.95 per month per TB or $695 per month per TB, or a perpetual license for $995 per TB. SoftNAS Cloud is designed specifically to be deployed on the Amazon EC2 cloud, supporting up to 20TB of storage, and free when deployed on the Micro-sized instances, excluding any Amazon charges. Software charges from SoftNAS starts at $0.24/hr for Standard Small instances and up to $3.10/hr for High I/O 4XL instances.
Next Up: Check out these related slideshows