2014's 25 Geekiest 25th Anniversaries
A look back at the most memorable tech-related happenings of 1989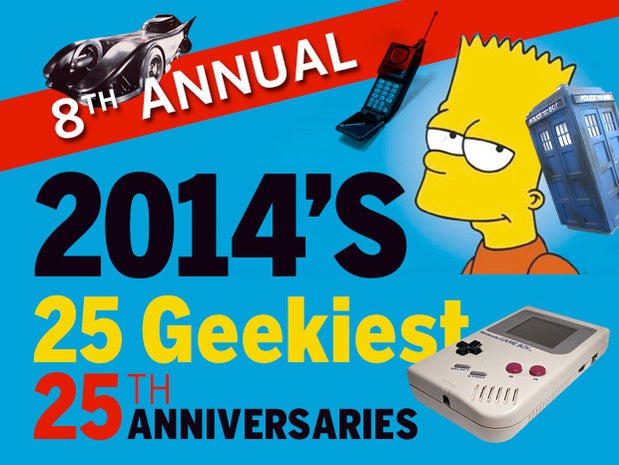 Back in 1989
Network World's latest edition of the year's "25 Geekiest 25th Anniversaries" includes the launch of the first GPS satellites, Lotus Notes 1.0, Nintendo's Game Boy and SimCity, as well as one of tech's most notorious false alarms: "cold fusion." In addition, the original Doctor Who television series signed off, Doogie Howser got his TV doctor's license and AT&T did something it hadn't done in its 103-year history. And if you want to catch up, here are 2013,
2012, 2011, 2010, 2009, 2008 and 2007.
Cold fusion? Really?
Researchers Stanley Pons and Martin Fleischmann caused quite a stir when they reported having detected nuclear reaction at room temperatures: cold fusion. From Wikipedia: "The reported results received wide media attention, and raised hopes of a cheap and abundant source of energy. Many scientists tried to replicate the experiment with the few details available. Hopes fell with the large number of negative replications, the withdrawal of many positive replications, the discovery of flaws and sources of experimental error in the original experiment, and finally the discovery that Fleischmann and Pons had not actually detected nuclear reaction byproducts."
U.S. launches first GPS satellite
At an eventual cost estimated at $5 billion, the U.S. Department of Defense launched into orbit the first of what would be 24 satellites making up the Global Positioning System. The last was launched in 1994.
Lights out
Six million people are left in the dark for 9 hours after a geomagnetic storm takes down the Hydro-Quebec power grid. Parts of the northeastern United States and Sweden also lost power.
Lotus Notes 1.0 debuts
With the name Notes originally referring to both the client and server software, Lotus Notes 1.0 – the brainchild of Ray Ozzie and his cohorts at Iris Associates - was released in 1989. Groupware it was called and soon it was the leading email and collaboration product on the market. Lotus would buy Iris, IBM would buy Lotus and the product today is known as IBM Notes.
Motorola's mini MicroTAC
With its innovative "flip" feature, 9-inch length and a weight of only 12.3 ounces, the Motorola MicroTAC was the smallest and lightest phone to date when released on April 25, 1989.
Holy roller coaster
When it opened on May 6, 1989, the Magnum XL-200 roller coaster at Cedar Point amusement part in Sandusky, Ohio, was the tallest (205 feet) and fastest (72 mph) such ride in the world. Price tag: $8 million.
B-2 stealth bomber takes flight
On July 17, 1989, the B-2 Spirit stealth bomber took flight for the first time. Manufactured by Northrop Grumman at a cost of more than $2 billion per plane, 21 were built and all but the one that crashed in 2008 remains in service.
Game Boy racks up U.S. sales
When Nintendo's 8-bit handheld video game device Game Boy was released in North America in August of 1989, the allotment of 1 million units sold out within a few weeks. One of them would have set you back $90 at the time.
Video game champ dies in fall
As a New Jersey teenager in 1982, Scott Safran had set a world record playing the video arcade game Asteroids. "He quit when his score reached a stratospheric 41,336,440 - with several ships in reserve," according to this story. Two decades later, with the record still standing, Safran received a posthumous award for his achievement after an exhaustive search for him revealed that he had died in 1989 in a fall from an apartment balcony.
Internet for the rest of us: The World
From CEO Barry Shein's Web site: "The World was the first ISP on the planet to provide commercial internet dial-up access to the general public, in November 1989." Previously the Internet had been limited to academics and the military.
'Star Trek 5: The Final Frontier'
Reading up on this movie shows that it wasn't one of the more popular in the series. But how can a Star Trek movie not be on such a list?
'Lost in Space' dad dies
Guy Williams, who from 1965 to 1968 played the father of the Robinson family in the TV series "Lost in Space," died of a brain aneurysm on April 30, 1989 at the age of 65 in Buenos Aires, Argentina.
SimCity: Established 1989
Released Oct. 3, 1989, SimCity is a city-building simulation game designed by Will Wright, co-founder of Maxis. I just asked my 12-year-old Minecraft fanatic if he's ever heard of SimCity: "I think so, but I've never played it."
Original 'Doctor Who' signs off
On Dec. 6, 1989, the BBC aired the final episode of the original "Doctor Who" science-fiction television series. The show had debuted in 1963 and ran for 26 seasons. Ensuing incarnations continue to this day.
Voyager 2 buzzes Neptune
On Aug. 25, 1989, the NASA space probe Voyager 2 reached its closest proximity to Neptune, approximately 3,000 miles, thus completing its interplanetary mission. The only craft to have reached Uranus and Neptune, Voyager 2 is expected to continue transmitting radio messages until 2025.
Tape malfunction
The R&B pop pair Milli Vanilli, a.k.a. Fab Morvan and Rob Pilatus, made lip-synching infamous in 1989.  From Wikipedia: "The first public sign that the group was lip-synching came during a live performance on MTV … . As they performed onstage live in front of an audience, the recording of the song 'Girl You Know It's True' jammed and began to skip, repeating the partial line 'Girl, you know it's...' over and over on the speakers. They continued to pretend to sing and dance onstage for a few more moments, then they both ran offstage."
V-22 Osprey takes flight
The first tiltrotor aircraft designed for military use, the V-22 Osprey was anything but an overnight sensation due to design problems. First flown on March 19, 1989, the V-22 Osprey was not used officially by the United States Marine Corps until 2007.
Dr. Howser on duty
Geek credentials? How's a perfect score on the SATs … at age six? Dr. Douglas "Doogie" Howser received his make-believe license to practice make-believe medicine in a TV series at age 14. It was a fun show that has undoubtedly made every young doctor since endure a "Doogie" wisecrack or two.
'The Simpsons' hit that couch
You'd think that handling the controls of a nuclear power plant would by definition make one a geek, but Homer Simpson, of course, does not qualify. Neither do Marge or Bart. No, Lisa Simpson is the geek in this family. The first episode of "The Simpsons" aired on Dec. 17, 1989 (not counting the shorts on "The Tracey Show.)
A first for AT&T
On Jan. 26, 1989, AT&T did something it had not done previously in its 103-year history: announce a quarterly loss. Reported the Los Angeles Times: "The losses, which were projected by AT&T on Dec. 1, stemmed from a one-time charge of $6.7 billion to write off outdated switching equipment and to convert its network to all-digital operation. AT&T officials and analysts said the write-off masked improved operating earnings and the general financial health of the company."
'Father of Floating Point' wins Turing
Mathematician and computer scientist William Kahan receives the Turing Award for being lead author behind the IEEE 754-1985 standard for floating-point computation.
'Quantum Leap' finds fans
Time-travel adventures and Scott  Bakula, not necessarily in that order, earned this 1989 series the No. 19 spot on TV Guide's "Top Cult Shows Ever" list back in 2007.   
Stamp of disapproval
In September of 1989, the United States Postal Service began issuing the first of 60 million stamps showing a dinosaur that looked like and was labeled a brontosaurus. The problem was that a brontosaurus is not actually a brontosaurus, but rather is an Apatosaurus. The stamp caused an uproar among some, but not all. This Washington Post story has details.
Tass reports UFO landing
Tass, as in the official Soviet news agency Tass, that one. "Matter-of-factly" reported the landing of an alien spaceship carrying rather large aliens in the Russian city of Voronezh. It was in all the papers. Follow-ups cast doubts, however. And Tass apparently had no photographers available on that momentous day.
Next Up: Check out these related slideshows