13 cool high-tech prize competitions
NASA, DARPA, IBM and others offer prize money for your time and expertise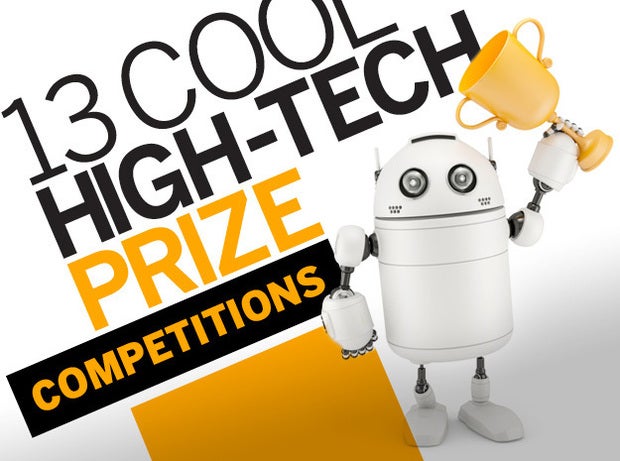 The US government in 2011 or so realized that it could tap the techie conscience of the country by financially and legislatively backing good old-fashioned competition via the America Competes Act. That's the driving notion behind numerous public competitions, or challenges as they are often labeled, that have taken place since. Defense Advanced Research Projects Agency (DARPA), NASA, X Prize  and others already knew the power of the public collection having pioneered the big tech competitions with myriad competitions about everything from space gloves and shredders to spacecraft. Here's a look at some of the coolest competitions going on now and in the future.
NASA has picked Development Projects of Dayton, Ohio, to manage its Unmanned Aircraft Systems Airspace Operations Challenge that will focus on a variety emerging drone technologies but particularly the drone's ability to sense and avoid other air traffic. While NASA is providing a $500,000 prize,   Development Projects will finalize rules and begin detailed preparations for the challenge, eventually registering competitors. The first competition to demonstrate team entries is expected in May 2014.
DARPA's The Spectrum Challenge is expected to demonstrate a radio protocol that can best use a given communication channel in the presence of other dynamic users and interfering signals, with a goal of enabling reliable communication in a congested environment. The challenge includes head-to-head competitions between competing teams in a structured test bed environment. The Spectrum Challenge Finals will occur March 19-20, 2014 at DARPA.
Keeping the mainframe relevant to newer, younger generations of budding IT workers has been an IBM strategy for years  -- a largely successful one at that according to most experts. Big Blue in March announced another component of that plan with the IBM Master the Mainframe World Championship competition - a program that looks to gather the best university students from around the globe, who have demonstrated superior technical skills through participation in their regional IBM Master the Mainframe Contests and reward them with prizes. In this picture we see Seth Reichelson, a teacher at Lake Brantley High School in Florida, with students during a mainframe programming class.
The Cyber Grand Challenge (CGC) is a tournament for fully automated network defense, DARPA says. Others call it the world's first tournament to see who can build the best fully automatic network defense system. The Cyber Grand Challenge (CGC) will pit teams that will create automated systems that will compete in real-time to evaluate software, test for vulnerabilities, generate security patches and apply them to protected computers on a network. The CGC's goal is to vastly improve the speed and effectiveness of IT security against escalating cyber threats, DARPA says.  The winning team from the CGC finals would receive a cash prize of $2 million, with second place earning $1 million and third place taking home $750,000.
The DARPA Robotics Challenge (DRC) has a goal of developing robots for use in responding to natural and man-made disasters. The DRC was structured with three planned competitions to allow teams time to incorporate lessons learned from one event to the next. Teams are currently preparing for the third and final planned competition. Strong performance by the teams in the second event, the December 2013 DRC Trials, encouraged DARPA to increase the difficulty of the final round.
NASA says its recently announced asteroid challenge will be a large-scale project "focused on detecting and characterizing asteroids and learning how to deal with potential threats. NASA says it wants to harness public engagement, open innovation and citizen science to help solve this global problem," according to NASA Deputy Administrator Lori Garver. The challenge will involve a variety of partnerships with other government agencies, international partners, industry, academia, and citizen scientists, NASA said. The asteroid Ida is imaged here.
NASA said it was looking to offer two challenges would provide competitive opportunities for competition teams to deploy CubeSats on a NASA provided launch. The first challenge will focus on finding innovative ways to allow deep space communications with small spacecraft, while the second focuses on primary propulsion for small spacecraft. Currently CubeSat communications technology has been limited to low-bandwidth data communications in near-Earth orbits. CubeSats often use low power / low-gain communications subsystems, unique protocols, or amateur radio wavelengths not suitable for advanced science missions in the remote distances of deep space.  When or if these competitions will lift if isn't known yet.
Initially some 30 international teams were competing for the $30 million Google Lunar X Prize, the competition to put a robot on the moon by 2015. But that group is now down to under 10. In the end, to win the Google Lunar XPRIZE, a privately funded team must successfully place a robot on the moon's surface that explores at least 500 meters and transmits high-definition video and images back to Earth.
The X Prize Foundation is looking to dramatically change the medical  industry by offering a $10 million prize for the company that can build a mobile platform that can accurately diagnose 15 diseases from 30 consumers in three days. The Qualcomm Tricorder X Prize teams will enter the qualifying round in May 2014 in which they will present their submissions to the judging panel then up to 10 teams will advance to the final round in August 2014, where their entries will be evaluated on health assessment and consumer experience by both the judging panel and a consumer testing panel.
A software competition announced recently by the Intelligence Advanced Research Project Activity (IARPA) group is looking to the public to develop what it calls an "algorithm that identifies and extracts such signals from data recorded while volunteers engaged in various types of trust activities." The IARPA challenge specifically looks to develop software algorithms that can detect, measure, and validate "useful" trustworthy signals in order to more accurately assess another's trustworthiness in a particular context, IARPA writes. Improving the accuracy of judgments about whom can be trusted and under what conditions could have profound implications for not just the Intelligence Community, but society in general, the group stated.
NASA and Harvard Business School in association with Harvard's Institute of Quantitative Social Sciences established the NASA Tournament Lab (NTL), which enables software developers to compete with each other. Currently there is an ongoing competition to help the space agency develop fault tolerant networks for deep space. Examples of such networks are those operating in mobile or extreme terrestrial environments, or planned networks in space. Disruption may occur because of the limits of wireless radio range, scarcity of mobile nodes, energy resources, attack, and noise.
The Department of Defense is behind a $10,000 competition to develop a non-GPS-based navigations device. "There are numerous alternatives to a Global Positioning System (GPS), such as inertial measurement units, terrain following, star trackers, etc. Each has benefits and limitations and offer varying levels of precision navigation. This Challenge is seeking innovative non-GPS solutions that can help navigate in any part of the world without having to set up prepositioned towers or other devices.  
The Department of Transportation has a software competition for the best tech that might help out with safety, traffic congestion and other applications.
Next Up: Check out these related slideshows