Whose high-tech exec job hinges on the presidential election?
There are a ton of high-tech managers and regulators in the federal government who may be changing jobs come November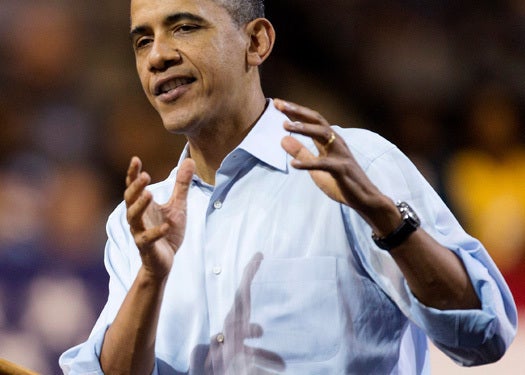 If President Barack Obama loses his re-election bid, a lot of high-tech managers and regulators in the federal government go down with him. Here we take a look at some with leadership positions in information technology, science and regulation whose jobs, subject to set terms, hinge on the outcome of elections in November.
As is customary, Obama got to choose who he wanted to fill leadership positions in national security, the Federal Communications Commission, the Federal Trade Commission, the National Science Foundation and much more, including some CIO spots.
Steven Chu
U.S. Secretary of Energy Steven Chu directs the mammoth Department of Energy's operations in nuclear weapons and waste management and energy research, plus the national laboratories. (The president also appoints the DOE undersecretary of Science, a position vacant since Steve Koonin quit in 2011.)
John Holdren
John Holdren is senior adviser to Obama on science and technology issues as assistant to the president for science and technology, director of the White House Office of Science and Technology Policy, and co-chairman of the President's  Council of Advisors on Science and Technology. He's got the ear of the president on any ongoing matter in this realm.
Todd Park
Todd Park, federal chief technology officer, filled a slot left by Aneesh Chopra, who left after three years in the position, which was a newly created job intended to create a leader to guide all federal government IT efforts overall and inject entrepreneurial spirit into it.
Subra Suresh
Subra Suresh is director of the National Science Foundation, which supports research and education in all non-medical fields of science and engineering. (The president also appoints the NSF deputy director and members of the National Science Board.)
Janet Napolitano
Janet Napolitano, of the Department of Homeland Security, is responsible for overseeing the sprawling agency responsible for keeping America safe, which last year spent $66.4 billion in its budget and has 200,000 employees.
Mark Weatherford
Mark Weatherford is deputy undersecretary for cybersecurity at the National Protection and Programs Directorate (NPPD) at DHS, a new position created last fall to interact more vigorously with the private sector in the interests of protecting America from damaging cyberattacks.
John Streufert
John Streufert is director of the National Cybersecurity Division at DHS. Hired by Mark Weatherford earlier this year, his job is to "build and maintain an effective national cybersecurity response system and implement a cyber-risk management program for the protection of critical infrastructure, such as dams and transportation."
Bruce McConnell
Bruce McConnell is cybersecurity counselor at DHS. He's there as the top legal adviser on any cybersecurity issues of interest to the federal government.
Leon Panetta
Leon Panetta is secretary of the U.S. Department of Defense (DOD). He heads up the U.S. military that combines Army, Navy, Air Force, Marines and other forces, trying to balance force requirements in an age of increasing budget constraints.
Teresa M. Takai
Teresa M. Takai is the DOD's assistant secretary for networks and information integration, and CIO of the DOD. She's responsible for strategy, leadership and guidance to create a unified information management capability for the DOD.
Frank Kendall III
Frank Kendall III is undersecretary for Defense for Acquisition, Technology and Logistics. He's the principal staff assistant and adviser to the secretary of defense and deputy secretary of defense for all matters concerning acquisition, technology and logistics.
Susan Lawrence
Lt. Gen. Susan Lawrence, U.S. Army chief information officer, supervises all Army command, control and communications and IT functions.
Julius Genachowski
Julius Genachowski is chairman of the Federal Communications Commission. (Obama also appoints FCC commissioners, which today includes Mignon Clyburn, Jessica Rosenworcel, Ajit Pai and Robert McDowell.) The FCC is the chief regulatory body covering telecommunications and broadcast communications.
Charles F. Bolden
Charles F. Bolden is administrator of NASA. (Lori Garver, deputy NASA administrator, is also an Obama political appointee.) NASA is the U.S. agency for America's space program and aeronautics research.
Matthew G. Olsen
Matthew G. Olsen is director of the National Counterterrorism Center in the Office of the Director of National Intelligence. Its mission is coordination and integration of  terrorism intelligence, and Olsen reports directly to the director of National Intelligence.
Jon Leibowitz
Jon Leibowitz is chairman of the Federal Trade Commission (The FTC commissioners are also appointed by the president). The FTC is the regulatory agency for consumer protection and prevention of anti-competitive or harmful business practices, which includes investigation of a wide range of issues associated with online e-commerce.
John Bryson
John Bryson is secretary of the Department of Commerce, the agency to support efforts to widen both foreign and domestic commerce. The DOC also includes the influential standards agency, NIST. DOC says Bryson is a "key member of President Obama's economic team working to implement the administration's top priority, accelerating job creation." (Rebecca Blank, deputy secretary of Commerce, is also a political appointee.)
Patrick Gallagher
Patrick Gallagher is director of the National Institute of Standards and Technology; undersecretary of Commerce for Standards and Technology; and co-chairman of the Standards Subcommittee under the White House Science and Technology Council. He provides high-level oversight for NIST.
Jacob Lew
Jacob Lew, named White House chief of staff in January, was formerly director of the Office of Management and Budget (OMB). The White House chief of staff plays the key role in decisions about the president's schedule, who he meets and other matters, and has what's regarded as a very powerful job in the White House as assistant to the president.
Steven VanRoekel
Steven VanRoekel is federal chief information officer and administrator of the Office of Electronic Government, which is part of the Office of Management and Budget (OMB). A former Microsoft exec, VanRoekel succeeds Vivek Kundra, the first federal CIO in this position, which is supposed to oversee federal technology spending and establishing governmentwide interoperability and information-sharing.
Robert Mueller, James Clapper and David Petraeus
Pictured from left, FBI Director Robert Mueller, Director of National Intelligence James Clapper and CIA Director David Petraeus are political appointees as well. The agencies play key roles in U.S. security and law enforcement.
Next Up: Check out these related slideshows