White House science/technology extravaganza
From President Obama firing marshmallow cannon to cool robots, the White House-hosted Science Fair showed off all manner of future technologies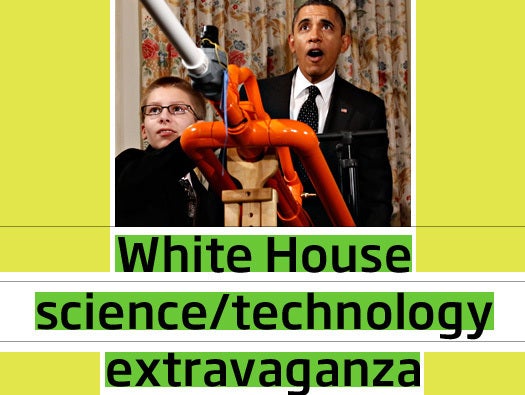 President Barack Obama hosted the second White House Science Fair this week which brought together student winners of a range of science, technology, engineering and math competitions from across the country. The highlight had to be Obama firing the marshmallow cannon, but here we take a look at some of the other cool stuff.
Marian Bechtel, a 17-year old Hempfield High School student from Lancaster, Pa., talks with NASA Administrator Charles Bolden about her design for a mine detecting device. Marian's design could lead to a simple, cheap, and reliable humanitarian demining tool and earned Marian honors as a Finalist at the 2011 Intel International Science and Engineering Fair.
Bill Nye, The Science Guy, Executive Director, Planetary Society, talks with 14-year-old Joey Hudy from Phoenix about his Extreme Marshmallow Cannon.
NASA Administrator Charles Bolden talks with Morgan Ard, left, Titus Walker, and Robert Knight, III, right, 8th grade students at Monroeville Jr. High School in Monroeville, Ala., about their robot designs.
Taylor Wilson, 17, of Reno, Nev., conducted research on novel techniques for detecting nuclear threats and developed an environmentally friendly, cost-effective, and highly sensitive system capable of detecting small quantities of nuclear material.
President Obama launches a marshmallow gun. The Extreme Marshmallow Cannon was built by 14-year-old Joey Hudy.
From a field of over 1,800 applicants, Samantha Garvey, 18, of Bay Shore, N.Y., has been named a semifinalist for her Intel Science Talent Search 2012 environmental sciences project examining the effect of physical environment and predators on a specific species of mussel.
President Barack Obama shares a group hug with Team America Rocketry Challenge students from Presidio, Texas. Janet Nieto and Ana Karen were members of the Presidio High School Rocketry Team that competed as a National Finalist in the Team America Rocketry Challenge in 2009, 2010, and 2011. The girls have successfully competed in a number of rocketry challenges and have attended the NASA Student Launch Initiative Advanced Rocketry program. 
Carlton J. Kell High School InvenTeam, won a grant from the Lemelson-MIT program to develop a remotely operated watercraft that skims oil off the surface of shallow water after offshore oil disasters.
Fifteen-year-old Braeden Benedict from Rancho Palos Verdes, Calif., developed a low-cost impact detection device for use on youth and high school contact sport helmets. Braeden's invention, winning him the top prize of America's 2011 Top Young Scientist at the 2011 Discovery Education 3M Young Scientist Challenge, will allow coaches and trainers to be alerted that a player has received a hit with enough force to cause a concussion.
The winning alliance of the 2011 FIRST Robotics Competition Championship. A NASA Ames Research Center-mentored team, Team 254 which goes by the name The Cheesy Poofs.
Copyright © 2012 IDG Communications, Inc.
Next Up: Check out these related slideshows