Quick look: Obama and the NSA morass
New rules will limit NSA data gathering, but is the NSA paying attention?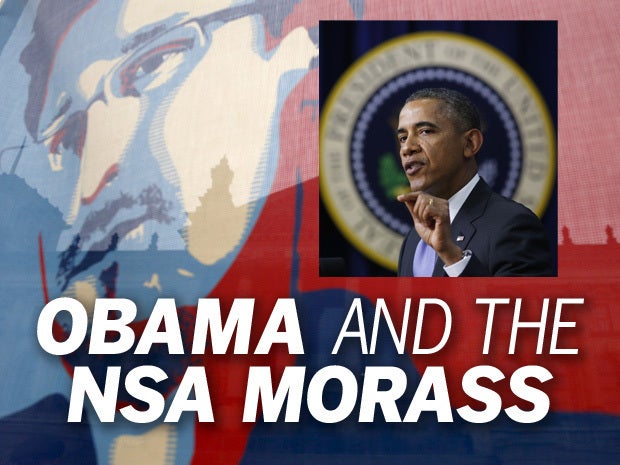 Published reports say President Barack Obama will today call for an end to the government's mass collection of phone data and for a rearranging of the program so the data is held outside the government. A judge's order for government searches of this data will also be required. The Wall Street Journal reports a senior administration official said the president believes the current mass data collection program "addresses important capabilities that allow us to counter terrorism, but that we should be able to preserve those capabilities, while addressing the privacy and civil liberties concerns that are raised by the government holding" this data. Here's a look at the most recent news event around the issue.
In December, The National Security Agency let 60 Minutes news cameras inside the agency's secure areas for the first time to explain what it does and what it says it doesn't do: spy on Americans, a misconception it says the former NSA employee Edward Snowden leaks have created. This is part 1.
Part 2 of 60 Minutes NSA report.
Richard Ledgett heads a U.S. National Security Agency task force responding to information leaks. The U.S. National Security Agency has made dozens of changes in its operations and computer networks to prevent the emergence of another Edward Snowden, including potential disciplinary action, Ledgett said in December, as a White House review panel recommended restraints on NSA spying. Former NSA contractor Snowden's disclosures have been "cataclysmic" for the eavesdropping agency, Ledgett said in a rare interview at NSA's heavily guarded Fort Meade headquarters.
A National Security Agency data gathering facility is seen in Bluffdale, about 25 miles (40 kms) south of Salt Lake City, Utah. The U.S. government's gathering of Americans' phone records is likely unlawful, a judge ruled on Dec. 16, 2013, raising "serious doubts" about the value of the National Security Agency's so-called metadata counter terrorism program.
NSA Director Gen. Keith Alexander uses a library card as an example while testifying before the Senate Judiciary Committee in Washington. Alexander defended the spy agency as acting within legal boundaries, amid a public uproar which has grown from anger over the collection of Americans' phone and email records to outrage over spying on European allies.
The chairman of the Senate Judiciary Committee, Sen. Patrick Leahy (D-VT) (R) and Sen. Chuck Grassley (R-IA) (L), confer before listening to NSA Director Gen. Keith Alexander in Washington during a December hearing.
A demonstrator supporting fugitive former U.S. National Security Agency contractor Edward Snowden, holds up a banner outside the Reichstag building, the seat of the German lower house of parliament Bundestag in Berlin. The banners read "Safety for Edward Snowden in Germany" and "Article 13GG right to hospitality in my apartment for Edward Snowden".
Antennas of the former NSA listening station are seen at the Teufelsberg hill, or Devil's Mountain in Berlin. Germany's Foreign Ministry said on Tuesday it had asked the British ambassador to come and discuss a report that Britain was operating a covert spying station in Berlin, using hi-tech equipment housed on the embassy roof. Documents leaked by former U.S. National Security Agency contractor Edward Snowden show that Britain's surveillance agency is operating a network of "electronic spy posts" from within a stone's throw of the Bundestag and German chancellor's office, British newspaper Independent reported.
Activists from the Internet Party of Ukraine smash a pumpkin with headphones as they stage a demonstration in front of the U.S. embassy in Kiev. A protest was held against the actions of the NSA, which according to participants, was responsible for U.S. electronic eavesdropping and monitoring of phones of foreign countries' leaders, organizers said.
An illustration picture shows the logos of Google and Yahoo connected with LAN cables in Berlin. The National Security Agency has tapped directly into communications links used by Google and Yahoo to move huge amounts of email and other user information among overseas data centers, the Washington Post reported in December. The report, based on secret NSA documents leaked by Snowden, appears to show the agency has used weak restrictions on its overseas activities to exploit major U.S. companies' data to a far greater extent than realized.
A White House-appointed panel in December proposed curbs on some key National Security Agency surveillance operations, recommending limits on a program to collect records of billions of telephone calls and new tests before Washington spies on foreign leaders. Among the panel's proposals, the most contentious may be its recommendation that the eavesdropping agency halt bulk collection of the phone call records, known as "metadata."
RELATED: President Obama praises NSA, offers little in mass surveillance reform
Next Up: Check out these related slideshows