After Blue Cross Blue Shield of Florida invested $40 million in a new data center, Paul Stallings began his quest to reduce manual labor, integrate systems across IT silos and ultimately optimize data center operations through automation.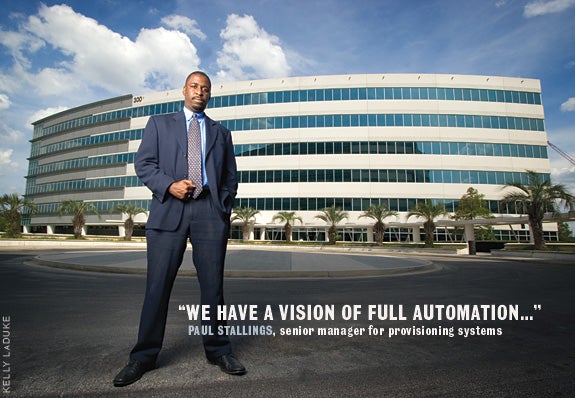 But first, he needed to establish standard processes and integrate existing tools with the automation software. "We wanted our environment to be consistent and standardized to enable process-oriented automation," Stallings says. "We have a vision of full automation by enabling integration across multiple systems."
Oh no, silos
Another key prerequisite was tearing down the walls between IT domains and reducing the human element in many of its processes. This proved challenging because teams at Blue Cross were accustomed to operating independently when it came to procuring hardware and provisioning operating systems and applications to new machines in the data center.
The groups ranged from the data-center team to the platform providers to the network group to the cabling vendor to the operating system staff to storage managers. And that meant it could take up to two weeks to bring in a new machine from the hardware vendor and build a server for the data center. And that was "only if the sun, moon and stars were all aligned correctly," Stallings says.
To streamline the provisioning process, Stallings first worked to establish a team dedicated solely to that task. This new team handles requests for new infrastructure and manages applications for all groups. Within this division of Blue Cross, which serves about 4 million members and employs about 11,000 people, Stallings' group represents "a small footprint" with about five staff members responsible for managing and automating the provisioning of new servers. Now, Stallings explains, any request for servers goes through his team.
"The one provisioning services team is responsible for all infrastructure and hardware, which makes it easier to track what is coming in and when it's going live," he says.
Integration, then automation
The next step was adding automation technology to string together disparate systems and support a heterogeneous environment.
Blue Cross' data center includes about 1,200 physical servers and 450 virtual machines in various flavors of Windows, Linux and AIX, and Stallings says he knew automated provisioning across server and storage resources would require vendor-agnostic tools.
"We needed an automation vendor neutral enough to provide tools that seamlessly integrated the systems we had and operate in our different server environments," he says. "Basically everything in our environment needs to be integrated to take advantage of capacity management, virtualization and other technologies."
For Stallings, that meant augmenting his use of BladeLogic's Operations Manager for server management to installing the company's Orchestration Manager software, which is designed to automatically integrate processes and centralize data from multiple, disparate sources.
Orchestration Manager, released last fall, promises to further automate the processes Stallings has in place. The software provides customers with adapters to share data and integrate with management products from other vendors. The adapters would, for example, allow Orchestration Manager to tap into the change and asset management data contained in other software, such as HP ServiceCenter and AssetCenter, which Stallings also has in-house. Orchestration Manager includes a developer kit to let IT managers build integration into systems currently not included in BladeLogic adapters.
Stallings is still in the process of integrating the BladeLogic software, which provides run-time event, workflow and data sharing among BladeLogic and third-party software, with other tools to enable automation across IT domains.
"We are integrating the 10 applications that are part of the procurement and provisioning process end-to-end. To do that, we can't have different data in IT silos; it has to work across departments," Stallings says.
Plug and play
Stallings says the integration work will evolve in stages until complete automation is achieved.
For instance, BladeLogic works with Aperture Technologies' Vista Capacity Management software to first determine the space in the data center for the new machines. He would then use BladeLogic to roll out prebuilt operating system and application software as hardware arrives from vendors in the Blue Cross data center.
"We have narrowed down a two-week process to a couple of hours from the time it hits our loading docks," Stallings says.
The process starts with a new request for a server via a standardized Web tool. After procuring the hardware from the vendor and receiving a serial number for the machine, the team would tap Aperture's software to get a measure of the consumption of power, cooling, space, cabling and other physical resources the new server will require. When the machine arrives at the loading dock, the serial number is scanned, it is moved to location predetermined by Aperture and plugged in. When it goes live on the network, BladeLogic provisions a preset package (the image is built in the software based on request requirements) of operating system and application software to the machine
"Now we can automate from the point of procuring something from the vendor to installation without manual effort, except for physically plugging it into our network," he says.
With automated server provisioning underway, Stallings says manual storage processes will be next. Today, the team can automate server provisioning but still has to "manually carve" out the storage required for those new machines.
"In the future, we will have BladeLogic integrate with our storage tools and with network-configuration tools," he says. BladeLogic had announced that Orchestration Manager would integrate with network-change and configuration-management technology from AlterPoint to enable customers to bring network data into their data-center automation plans.
And while BladeLogic provides the glue among several products, including Aperture and HP, that help carry out the automated processes, Stallings says there exists no one product that can deliver on all the promises of automation. Automation requires an integrated toolset that executes standard processes at Blue Cross.
"We use many products that do their part in our end-to-end procurement process; it's not something that can happen with just one product," he says.
---
< Previous story: Breakthroughs in automation | Next story: 6 tips for jump-starting your automation project >