Is EVERYTHING made in China?
What do high-tech and sex dolls have in common? Both are made by the ton in China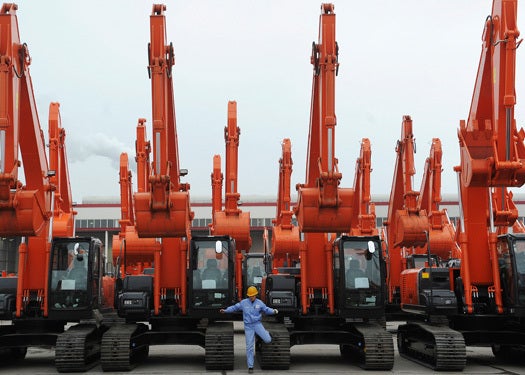 It can be astonishing the sheer amount of things that are Made in China. As you might expect, the country puts out all manner of electronics but there are myriad other products, from bioethanol fuel, sex dolls, LED readouts, airplanes and dumplings – just to name a few things. Here we take a look at a few of the interesting things Made in China:
Workers at Amphenol factory weave intricate cables for western brands like Cisco.
Migrant workers make jeans in Dadun village in Zengcheng near the southern Chinese city of Guangzhou.
A worker for Danish biopharmaceutical company Novozymes looks at fermentation vates for producing enzymes at a factory in the Tianjin Economic Development Area (TEDA), located 120 km south-east of Beijing. Novozymes, the world's largest industrial enzymes maker, says China's bioethanol market will grow by at least 20% over the next five years. The Danish biotech dominates the global market for bioethanol enzymes with a share of over 60%, and a share of about 47 % of the enzyme market as a whole. China is the world's largest energy consumer, and the government has targeted to cut its levels of carbon intensity -- the amount of carbon dioxide produced per unit of GDP -- by 17% by the end of 2015.
An employee works at the production line of an edible oil company. China's imports of corn, soybean and edible oil all registered declines in volume amid rising prices in the first quarter of this year.
A supervisor inspects as employees make electronic parts at a factory.
An employee dries shuttlecocks on shelves at a shuttlecocks processing factory.
Employees work at a LED panel production line in a factory.
A laborer works at an assembly line in a factory of China Resources Snow Breweries.
Here a staff member stands in front of the new Airbus A320 family final assembly line at its assembly plant.
A Dailywin Watch Products employee works at a production line in a China factory.
Employees work at the assembly line at Anhui Jianghuai Automobile Co. Ltd.
Visitors board a new testing model of a CSR high-speed bullet train during its launching ceremony in 2011. China's super-rapid test train is capable of travelling 500 kilometers per hour.
Worker inspects newly painted components of door closers at a production line.
Laborers return to work in a factory at an industrial area in Shanghai. Millions of migrant workers start to return to factories all over China after Chinese New Year.
A worker installs an excavator on a production line at a construction machinery manufacturing factory in Hefei, Anhui province. Chinese top domestic construction gear makers are stepping up their overseas hunt for assets that will give them more than just technological know-how. They're not just dismantling production lines and shipping them home, but going after brand recognition and established distribution networks, driving China towards its three-year goal of becoming the world's top exporter in the $150 billion global market for equipment like bulldozers, excavators and forklifts, Reuters says.
An employee from a Chinese carmaker walks past a production line at a factory in Shenyang, Liaoning province.
An employee carries a solar panel as he works at a production line at a solar company workshop in Yongkang, Zhejiang province. A target has been set to lower photovoltaic solar power generating cost to .13 per kilowatt hour (kWh) by 2015, China's Ministry of Industry and Information Technology said.
A worker grabs a bundle of new packets as she places condoms onto a packaging belt at Chinese condom manufacturer Safedom's factory in Zhaoyuan, 100 km south of Yantai, in Shandong Province. Claiming to be the fourth-largest condom maker in China by revenue, after three foreign brands, they are hoping to sell one billion condoms this year.
The head of an inflatable sex doll is pictured in a box at Ningbo Yamei plastic toy factory, on the outskirts of Fenghua, Zhejiang province. The company started producing sex dolls three years ago, and now owns a total of 13 types of dolls at the average price of $16. More than 50,000 sex dolls were sold last year, about 15% of which were exported to Japan, Korea and Turkey, according to the company.
An employee works at a production line of a safety net factory.
An employee works at a garment factory.
Employees make Zongzi, traditional Chinese dumplings made from rice wrapped in bamboo leaves, at a food factory.
Laborers pull carts carrying crocks which are used to store yellow rice wine at a wine factory.
Employees transport tires at a Hankook Tire factory.
Workers at a steel manufacturing plant in Hefei, Anhui province.
Workers move a train at a CSR rail transit equipment factory in the southern Chinese city of Guangzhou November. China's annual investment on railway construction is about $78.7 billion a year.
Workers pull painting equipment near wind turbines.
Galanz employee tests electric kettles at a production line in a factory in Zhongshan, southern Chinese province of Guangdong Nov. 12, 2011. Galanz is a Chinese company and the largest producer of microwave ovens in the world.
A laborer works at a textile mill.
A migrant worker pulls a handcart to transport bricks at a brick making factory.
Here a worker strings artificially cultivated freshwater pearls into a necklace at a pearl production factory in Zhuji, Zhejiang province. Zhuji aims to become an international production and distribution hub for artificially cultivated freshwater pearls. The city began cultivating pearl clams since the 1970s, and now supplies 60% of the overall Chinese market and 30% of the global market with pearl products.
An employee works on circuit boards at an electronic component factory in Hefei.
Next Up: Check out these related slideshows