The coolest Air Force UFO videos
National Archives features UFO-related images, interviews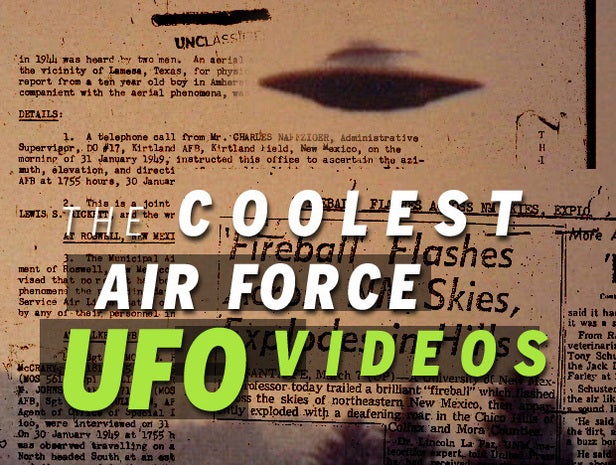 The National Archives this week published six of 18 home videos taken of purported UFOs filmed in the United States between 1952 and 1967. The  home videos and two other UFO films included here were part of the US Air Force's UFO investigation known as Project Blue Book which operated between 1952-1969. According to the agency, Project Blue Book was the third formal analysis of UFO sightings, coming after Project Sign and Project Grudge but Blue Book investigation is the most well-known. These films were scanned in HD from 16mm blow-ups of 8mm films and the agency says they have not been edited or altered. Take a look.
From a US Air Force Fact Sheet distributed in 1985: Project Blue Book conclusions: (1) no UFO reported, investigated, and evaluated by the Air Force has ever given any indication of threat to our national security;(2) there has been no evidence submitted to or discovered by the Air Force that sightings categorized as "unidentified" represent technological developments or principles beyond the range of present-day scientific knowledge; (3) there has been no evidence indicating that sightings categorized as "unidentified" are extraterrestrial vehicles.
Shot in Duncansville, Texas in 1957.


Shot in River Forest, Ill., in 1958.
Shot in Colorado Springs, Colo., 1964.
Filmed in Moline, Ill., in 1967.
The National Archives notes the fabric "UFO" dangling from the ceiling in the opening sequence of this interview of Maj. Gen. John A. Samford talking about the Air Force's mandate to identify and analyze potential threats that come by air, while also assuring the citizenry that there was no known threat. Shot in 1952.
This one is from 1966 and features Air Force spokesman Lt. Colonel Lawrence Tacker (who according to the National Archives wrote a book called Flying Saucers and the U.S. Air Force) and Maj. Hector Quintanilla, who led Project Blue Book from 1963 until the investigation's cancellation in 1970.
UFOs of course remain in the news. The U.S. Air Force released this 1972 photo of a Viking space probe awaiting recovery at White Sands Missile Range in New Mexico as part of its report on the so called "Roswell Incident" of 1947. The Air Force reported that "space aliens" who supposedly crashed in New Mexico were only military dummies and that high-altitude research projects such as this may have become part of the incident. The 231-page report was aimed at ending longstanding speculation over the incident and denies that the military had recovered bodies from damaged flying saucers in 1947 and had been covering up the incident ever since.
The National Archive notes that anyone who wants to do more in-depth research into Project Blue Book, the agency holds 42 cubic feet (approximately 84,000 pages) of records, available for viewing on microfilm in the research room at Archives II in College Park, Md. These records are searchable online at the unaffiliated Blue Book Archive.
The FBI this year also detailed its famous or infamous UFO memo written by agent Guy Hottel 63 years ago. The single page file, which the FBI now says is the agency's most viewed document - having been hit nearly 1 million times since its declassification in 2011 -- relays an unconfirmed UFO report that the FBI says it never even followed up on.
Next Up: Check out these related slideshows