10 celebrities jumping on the Bitcoin bandwagon
Some are using it to help build the community, others to build their personal brands.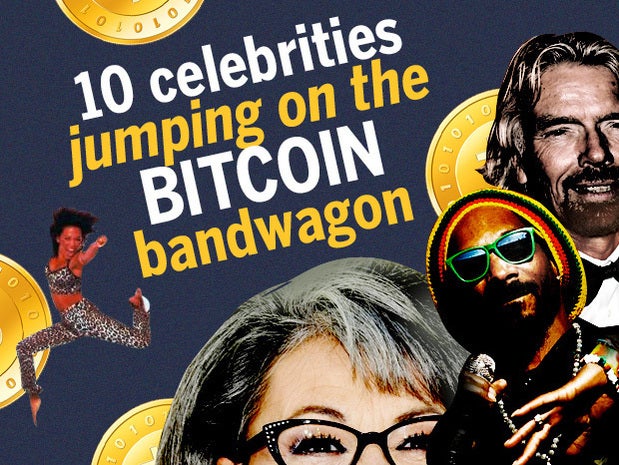 2013 was the tipping point for Bitcoin, the digital currency that has grown steadily over the past few years and surpassed $1,000 in value last month. Evolving from a small base of geeky zealots, Bitcoin is being accepted in new locations every day.
Still, it remains controversial. While even executives at Bank of America have given it credit, some high-profile economists have railed against it, calling it "rat poison" and even a "Ponzi scheme."
So, naturally, everyone wants to know what celebrities think about it. As a result, the Bitcoin community now counts among it a pretty eccentric list of celebrities, some of whom want to use it for currency, others who want to use it for publicity.
Ashton Kutcher
Ashton Kutcher rose to fame as the dim-witted Kelso on That 70's Show. He used that money to co-found venture capital fund A-Grade Investments. So now he talks about technology. Speaking at the TechCrunch Disrupt conference in New York in May, Kutcher explained why he thinks Bitcoin is gaining credibility.
"The fact that people are hacking bitcoins really hard, it almost hearkens back to when banks first started and they didn't have safe safes and people were going into the banks and just robbing money out of the safe. It actually validates the value of the money itself," he said. "I think the fact that you can buy drugs and ammo with it is actually (a) validator of the currency itself."
Former Mighty Duck Brock Pierce
Pierce probably hates that this always gets mentioned with his name, given that he's since gone on to become an entrepreneur in the technology space. But everybody loves The Mighty Ducks, so his role as the young Gordon Bombay in both the original and the sequel, D2: The Mighty Ducks, cannot go overlooked.
He's now regarded as "the godfather of virtual currency," Engine CEO David Johnston told USA Today recently. Pierce's latest project is the Mastercoin Foundation, which uses the Bitcoin protocol to enable users to create custom cryptocurrencies. Pierce was part of a panel on investment opportunities at a recent Bitcoin conference in Las Vegas, after which he was reportedly "engulfed by a throng of admirers," according to USA Today.
Former Spice Girl Mel B
Whereas Brock Pierce has fully immersed himself in the Bitcoin world, others appear to be using it to gain publicity. Melanie Brown, more widely known as "Scary Spice" from the 90's era all-girl British pop group the Spice Girls, announced recently that fans could purchase a copy of her new single with Bitcoin starting Dec. 25th.
Of course, fans could already buy the single on iTunes for 99 cents, or watch the video on YouTube for free. But restricting the single's release to those "traditional" distribution methods doesn't incorporate a hot SEO term like Bitcoin.
Snoop Lion (the artist formerly known as Snoop Dogg)
Earlier this month, Snoop Lion, who recently changed his name after two decades as Snoop Dogg, joked on Twitter that his "next record available [will be] in Bitcoin n delivered in a drone." That's hardly an endorsement, and an official announcement has yet to be made, but Snoop showed some interest in pursuing it after Bitcoin wallet company Coinbase reached out to him about making his next album available for Bitcoin.
Donald Glover, aka Childish Gambino
The actor/comedian/musician brought up digital currency in a recent Time interview even though the interviewer didn't ask him about it first.
"Yeah, I know a lot of people are skeptical, but I feel like if everything's going to live online, why not Bitcoins? Being backed by gold seems very old and nostalgic to me. Being backed to a Bitcoin, which takes time to actually make and there's this equation that has to be done, that feels realer to me and makes more sense."
Drew Carey
Similarly, Drew Carey admitted on Twitter to using Bitcoin after some apparent frustration with a lack of options for places to spend them.
No word yet on whether The Price is Right, which Carey now hosts, will dabble in Bitcoin.
Richard Branson
The eccentric billionaire is so excited about Bitcoin that he recently announced that Virgin Galactic, the "space tourism" branch of his company, will accept Bitcoin payments.
Cameron and Tyler Winklevoss
Best known for their grueling lawsuit against former Harvard classmate and Facebook founder Mark Zuckerberg, the Winklevoss twins have since entrenched themselves in the Bitcoin community. They led founding for BitInstant, a startup that provides a marketplace for buying and selling Bitcoins, and have claimed to collectively own 1% of all Bitcoins in existence.
Sean Parker and Peter Thiel
Sean Parker's notoriety predates even that of the Winklevoss twins, for co-founding the controversial file-sharing service Napster in 1999. He also has ties to Facebook's early days and was an early investor in music streaming service Spotify. Together with Peter Thiel, whom Parker brought in as Facebook's first investor, Parker has helped fund corporate Bitcoin startup Bitpay through The Founders Fund, Thiel's capital fund where Parker serves as managing partner.
Copyright © 2013 IDG Communications, Inc.
Next Up: Check out these related slideshows