Creativity is key to recruitment: IT executives scout for stars by tapping a mix of blogs, podcasts and more traditional word-of-mouth referrals.
For Katherine Spencer Lee, creativity is one of the hallmarks for finding and hiring quality IT staff. Lee, executive director of IT staffing firm Robert Half Technology, saw that belief come to life when she sat down this summer in her local movie theater to take in the latest Star Wars epic. There, in the mix of preshow advertisements, was an ad from a company seeking IT help.
"That is a thing of beauty," Lee says. "It's thinking about where these people are. If you are a sci-fi, technology junkie you are in line to go see this movie."
While it appears it would take a lightsaber battle to get director George Lucas to film another such hiring opportunity, IT executives will likely have to turn to other avenues in the coming months to find quality staffers.
In a survey of 1,400 CIOs conducted last month by Lee's firm, 16% of executives polled plan to hire full-time IT staff in the fourth quarter of 2005, while only 4% plan to reduce personnel. The net 12% increase in hiring is the largest net increase since the third quarter of 2002.
But in this employee search, IT executives will have to battle over what surveys show are fewer and fewer qualified applicants.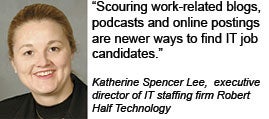 The number of college students who have declared their major in computer science has declined for the past four years and is now 39% lower than in the fall of 2000, according to the Taulbee Survey of the Computing Research Association.
Federal laws that cap the number of foreign workers also might limit the number of candidates. The U.S. Citizenship and Immigration Services last month said that the 65,000-person cap on H-1B visas for fiscal 2006 has already been reached. While that could mean more job openings for American students, the number of qualified students needed to fill jobs might not meet demand, considering the decline in computer science programs enrollment.
As a result, IT executives are taking inventory of what type of personnel they need and where they will find it. They say that while creativity helps, old-school methods seem to fit more with today's IT requirements.
"Executives today need to look beyond traditional technical skills-really what they were looking for in the '80s and '90s," says Jerry Lufman, an executive board member with the Society for Information Management (SIM), a professor at Steven Institute of Technology and a former CIO at IBM. "Now we are looking for skills for effective communication, interpersonal skills and project management skills. Those are the kinds of things that are really high on the list of consideration."
Lufman says you can't find those traditionally non-techie qualities on a résumé. "You have to get out and meet with job candidates, see how they relate to you, how effective they are in marketing themselves."
He says that tapping into professional networks, such as SIM, to find and meet potential candidates can do that. "With SIM, if somebody in my network that I have a lot of confidence in identifies a candidate for me then that is going to forgo a lot of the work that I have to do," Lufman says.
He says that approach helps in the search for executive and midlevel jobs, but takes a really strong network to be effective for entry-level positions.
Dave Sroelov, president of A&S Computer Services in Wake Forest, N.C., says he falls back on a method that always works for him: manually scanning résumés. "No résumé scanner can pick up character and personality," he says.
And in the interview process he is less concerned about candidates' tech skills than he is about what motivates them.
"I try to find out what they have done overall, their thought process, how they attack problems. I want to find someone who can think their way out of a paper bag; someone who is valuable to the company over the long run," he says.
Robert Half's Lee says IT executives also can turn to newer methods to find candidates using work-related blogs and podcasts, or online resources such as craigslist that can offer local and regional filters. She says asking the people already on your staff isn't a bad place to start.
That tactic gets the thumbs up from Robert Rosen, a CIO with a government agency and the president of SHARE, an IBM users' group with more than 20,000 members.
"A personal reference is always a good thing. Of course, we are restricted in the government," says Rosen, who notes rules on how he can advertise for jobs.
He says SHARE right now is dissecting hiring issues among its membership. "Many are trying the job boards, like Monster, but the really big thing is personal contacts," Rosen says. He also adds that college programs that take an innovative approach to educating future IT staff can produce gems, including programs SHARE has dealt with at Marist and at Northern Illinois University that combine technical studies with business courses.
"The people on the dual track at NIU get snapped up," Rosen says.
Of course, Rosen hopes that future rounds of hiring won't require such fishing expeditions if the old-school plans of mentoring can be revived as a key ingredient to homegrown IT pros.
"There are a lot of things we don't do today that we did in the past, such as bringing people in at the bottom and then teaming them up with more senior people who can pass on their skills," he says. "A lot of that has gone away."