The Sonos Digital Music System knows and loves networks.
Sonos certainly isn't the first company to have a networked digital music player, but it's the first one to understand networking.
This became obvious when I loaded the software on a PC and it gave me the option to play music stored on a network share - in my case, a LinkStation network-attached storage (NAS) device from Buffalo Technology. Other systems might let you play music off a NAS, but only the Sonos Digital Music System lets you do it so elegantly.
Elegance is the name of the game for the Sonos system, from its shoe box-sized ZonePlayers, to its sleek ZoneController two-handed remote control with color LCD screen that lets you play different songs in different rooms, or the same music in every room simultaneously.
The second indication I was in friendly network territory was when the instructions recommended a router. Every other system takes the lowest common denominator route, by assuming you have only one computer.
Installation of a ZonePlayer involved connecting two speakers, plugging the Ethernet cable into the router, and plugging in a power cord. After that, a quick software install onto a PC got us up and running. You don't have to install the software. Instead, you set up everything through the remote control. However, using the software was easier than running through the ZoneController menus.
Only one ZonePlayer needs to connect to the router. More ZonePlayers will communicate with it via a proprietary wireless mesh network (2.4GHz). But they need to plug into a power outlet.
With everything installed in less than 15 minutes, you'll spend the rest of the time learning the intricacies of the ZoneController remote control and the DesktopController software. Depending on the number of ZonePlayers installed, you can use either the remote or the PC software to pick which songs to play in which zones. Playing a song or switching zones was instantaneous. We experienced no delays any time we switched.
As a bonus, Sonos bundles many Internet radio stations. After a bit of searching, I easily added several streaming radio stations to the system.
My only gripe with the system was its method of loading songs to play: The software requires you to create a queue (playlist) of individual songs. When you select an album with the Sonos system, it only plays the first song unless you queue up the entire album manually.
The other potential stumbling block is price. A starter kit with two ZonePlayers and the ZoneController costs $1,200, and extra ZonePlayers cost $499. Speakers are extra (Sonos provided us with two sets of $150 speakers, but you could use your own). Once you get hooked, you'll want to outfit several rooms with ZonePlayers, which could ring up a hefty bill.
OFFLINE PURSUITS
All-in-one photo lab Epson's Stylus Photo RX620 is a photo printer and scanner that can restore colors to old photos, slides or negatives. It supports 11 types of memory cards and can print a 4- by 6-inch photo in 39 seconds. The RX620 costs $300.Street soccer strikesFirst there was street-style basketball, then football - now comes world football. Electronic Arts' EA Sports BIG division has shipped FIFA Street, an arcade-action soccer game that lets you play four-on-four soccer in various street locations. The $40 game is available for Playstation 2, Xbox and Nintendo Gamecube.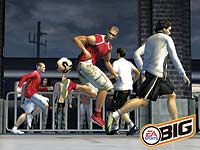 Watch world TV on your PCWant to choose from more than 300 worldwide channels to watch on your broadband PC? TVexe.com has released its TV v1.0.0 software (Windows 95 and higher), which lets you search for channels via category or region, and includes sports, news, music, educational, and English, French, Spanish, German, Portuguese and Arabic channels. The software is free, available here.
Learn more about this topic
Off the Clock blog
Stay on top of the latest in home network gaming, entertainment, multimedia and more.