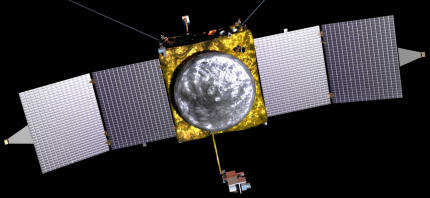 NASA this week awarded Lockheed Martin a $485 million contract to design, build and operate the spacecraft for NASA's 2013 space mission known as Mars Atmosphere and Volatile EvolutioN (MAVEN) program.
Maven is set to analyze the upper atmosphere and climate changes on Mars. The spacecraft will circle Mars in an elliptical orbit as it studies current atmospheric losses with an emphasis on the role of the solar wind. These present-day losses will give insight to the massive climate change Mars experienced in the past, NASA said.
After arriving at Mars in the fall of 2014, MAVEN will use its propulsion system to bring the ship into an orbit ranging 90 to 3,870 miles above the planet, NASA said. The spacecraft's eight science instruments will take measurements during a full Earth year, which is roughly equivalent to half of a Martian year. MAVEN also will drop to an altitude 80 miles above the planet to sample Mars' entire upper atmosphere. During and after its primary science mission, the spacecraft may be used to provide communications relay support for robotic missions on the Martian surface, NASA said.
The mission's leader is Bruce Jakosky of the Laboratory for Atmospheric and Space Physics at the University of Colorado at Boulder which will get $6 million to fund mission planning and technology development during the next year, according to NASA.
The spacecraft is based on the designs of the Mars Reconnaissance Orbiter (MRO) and 2001 Mars Odyssey spacecraft - both designed and built by Lockheed Martin. MRO was launched in August 2005 and Odyssey was launched in April 2001. Both spacecraft are still performing science operations as they orbit the planet. Lockheed Martin also conducts flight operations for both missions for NASA.
MAVEN is the second mission in NASA's Mars Scout Program - a series of small, low-cost, principal investigator-led missions to the Red Planet, NASA said. The Phoenix Mars Lander was the first mission under the program. Lockheed Martin is the industry partner on the Phoenix mission. It designed and built the spacecraft, and also provided flight operations and currently surface operations for the lander. The mission has been extended through Sept. 30, 2008.
Layer 8 in a box

Check out these other hot stories:

NASA banging, freezing next generation space telescope into shape

GAO report torches US for dumping electric waste in foreign countries

FTC wants to clamp down on prepaid phone card deception

FBI going high-tech for mounting intelligence gathering role

FBI uses digital billboard network to fire warnings at criminal element

Researchers look to bury current air traffic control network