We've all heard the warnings against drinking and dialing, where people make calls late at night that, in their impaired state, seem perfectly reasonable--only to wake up the next morning regretting every single word they said. But drinking and e-mailing? Maybe it's a bigger problem than we realize. And if so, Google is here to help. The company just launched a new Labs feature, cleverly called "Mail Goggles," that when activated, prevents impaired users from sending e-mail. At last. No more drinking and e-mailing.
The trick? Math problems. Once activated, Mail Goggles refuses to send your e-mail until you've successfully completed five simple math problems within a specific amount of time. Here's a look at a typical Mail Goggles warning message: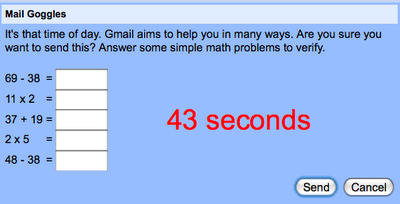 By default, the feature only activates late at night on weekends, "as that is the time you're most likely to need it," Google says in the blog announcing the feature. Users can also adjust the feature to activate at a time of their own choosing by making adjustments in Gmail's General settings.
There's just one problem with the whole setup. While the inability to do math problems successfully may be the result of intoxication, it may also be the result of poor math skills. What about the math-challenged Gmail user wishing to send an important e-mail about that next merger or company strategy--will they be hampered simply because it's midnight Friday night and they don't have a pencil and paper handy? Something to think about, Google.