10 Sorriest Technology Companies of 2013
Microsoft, Apple and Samsung among those issuing mea culpas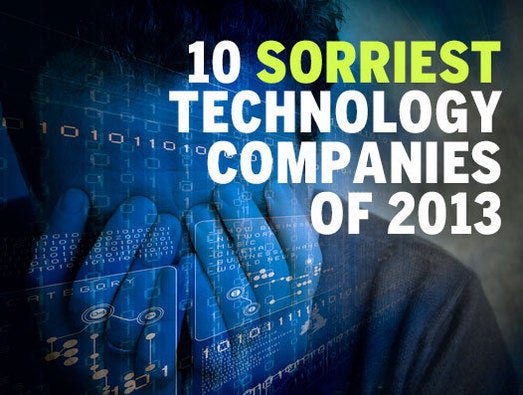 Tech company apologies have paled in comparison, at least in terms of getting attention, to those of politicians (Jessie Jackson, Jr., Anthony Weiner) and celebrities (Paula Deen, Serena Williams, etc.) this year. But there has been no shortage of sorry companies in the network and computing industry this year. Here's a look back.
RELATED: 11 Sorriest Tech Companies of 2012
Microsoft's messaging services have kept it busy on the apology front. In March, the company apologized after 13-hours worth of glitches due to a botched firmware upgrade downed its Hotmail and Outlook.com services, along with its SkyDrive cloud storage service. Microsoft was issuing mea culpas again in August when Outlook.com and SkyDrive suffered partial outages over three days. The August outages came days after Microsoft triumphantly announced that it had exceeded 99.9% uptime in each of the past four quarters for its Office 365 cloud suite, which businesses use for email, collaboration and communication. "We want to apologize to everyone who was affected by the outage, and we appreciate the patience you have shown us as we worked through the issues," Microsoft said.
AOL CEO Tim Armstrong in early August fired Abel Lenz, creative director of the company's flagging Patch.com hyperlocal news site operation, in front of 1,000 fellow employees after Lenz took a picture during a company meeting about impending layoffs. Armstrong circled back a few days later to apologize, writing in part: "I am the CEO and leader of the organization, and I take that responsibility seriously. We talk a lot about accountability and I am accountable for the way I handled the situation, and at a human level it was unfair to Abel." Not that Lenz got his job back.
Apple has definitely become more apologetic under CEO Tim Cook than it was under Steve Jobs. Last year, Apple apologized profusely for its Apple Maps issues. This year, Cook apologized to China for perceived unfairness related to the company's iPhone repair policies in China vs. in other markets (for example, only replacing components of malfunctioning phones, rather than just replacing the phones). Here's a chunk of that Cook apology: "We have become aware that our external communication was not enough and misled observers into thinking that Apple had an arrogant attitude. For any concerns or misunderstanding we brought to our customers, we express our sincere apologies."
Samsung was forced to apologize for an ill-conceived PR ploy that involved hiring Taiwanese students to write bad reviews of rival HTC's smartphones. Samsung's apology: "Samsung Electronics remains committed to engaging in transparent and honest communications with consumers as outlined in the company's Online Communications Credo. We have encouraged all Samsung Electronics employees worldwide to remain faithful to our Credo. The recent incident was unfortunate, and occurred due to insufficient understanding of these fundamental principles. Samsung Electronics Taiwan (SET) has ceased all marketing activities that involve the posting of anonymous comments, and will ensure that all SET online marketing activities will be fully compliant with the company's Online Communications Credo. We regret any inconvenience this incident may have caused."
The founder of an eavesdropping-resistant instant messaging application called Cryptocat apologized in July over a since-fixed bug that made some types of messages more vulnerable to snooping. Cryptocat, which runs inside a web browser, is an open-source application intended to provide users with a high degree of security by using encryption to scramble messages. Founder Nadim Kobeissi on his outfit's developer blog that "On behalf of the Cryptocat project, team members and volunteers, I apologize unreservedly for this vulnerability, and sincerely and deeply thank Steve Thomas for pointing it out. Without him, we would have been a lot worse off, and so would our users."
While almost anything goes on social news aggregator Reddit, even this outfit felt compelled to apologize for what amounted to a "witch hunt" for the Boston Marathon bombing suspects in April that led to a Brown University student being falsely accused (he had been missing and was later found dead). Reddit GM Erik Martin posted in a blog that "[T]hough started with noble intentions, some of the activity on reddit fueled online witch hunts and dangerous speculation which spiraled into very negative consequences for innocent parties. The reddit staff and the millions of people on reddit around the world deeply regret that this happened."
Kaspersky Lab apologized following a flawed anti-malware update that went out in February for its Endpoint Security product and caused serious disruptions in enterprise networks. "Customers have reported issues that include: long log-in times; slow launch of third-party applications, unavailability of Kaspersky icon in tray and, in rare cases, Internet Explorer crashing. The problem is affecting random machines running Windows XP SP3, Windows Vista and Windows 7 operating systems with Kaspersky Endpoint Security 8 for Windows 8.1.0.831 installed. These issues are an unacceptable inconvenience and burden to the productivity of our customers but they do not affect the security of their systems." Unfortunately, follow-up patches also caused problems, leading Kaspersky to again "apologize for any inconvenience caused."
Google always has its share of service outages, so the company apologized for those, such as when Drive went dark in March and then Drive and Gmail went down for a couple of hours in April. But perhaps the most awkward apology the company issued came during a shareholders' meeting when Executive Chairman Eric Schmidt and CEO Larry Page were asked why a Google Doodle of Cesar Chavez ran on Easter Sunday, a decision the questioner said called into question the company's political motives and that offended many Christians. Schmidt replied in part: "...there was no intent to slight anyone... there was certainly no intent, and if there was offense, it was certainly not intended and I do apologize."
OK, this isn't a typical technology company, but nevertheless: The talking heads at KXAN TV news in Austin apologized in June after their station accidentally aired a commercial during the final play of Game 4 of the National Hockey League Stanley Cup Final, in which the Chicago Black Hawks scored a sudden-death game-winning goal vs. the Boston Bruins. One of the newscasters apologized for the horrible timing of the mistake, to which another added: "Computer automation...will bite you sometimes." Of course, those of us rooting for the Bruins in Boston might have been happy to have had the error occur -- as long as the goal didn't count.
Evernote forced the 50 million users of its note-taking and productivity service to change their passwords after a hacking attack on its systems early this year. While passwords were encrypted, Evernote said it didn't want to take any chances, and then began moving to a two-factor authentication system. Evernote alerted customers of the hack and issued an apology that read in part: "Thank you for taking the time to read this. We apologize for the annoyance of having to change your password, but, ultimately, we believe this simple step will result in a more secure Evernote experience."
Next Up: Check out these related slideshows