What now for lithium ion technology?
A quick look at lithium ion technology and research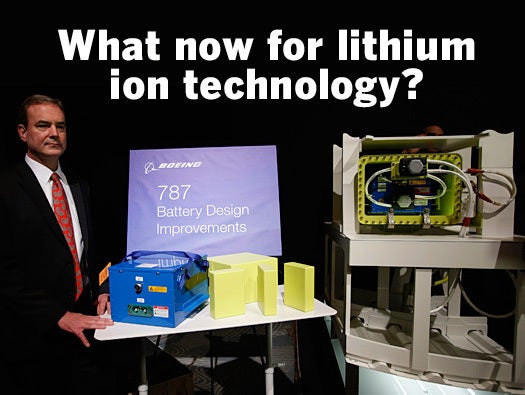 Lithium ion technology has been in the news lately for all the wrong reasons -- as the chief suspect in battery fires onboard Boeing spanking new 787 Dreamliner. But the high-tech industry – everything from smartphones to cars and satellites would be hard pressed to live without lithium ion technology. Here we take a look at where the stuff comes from and the research being done to make it better.
Most of the world's lithium production comes from the so-called 'lithium triangle' of Argentina, Chile and Bolivia. Reuters says Chile is the world's leading source of the metal, turning out around 40% of global supply and Argentina is also a significant producer. Output from the region may soon rise after Bolivia - the country that holds an estimated 50% of the world's lithium reserves - opened its first lithium pilot plant in January.
View of a lithium mining camp on the Salar del Hombre Muerto, or Dead Man's Salt Flat on the border of the northern Argentine provinces of Catamarca and Salta. Argentina, Chile and Bolivia hold the planet's largest reserves of lithium, the world's lightest metal and a key component in batteries used to power a range of technologies from cell phones to laptops to electric cars.
An overview of the Dead Man's Salt Flat, an important source of lithium at around 4,000 meters (13,123 feet) above sea level.
Workers of Galaxy Resources lithium mining division shovel halite concentrate at the Salar del Hombre Muerto.
Galaxy Resources workers cart lithium halite concentrate.
Geologist Mariela Hoyos (L) and her assistant Lucindo Lamas of Galaxy Resources adjust the flow of brine from the Salar del Hombre Muerto.
Laundry lies drying in the sun in the area around the Salar del Hombre Muerto. 
A llama stands next to a cactus growing on Incahuasi Island above the Uyuni salt lake, which holds the world's largest reserve of lithium, southwestern Bolivia.
A tourist sits on Incahuasi Island while looking out over the Uyuni salt lake, which holds the world's largest reserve of lithium, located at 3,656 meters (11,995 ft) above sea level.
Flags of different countries fly from posts on the Uyuni salt lake.
A look at the lithium pilot plant on the southern edge of the Uyuni salt lake.
Laboratory technicians analyze brine samples at the lithium pilot plant on the southern edge of the Uyuni salt lake.
A view of one of the brine pools that are part of the lithium pilot plant on the Uyuni salt lake.
An aerial view of the brine pools and processing areas of the Soquimich lithium mine on the Atacama salt flat, the largest lithium deposit currently in production, in the Atacama desert of northern Chile.
A worker walks in front of brine pools at the Rockwood Lithium plant.
A view of a brine pool and pumps at the Rockwood Lithium plant on the Atacama salt flat.
A worker for Rockwood Lithium walks among sacks of lithium carbonate produced from the Atacama salt flat.
A view of samples of lithium carbonate processed from the Rockwood Lithium mine on the Atacama salt flat. 
Not everyone is enamored of Lithium Ion battery production. Here a woman holds a sign as she participates in a protest against a battery factory in front of the local government building of Songjiang district, on the outskirts of Shanghai this month. According to local media, Hefei Guoxuan High-tech Power Energy Co Ltd plans to build a lithium ion battery factory on a 23.1-acre plot in the Songjiang Industrial Park, the largest of its kind in eastern China.
National Transportation Safety Board investigators display the exterior case of a thermal-damaged lithium ion battery, as a part of their ongoing investigation into why the battery caught fire in a Japan Airlines' 787 parked at Boston Logan International Airport Jan. 7.
Graphic detailing the Dreamliner's rechargeable lithium-ion batteries, which caught fire in separate incidents and caused regulators to ground the plane on Jan. 16.
An All Nippon Airways' (ANA) Boeing Co's 787 Dreamliner plane receives restoration work at Okayama airport in Okayama, western Japan. Boeing recently began installing reinforced lithium ion batteries on five grounded 787 jets owned by launch customer ANA, starting a process that should make the first commercial Dreamliners ready to fly again in May. 
Boeing vice president and 787 Dreamliner chief production engineer Mike Sinnett poses with model of Boeing's 787 Battery Design Improvements after a news conference in Tokyo March 15, 2013. Boeing Co said its proposed fix for problems relating to the lithium-ion batteries on its 787 Dreamliner would eliminate the risk of fire, as the company seeks to reassure regulators and the public about the jet's safety and get it flying again.
Workers can be seen on the moving line and forward fuselage assembly areas for the F-35 Joint Strike Fighter at Lockheed Martin Corp's factory located in Fort Worth, Texas in this Oct. 13, 2011 handout photo provided by Lockheed Martin. Lockheed Martin Corp on Feb. 25, 2013 said there was no evidence that a lithium-ion battery contributed to a February incident that caused smoke in the cockpit of an F-35 test plane. Lockheed spokesman Michael Rein said initial reviews indicated a potential failure in the plane's cooling system, which had been removed from the aircraft for further study.
Sony's lithium-ion battery for its Vaio laptops.
An electron microscope image of a spray-painted lithium-ion battery developed at Rice University shows its five-layer structure. Conventional lithium-ion batteries wrap active layers into a canister or other portable container. But Rice University researchers have found a way to paint those layers onto any surface, which opens up the possibility of turning those surfaces into storage devices.
A Nissan Leaf car runs on a road during an electric car rally from Tallinn to Monte-Carlo, near Tallinn June 1, 2012. The rally lasts for 10 days, during which electric cars will cross 10 countries and cover a distance of more than 3300 km (2050 miles). According to Nissan, the Leaf's expected all-electric range is 160 km (100 miles). It uses a 80 kW (110 hp) front-mounted synchronous electric motor to drive the wheels and powered by a 24 kilowatt-hours lithium ion battery pack. 
A section of the lithium-ion battery pack that was removed from a Chevrolet Volt electric vehicle. A bolt-by-bolt, surgical deconstruction of the Volt attended by Reuters without the involvement of GM showed how the plug-in hybrid was designed for relatively quick upgrades such as a longer driving range under electric power.
Astronauts Eric Boe (L) and Alvin Drew work with lithium hydroxide canisters on space shuttle Discovery.
An employee of Japan's Electronic Vehicle maker Yodogawa, poses in its electric vehicle car "Meguru" at the Electronic Automotive Technology Expo in Tokyo January 2011. The lithium-ion battery powered three-wheeler features a flooring made from real bamboo and fan-shaped doors made from Japanese wood pulp paper, the company said. 
A prototype lithium ion button cell shown during a demonstration at the Palo Alto Research Center in March.
Lithium Batteries for Hybrid and Electric Cars: Despite the amount of fuel needed to launch a space shuttle (835,958 gallons of liquid propellants)—or perhaps because of it—NASA is a big proponent of electric vehicles. So much so that the Kennedy Space Center worked with Hybrid Technologies, a manufacturer of lithium-ion battery powered electric vehicles, to improve the battery management systems in the company's cars. The result of their collaboration? The first all-electric taxi used in New York City as well as an electric MINI Cooper (pictured here).
In January, scientists at Oak Ridge National Laboratory touted what they called the first high-performance, nanostructured solid electrolyte for more energy-dense lithium ion batteries. Today's lithium-ion batteries rely on a liquid electrolyte, the material that conducts ions between the negatively charged anode and positive cathode. But liquid electrolytes often entail safety issues because of their flammability, especially as researchers try to pack more energy in a smaller battery volume. Building batteries with a solid electrolyte, as ORNL researchers have demonstrated, could overcome these safety concerns and size constraints.
Copyright © 2013 IDG Communications, Inc.
Next Up: Check out these related slideshows