Apple's most important acquisitions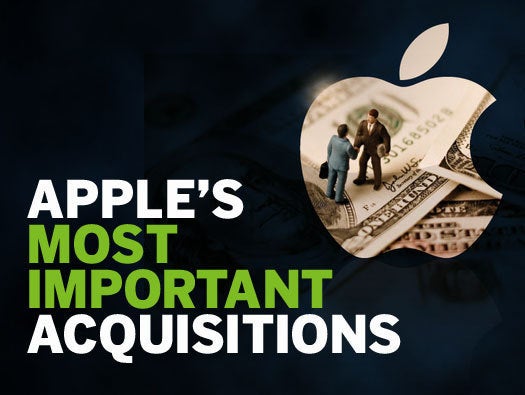 Apple's most important acquisitions
In contrast to companies like Google, Cisco, or say, the Microsoft of yesteryear, Apple doesn't typically go on acquisition sprees. Put differently, Apple doesn't spend millions of dollars acquiring companies simply because they have interesting technology. Rather, they make surgical acquisitions that have a precise fit within the company's broader product plans. It goes without saying that Apple's acquisitions have played a fundamental role in its products, such as OS X, the iPod, and the iPhone. That being said, here are some of Apple's most important and influential acquisitions over the last 30 years.
RELATED: Apple's most important WWDC moments
FingerWorks
Apple in April 2005 acquired Fingerworks in one of its most important acquisitions in company history. FingerWorks specialized in multitouch technology, and when Apple acquired the company it went right to work developing multitouch for the iPhone. Today, the iPhone is Apple's primary source of revenue.
SoundJam MP
In 2000, Apple acquired a desktop-based MP3 player program called SoundJam MP. Incidentally, the software was developed by folks who had previously worked at Apple in the early 1990s. Upon acquiring the software, Apple added some tweaks and removed some features from SoundJam. The result was Apple's first iteration of iTunes, released in early 2001.
P.A. Semi
When it comes to mobile products like the iPhone and the iPad, battery life is of paramount concern. Apple has, for years, worked diligently to make its products more power-efficient. Helping out in this regard was Apple's 2008 purchase of P.A. Semi for $278 million. P.A. Semi was a microprocessor design company highly regarded for its low-power chips. Its expertise is believed to have played an instrumental role in developing Apple's series of highly regarded AX chips.
Bluefish Labs
In 2001, Apple acquired Bluefish Labs. The CEO of Bluefish Labs at the time was Roger Rosner, who was put in charge of Apple's productivity applications. Apple's acquisition of Blue Fish Labs ultimately led to the development of Apple's iWork suite of software, including Pages, Numbers and Keynote. Incidentally, Rosner is now in charge of Apple's digital textbook tools.
Poly9 and C3 Technologies (2010 and 2011)
I linked these two together because they are both mapping-based acquisitions. Apple would go on to use technologies from these acquisitions in its homegrown Maps app, which debuted with the release of iOS 6. As a specific example, Apple's 3D Flyover effect in its Maps app was acquired from C3 Technologies.
Emagic
In July 2002, Apple purchased EMagic, a German-based music production and software company, for about $30 million. The technology and personnel Apple obtained in the acquisition would go on to help develop Logic Pro and GarageBand, the latter of which would soon become a staple in Apple's suite of iLife software.
Siri
This acquisition likely needs no introduction. Siri was acquired by Apple for an undisclosed amount back in April 2010, and its technology was initially implemented into the iPhone 4S. Siri remains an ever-important part of Apple's software strategy. Just last year, Tim Cook noted that Apple still has a lot of plans with Siri and that the company is "doubling down" on the technology. 
Power Computing
If Power Computing sounds familiar, it's because the company licensed the Mac OS back in the early 90s as part of Apple's misguided Mac cloning initiative. Always keen to keep Apple's crown jewels in-house, Steve Jobs, upon assuming the role of interim CEO in 1997, purchased Power Computing for $100 million in Apple stock. The acquisition is significant because it represented a shift back to Apple's roots, where the company was tasked with making its own software and hardware.
AuthenTec
In July, 2012, Apple acquired a fingerprint sensor technology company called AuthenTec for a reported $356 million. While Apple's plans with the company remain to be seen, it's largely believed that Apple will utilize its technology to implement fingerprint authorization functionality into the iPhone 5S home button. Such functionality would help facilitate NFC mobile commerce, perhaps leading up to the rumored Apple iWallet.
Nothing Real
Apple in 2002 acquired Nothing Real, a company renowned for its special effects and post-production software. The company's technology would subsequently be added to Shake, with which Apple made high-end visual effects software more affordable for the masses. Shake, however, was discontinued in 2009.
NeXT Computer
On Dec. 20, 1996, Apple purchased NeXT for $429 million. In doing so, the Mac OS was saved and, more importantly, Steve Jobs returned to the company he helped co-found. Apple's acquisition of NeXT is arguably the company's most significant. Without the return of Steve Jobs, we wouldn't have seen OS X, the iPod, the iPhone, or the iMac.
Other notable acquisitions
Some other notable Apple acquisitions include Imsense, whose technology is responsible for the iPhone's HDR feature. And last, and sort of least, we have Apple's purchase of Quattro, representing the company's effort to get into the world of mobile advertising.
[ALSO: Top tech M&As of 2013]
Next Up: Check out these related slideshows