The most magnificent high-tech flying machines
From jets that can hit Mach 20 to green, fuel efficient airliners, high-tech aircraft development is all the rage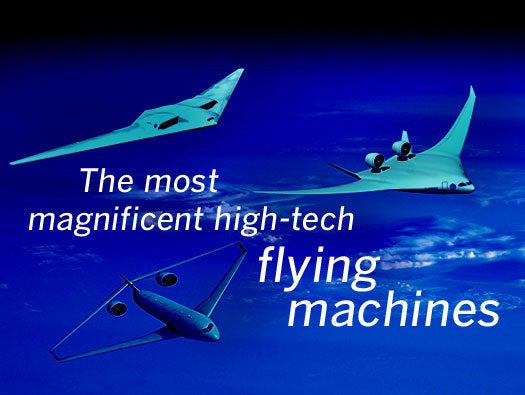 Few things can ignite passion as much as an amazingly designed aircraft or rocket flashing through the sky. Here we take a look at some of the latest in high-tech flying machines. Some are only prototype s that are pure research vehicles, others you may someday see of fly in in the next few years or more in other cases.
An U.S. Air Force X-51A Waverider is an unmanned aircraft that could reach speeds up to 3,600 MPH, is launched from the wing of a B-52 . After three short, somewhat unsuccessful test flights, the research machine this year hit Mach 5.1 at 60,000 feet during a record 370-second flight. No further tests are scheduled.
The Defense Advanced Research Projects Agency Falcon Hypersonic Technology Vehicle 2 (HTV-2) is unmanned hypersonic research machine that is aimed at hitting speeds 20 times the speed of sound. Launched twice it has been largely unsuccessful.
A computer-generated image of an EADS Atrium aircraft which will enable space tourists to experience weightlessness that will carry passengers briefly outside the Earth's atmosphere. The aircraft, about the size of an executive jet will be able to carry four passengers around 100 kilometers from the Earth, where they will be able to experience about three minutes of weightlessness and see the curve of the Earth at a price of about $265,900.
A NASA picture taken through the window in the sidewall of the 8- by 6-foot supersonic wind tunnel at NASA's Glenn Research Center shows a 1.79% scale model of a future concept supersonic aircraft built by the Boeing. In recent tests, researchers evaluated the performance of air inlets mounted on top of the model to see how changing the amount of airflow at supersonic speeds through the inlet affected performance. The inlet on the pilot's right side (top inlet in this side view) is larger because it contains a remote-controlled device through which the flow of air could be changed.
The Long Endurance Multi-Intelligence Vehicle (LEMV) is pictured above Joint Base McGuire-Dix-Lakehurst, New Jersey during its first flight in 2012. The LEMV, like a blimp, is said to be capable of carrying multiple intelligence, surveillance and reconnaissance payloads for more than 21 days at altitudes greater than 22,000 feet.
The Air Force (NASA) X-37 Orbital Test Vehicle. The 11,000 pound "mini space shuttle" has had largely classified trips to space but from all indications it has been a success.
The Virgin Galactic SpaceShip2 glides toward Earth on its first test flight after being released from its WhiteKnight2 mothership over the Mojave, California. You may recall that in the Virgin Galactic world, SpaceShipTwo is flown into suborbital space onboard its mothership , WhiteKnightTwo and released where it can rocket into suborbital space for a short time before it glides back to Earth. The company expects to use the craft to take tourists to the edge of space in the next year or so.
Graphic detailing Virgin Galactic's SpaceShipTwo and its carrier aircraft, WhiteKnightTwo.
Diagram of Boeing's CST-100 space vehicle. The company plans to offer private space trips aboard the craft as soon as 2015.
The Solar Impulse electric aircraft has the wingspan of a Boeing 747 and is currently flying across the U.S. at about 40 MPH under solar power.
The SpaceX Falcon Heavy is being tested and is said to be able to lift 17,000 pounds into low Earth orbit.
Salah Sukkarieh, professor of Robotics and Intelligent Systems at the University of Sydney, Australian Centre for Field Robotics, stands next to one of his robotic aircraft in his laboratory in Sydney April 24, 2013. Australian farmers are increasingly turning to science to maximize yields, with agricultural robots and existing technology a likely future for the average farm. 
The world's largest Lego modeled after the Star Wars X-wing Starfighter is seen at Times Square after being unveiled in New York in May.
The Triton unmanned aircraft system is shown completing its first flight from the Northrop Grumman manufacturing facility in Palmdale, Calif. The 80-minute flight successfully demonstrated control systems that allow Triton to operate autonomously. Triton is designed to fly surveillance missions up to 24-hours at altitudes of more than 10 miles, allowing coverage out to 2,000 nautical miles.
An X-47B Unmanned Combat Air System demonstrator flies near the aircraft carrier USS George H.W. Bush (CVN 77) after launching from the ship in the Atlantic Ocean in May 14. The George H.W. Bush became the first aircraft carrier to successfully catapult launch an unmanned aircraft from its flight deck.
Illustrated factbox on select U.S. Military drones in development, with charts showing the budget for the unmanned aerial systems program over the years. Includes inventory numbers for manned and unmanned aircraft.
An octocopter (a drone with eight rotors) hovers in front of vapor trails left by aircrafts during a presentation, to showcase the potential use of drones in the video and photography industries.
The fourth U.S. Air Force F-35A Lightning II aircraft arrives at the 422nd Test and Evaluation Squadron at Nellis Air Force Base, Nevada in April 24.
The first U.S. Navy helicopter squadron to include manned and unmanned aircraft is established during a ceremony at Naval Air Station North Island in Coronado, Calif. The Helicopter Maritime Strike Squadron 35, named the "Magicians" will fly Sikorsky Multi Mission MH60-R as well as the Fire Scout MQ-8 B helicopter. The unmanned chopper can be operated from up to 110 miles away, according to the Navy.
OK not a fancy new experimental plane but….NASA's DC-8 flying laboratory will this summer carry a team of scientists and their sensors for the Studies of Emissions, Atmospheric Composition, Clouds and Climate Coupling by Regional Surveys campaign. SEAC4RS will investigate how pollution and natural emissions affect atmospheric composition and climate.
The X-48C Hybrid Wing Body research aircraft banks right over NASA's Dryden Flight Research Center at Edwards Air Force Base during one of the sub-scale aircraft's final test flights in Feb. The manta-shaped X-48 Hybrid Wing Body technology demonstrator flew a total of 122 flights. The HWB design stems from concept studies being conducted by NASA's Environmentally Responsible Aviation project of future potential aircraft designs 20 years from now.
This is an updated future aircraft design concept from NASA research partner Lockheed Martin. NASA says it is a good example of how simulations and wind tunnel tests, conducted over time, generate data that tell researchers how to improve a design to achieve goals. The goals for a future supersonic aircraft are to produce a much lower-level sonic boom and to reduce emissions.
This concept of an aircraft that could fly at supersonic speeds over land is being used by researchers, especially at NASA's Langley Research Center, to continue to test ideas on ways to reduce the level of sonic booms. Its technologies – the F-100-like propulsion system, a tail blister, and the overall shape – are combined to achieve a lower target perceived decibel level.
This idea for a possible future aircraft is called a "hybrid wing body" or sometimes a blended wing body. In this design, the wing blends seamlessly into the body of the aircraft, which makes it extremely aerodynamic and holds great promise for dramatic reductions in fuel consumption, noise and emissions, NASA said.
Boeing's advanced vehicle concept centers around the familiar blended wing body design like the X-48. What makes this design different NASA says, is the placement of its Pratt & Whitney geared turbofan engines on the top of the plane's back end, flanked by two vertical tails to shield people on the ground from engine noise. The design also uses other technologies to reduce noise and drag, and long-span wings to improve fuel efficiency.
Lockheed Martin's advanced vehicle concept proposes a box wing design, which is now feasible thanks to modern lightweight composite (nonmetallic) materials, landing gear technologies and other advancements. Its Rolls Royce Liberty Works Ultra Fan Engine achieves a bypass ratio (flow of air around engine compared to through the engine) nearly five times greater than current engines, pushing the limits of turbofan technology to maximize efficiency.
Northrop Grumman's concept is based on the extremely aerodynamic "flying wing" design. The four Rolls Royce engines are embedded in the upper surface of the wing to achieve maximum noise shielding. The company used its expertise in building military planes without a stabilizing tail to propose this design for the commercial aviation market.
This computer-generated image shows a possible future "flying wing" aircraft, very efficiently and quietly in flight over populated areas. This kind of design, produced by Northrop Grumman, would most likely carry cargo at first and then also carry passengers, NASA said.
AMELIA (Advanced Model for Extreme Lift and Improved Aeroacoustics), a possible future hybrid wing body-type subsonic vehicle with short takeoff and landing capabilities. Produced through a three-year NASA Research Announcement grant with the California Polytechnic State Institute, AMELIA's ability for steeper ascents and descents could reduce community noise levels on takeoff and landing.
This artist's concept shows a possible future subsonic aircraft using a boxed- or joined-wing configuration to reduce drag and increase fuel efficiency. This design of an aircraft that could enter service in the 2020 timeframe is one of a number of designs being explored by NASA with teams of researchers from industry and universities.
One of the advanced design concepts – the D8 or "double bubble" – is now a subscale model being tested in a wind tunnel at MIT. The design, developed for NASA by a team led by Massachusetts Institute of Technology, has a very wide fuselage to provide extra lift, low-swept wings to reduce drag and weight, and engines sitting above the fuselage and aft of the wings to block some noise from reaching the ground, NASA said.
NASA says this future aircraft design concept comes from the research team led by GE Aviation. Much lighter and more aerodynamic than current aircraft with the same capacity, the 20-passenger aircraft would reduce fuel consumption and noise and enable business jet-like travel between more than 1,300 airports. It features ultra-quiet turboprop engines, virtual reality windows and is designed to fly at Mach 0.55 for 800 nautical miles.
The Silent Efficient Low Emissions Commercial Transport, or SELECT, future aircraft design comes from the research team led by Northrop Grumman Systems Corporation. Deceptively conventional-looking, the concept features advanced lightweight ceramic composite materials and nanotechnology and shape memory alloys. In addition to being energy efficient and environmentally friendly, the SELECT improves the capacity of the future air transportation system because it can be used at smaller airports and make them more effective. It is designed to fly at Mach 0.75 carrying 120 passengers 1,600 nautical miles, NASA said.
The Subsonic Ultra Green Aircraft Research, or SUGAR, Volt future aircraft design comes from the research team led by The Boeing Company. The Volt is a twin-engine concept with a hybrid propulsion system that combines gas turbine and battery technology, a tube-shaped body and a truss-braced wing mounted to the top of the aircraft. This aircraft is designed to fly at Mach 0.79 carrying 154 passengers 3,500 nautical miles.
Lockheed Martin used simulation tools on this prototype to show it was possible to achieve over-land flight by dramatically lowering the level of sonic booms through the use of an "inverted-V" engine-under wing configuration. Other revolutionary technologies help achieve range, payload and environmental goals.
The XCOR Lynx is a two-seat, piloted space transport vehicle will take humans and payloads on a half-hour suborbital flight to 100 km (330,000 feet) and then return safely to a landing at the takeoff runway. Like an aircraft, Lynx is a horizontal takeoff and horizontal landing vehicle, but instead of a jet or piston engine, Lynx uses its own fully reusable rocket propulsion system to depart a runway and return safely. This approach is unique compared to most other RLVs in development, such as conventional vertical rocket launches and air-launched winged rocket vehicles "dropped" at altitude from a jet powered mothership, according to XCOR.
Copyright © 2013 IDG Communications, Inc.
Next Up: Check out these related slideshows