Samsung Galaxy S IV rumors: A report card
Our grades for some of the most popular rumors surrounding the upcoming Galaxy S IV.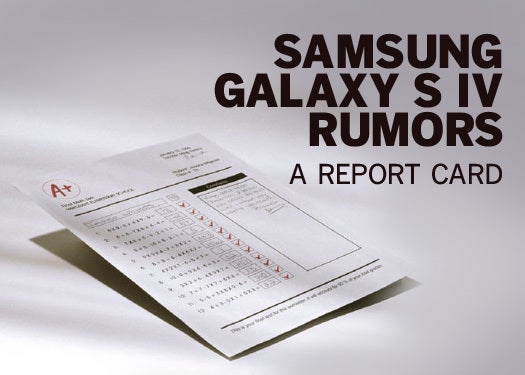 Dean's list or D student?
With the release of the hotly anticipated Samsung Galaxy S IV coming in mere days, it's time to weigh up the final batch of rumors surrounding the device. (Please note that these are just estimates based on general plausibility.)
[RELATED: Samsung finally makes Galaxy S IV official]
Exynos 5 Octa 8-core SoC
This makes a lot of sense, given the timing of the Octa's public debut at CES and Samsung's need to provide splashy, impressive hardware in this heavily hyped phone.
GRADE: B+
Or maybe a Qualcomm SoC?
The usual sources have cited benchmarks to show what they think is the Galaxy S IV sporting a top-of-the-line Qualcomm SoC instead of Samsung's own Exynos. Personally, the South Korean company is nuts if they don't take the opportunity to showcase the Octa, but the idea that the U.S. version will use the Qualcomm part and overseas models the Exynos isn't that far-fetched.
GRADE: C+
Same old plastic construction
The Samsung executive who spoke to CNET in this interview sure does make it sound like the Galaxy S IV won't follow the Nexus 4, iPhone 5 and HTC One into the world of using pricier, non-plastic materials.
GRADE: A
Eye tracking
Despite the fact that this one comes from no less a source than the New York Times, it still seems very unlikely. Note, however, that some form of face tracking is sounding possible.
GRADE: C-
A bendable display
Despite the fact that Samsung can actually do this, it's tough to see what the utility of this would be. Plus, given that it's still fairly new technology, I wouldn't be surprised if such a screen would inflate the Galaxy S IV's price unacceptably. 
GRADE: D
5-inch, 1080p display
Since those display specs are pretty much the industry standard for big-deal Android flagships at this point, it seems all but certain that the Galaxy S IV will boast a screen at least that large and clear.
GRADE: A
Samsung Orb
A 360-degree photo panorama feature – like the one present in iOS and the one introduced with the Nexus 4 – is said to be heading to the Galaxy S IV. I think that will absolutely happen – but whether it's Samsung's own "Orb" feature or a simple adoption of the built-in Android app remains to be seen. 
GRADE: B-
No more Roman numerals?
Sad to say, I think this actually might be the case. The launch invite clearly used a regular old number 4, not IV, which seems very short-sighted, when you consider how cool an eventual Galaxy S V – or even, far in the future, S X – would be.  
Grade: B+
Good launch ads?
Nope. No. Nyet. Not even close. I'm not sure what the eventual reveal in the dopey saga of some random little kid and the Galaxy S IV is going to be, but it sure is on track to be eye-rollingly precious and vastly irritating. 
Grade: F
Email Jon Gold at jgold@nww.com and follow him on Twitter at @NWWJonGold.
Next Up: Check out these related slideshows