5 Tech Skills in Lowest Demand in 2013
While the overall job market may still be difficult, it's generally better for those with technology skills. Even so, recruiters and hiring managers say some skillsets are a lower priority than others for their clients and companies. Here are the skillsets they say are the lowest priority in 2013.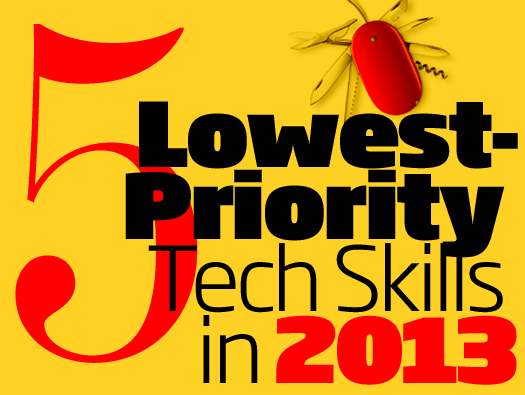 5 Tech Skills in Low Demand in 2013
The job market for technology workers looks bright at the beginning of 2013. Last month, more than 64 percent of the more than 1,000 technology-focused recruiters and hiring managers interviewed by Dice, a career site for technology and engineering professionals, said its companies or clients were likely to add technology staff in the first half of 2013. But not all technology skillsets are in equal demand. Here are the five types of hires that recruiters and hiring managers told Dice were low on the priority list in 2013.
Entry-Level Talent
Tech professionals need to pay their dues somewhere, but recruiters and hiring managers aren't especially looking for entry-level talent these days. "Anecdotally, recruiters and hiring managers reminded us that first-rung hires not only need core attributes like passion, creativity and self-motivation, they can also need a bachelor's degree and more than a passing familiarity with advanced skills," says Alice Hill, managing director of Dice.com and president of Dice Labs.
Mainframe Programming
For now, professionals with mainframe programming skills are a lower priority, but it's not likely to stay that way for long. Mainframes aren't going anywhere when it comes to organizations like government agencies, Fortune 100 financial institutions and large airlines. But while the mainframes are likely to stay, the programmers aren't—a generation of mainframe programmers is about to hit retirement age.
Quality Assurance
QA-related jobs are also a lower priority when it comes to demand for tech skills, but everything is relative. While companies may not be looking for QA professionals with the same fervor they seek Java/J2EE developers and mobile developers, Hill says that QA-related job postings remain plentiful. The job market for QA professionals may be tougher than it has been, but it's still good.
Support Personnel
Computer support specialists are currently experiencing the highest rate of unemployment among tech professionals: six percent, according to the latest report from the U.S. Bureau of Labor Statistics. Still, that's below the 7.8 percent national unemployment rate the bureau reported in December. In the near term, recruiters and hiring managers say support personnel will remain lower-priority hires. However, there is a ray of hope if you're prepared to upgrade your skills. "There's a caveat: As more companies shift to the cloud for IT needs and more support staff work in the field using mobile devices, the skillset will evolve, amping up the need for quality hires to service end users," Hill says.
Administrative Skills
Recruiters and hiring managers say administrative positions are the lowest priority in 2013. Administrative pros will need to separate themselves from the pack with their skills. "While hiring pros say finding the sets of helping hands to work behind the scenes ranks as their lowest priority entering 2013, that doesn't mean the hiring criteria isn't demanding—everything from Lotus Notes to Excel to SAP invoice-processing skills. Just because becoming a PowerPoint "power user" is easier to do than developing the next PowerPoint program, doesn't mean these cogs in the machine aren't vital."
Next Up: Check out these related slideshows