The world's craziest contraband
From bear paws and live pigeons to dinosaur fossils, people try to smuggle the oddest stuff.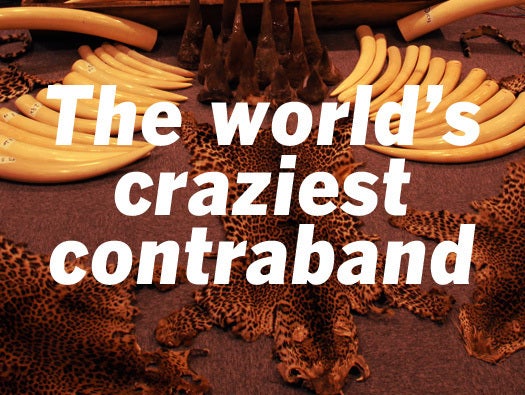 As the Transportation Security Administration documents every week, people will bring the weirdest stuff on airplanes. But the nutty stuff isn't confined to airplanes or to travelers in the U.S. Here we take a look at a collection of crazy stuff people have tried to get into other countries – as well as the U.S. in some cases – via airplane or other means.
Customs officers check wolf skins at the Customs Inspection Center in Beijing Capital International Airport, last week. A trading firm in Beijing is suspected of smuggling a total of 645 pieces of wolf skins from Greece.
Leopard skins, ivory tusks and rhino horns are displayed during a news conference at Hong Kong Customs, after they were seized from a container at Kwai Chung Container Terminal. Through intelligence exchange with Chinese Customs, Hong Kong Customs on Tuesday seized a total of 1,120 ivory tusks, 13 rhino horns and five pieces of leopard skin, weighing about 2,266 kg (4,982 pounds), inside a container shipped from Nigeria to Hong Kong. The total seizure is worth about $5.26 million.
Ivory tusks are stored in boxes at Hong Kong Customs after they were seized from a container at Kwai Chung Container Terminal.
Smuggled bear paws are seen at the China-Russia border in Manzhouli, Inner Mongolia Autonomous Region. Two Russians were arrested for smuggling 213 bear paws into China at a China-Russia land border, according to the Chinese customs police's recent announcement.
Dinosaur fossils are seen during a ceremony in New York in May. A 70-million-year-old dinosaur skeleton from the Gobi Desert that was smuggled to the United States in pieces and auctioned for more than $1 million was returned by the U.S. government to Mongolian officials.
Swim bladders of totoaba macdonaldi fish are pictured in the U.S. Attorney's office in San Diego. Border officers in California are seizing a large number of smuggled bladders from the endangered fish that are prized for use in Chinese soups, and federal prosecutors said they have charged seven people since February in connection with the trade.
Real Hong Kong passports and a Hong Kong Identity Card are displayed after they were found in connection with a human smuggling syndicate. Hong Kong Immigration Department officials said mainland Chinese from Fujian province, each paying around $32,250, entered and left Hong Kong with real identities before using Hong Kong passports with look-alike photos to smuggle into Australia, Spain, Brazil and Argentina, via some third countries. A total of 15 people in Hong Kong and mainland China belonging to the syndicate were arrested by local and Chinese authorities.
A customs officer holds the head of a polar bear rug, which was attempted to be smuggled into Germany from Norway, before a news conference presenting the annual report of Germany's customs agency, Zoll, at the finance ministry in Berlin.
Breast implants stuffed with cocaine are seen in this handout picture released by Spain's Police. Spanish police arrested a Panamanian woman who landed in Barcelona from Bogota, Colombia, with cocaine stuffed inside her breast implants.
A woman on a flight from Singapore to Melbourne shows the 51 live tropical fish hidden in a specially designed apron under her skirt in this handout photograph from the Australian Customs Service. Customs officers became suspicious after hearing "flipping" noises coming from the vicinity of her waist, and an examination revealed 15 plastic water-filled bags holding concealed fish.
Money concealed in pastries that the German customs agency Zoll seized during an anti-money laundering operation is displayed before the agency's annual statistics news conference at the finance ministry in Berlin.
Sixteen-inch juvenile emerald green tree boas that Australian customs officials seized at the Melbourne International Mail Center. When intercepted, the snakes were concealed inside a parcel containing small clay pots that were mailed from Sweden to an address in the South Australian capital of Adelaide.
A Mr. Potatohead toy containing 293 grams of ecstasy seized by Australian Customs at a mail center in Sydney. The parcel was posted from Ireland and sent to a residential address in Sydney's western suburbs.
Australian native geckos concealed in a hollowed-out book which were seized by Customs officials. Australian Customs officials were alerted by Australia Post to a suspect express mail package bound for the Czech Republic. Customs investigators responded and took possession of the package. Inside they found a hollowed-out book containing two adult and two baby southern leaf tail geckos. The maximum penalty for offenses under the Environment Protection and Biodiversity Conservation Act is 10 years' jail and/or a $102,500 fine.
One of 45 methamphetamine-filled candy bars, attempted to be smuggled out of the United States by Long Beach resident Rogelio Maurico Harris, is pictured in this handout photograph provided to Reuters on July 30, 2012. Harris was taken into custody July 27, 2012 at Los Angeles International Airport when officials became suspicious of a large box of candy bars in Harris' checked luggage as he prepared to board a flight to Japan.
Live pigeons are pictured, stuffed into the tights of a man, at Melbourne International Airport. The man, a passenger on a flight from Dubai, was discovered with a live pigeon stuffed in each leg of his tights, as well as two bird eggs, plant seeds and undeclared samples of eggplant after a search by customs and border control officers and was handed over to Australian Quarantine and Inspection Services staff.
A cache of cocaine concealed inside dozens of phony candy Easter eggs is pictured in this photograph released by the U. S. Immigration and Customs Enforcement agency. ICE officials searched the suspect's luggage and discovered more than 14 pounds of cocaine, much of it camouflaged as pastel-colored, egg-shaped candies with the remainder of the cocaine secreted under the cardboard bottom of a paper shopping bag.
One of 200 cement yard statues, this one shaped like a donkey, is shown on display in this handout image provided by the U.S. Immigration and Customs Enforcement agency. Law enforcement agents seized 1,800 pounds of marijuana valued at $1.5 million that had been hidden in the 200 statues in the cities of Fontana, California, and Sun Valley, California.
Tarantulas confiscated by the U.S. Fish and Wildlife Service are shown here.
Two Australian Customs officers hold statues made of ephedrine, a drug used to make "Speed" or methamphetamine, after they were seized in raids in Sydney.
Two confiscated Kouros statues are on display inside the National Archaeological Museum in Athens. The two rare marble Kouros statues were confiscated from antiquities smugglers, who were arrested near Corinth. The statue date from the 6th century BC.
A Thai customs officer shows a false gavial during a news conference at Thailand's customs department in Bangkok. Thai customs officials found 451 turtles worth $33,000 stashed in suitcases offloaded from a passenger flight from Bangladesh.
Next Up: Check out these related slideshows