10 cool tech things you could buy instead of Google Glass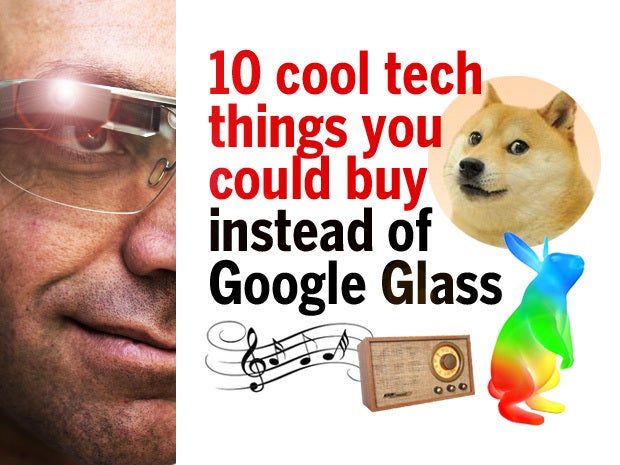 Let's be honest…
While it's an exciting, innovative piece of technology, Google Glass isn't really something that most of us would get much out of as yet. (Unless you're a ubiquitous tech blogger like Robert Scoble or something.) It's just not ready for general use yet, but that hasn't stopped Google from revving up the hype engine by offering an open, one-day sale on April 15, at the usual price of $1,500. Here are a few suggestions for what you might spend that money on instead.
A pretty kick-ass desktop PC
If ever you feel like putting together a desktop PC - and why shouldn't you, if even klutzes like me can do it - $1,500 buys a lot of horsepower.
A mighty gaming laptop
Dell's Alienware 17 laptop can handle almost anything you throw at it, for slightly less than the price of Glass. Even if you're not a gamer, $1,500 will get you the laptop of your dreams. (Unless your dreams include higher-end MacBook Pros, of course.)
Two 32GB iPhone 5Ss, unlocked and ready to go
With the slightly more expensive storage option, the iPhone 5S retails directly from Apple for $750. So you can give someone a fairly awesome birthday/Easter/whatever gift, while treating yourself into the bargain.
This completely ridiculous Android phone from Aston Martin
Obviously, supercar maker Aston Martin is one of the first places I turn to when looking for the hottest new Android smartphones. Although, given how underpowered and overpriced it is, Google Glass may actually be a better choice.
A little more than a year of Google Fiber
At $120 a month, $1,500 gets you one year plus half a month of Google Fiber, if you're lucky enough to live in one of the neighborhoods of Kansas City where it's available.
A whole lot of streaming service
For $1,500, you could enjoy well over 15 years' worth of Hulu Plus or Netflix, 15 years of Amazon Prime or 15 years of Spotify Premium. A la carte, that's 500 episodes of your favorite TV shows on iTunes in HD, and more than 200 premium Amazon Instant Video movie rentals. Are you not entertained?
Four next-gen Oculus Rift headsets
At $350 a pop, you could buy four second-generation Oculus Rift development kits from recent Facebook acquisition Oculus VR. I mean, if you're into cool headware, what's not to like about a VR headset that lets you really inhabit your favorite PC games?
Some tech stocks
Hilariously, $1,500 would buy you less than three shares each of Google or Apple, less than five shares of Amazon, about 25 shares of Facebook, 45 shares of HP or Yahoo, 38 shares of Microsoft, or 68 shares of Cisco. (Rough figures based on stock prices around noon on Monday, April 14.)
Delicious cryptocurrency
With the obvious caveat that prices may change dramatically even as you read this sentence, $1,500 currently buys you about 3BTC, about 133 litecoin, 750 peercoin, or 3.37 million dogecoin. So crypto. Very satoshi.
Whatever the hell this is
Apparently a team of clever Russian people was able to build this walking ostrich robot for - you guessed it - $1,500. I can't imagine a better use of these funds.
Email Jon Gold at jgold@nww.com and follow him on Twitter at @NWWJonGold.
Next Up: Check out these related slideshows