New products of the week 07.14.14
Our roundup of intriguing new products from companies such as Anturis and Apcon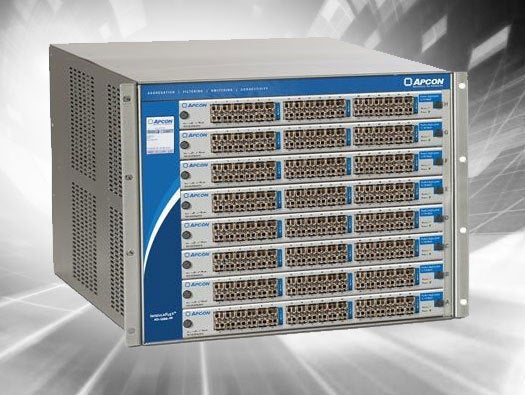 Our roundup of intriguing new products. Read how to submit an entry to Network World's products of the week slideshow.
Product name: APCON IntellaFlex 3288-XR Switch with WebXR
Key features: High availability, scalable network monitoring switch: 288 non-blocking 1G/10G ports, web-based management software, packet aggregation, filtering and manipulation, rate conversion, load balancing, 40G trunking, easy maintenance with hot swappable modules. More info.
Product name: Kaseya Traverse
Key features: Traverse is a breakthrough cloud and service-level monitoring solution that provides real-time visibility into the performance of virtualized IT services allowing proactive SLA management and rapid root-cause analysis. More info.
Product name: Niagara 4272
Key features: is a network packet broker that supports up to 72 ports of 1Gbps and/or 10Gbps, for aggregation, mirroring, filtering and packet slicing in a 1U. More info.
Product name:  Identity Data Platform (Version 4.6)
Key features:  A Customer Identity Management Solution delivering one, common customer profile with unlimited scalability and 5X the performance of legacy products, now featuring social log-in and advanced, multi-factor authentication. More info.
Product name: Anturis 2.0
Key features: Targeted to SMBs and web hosters, Anturis 2.0 provides enterprise-grade IT monitoring and troubleshooting -- all in a simple and easy-to-use cloud-based solution. More info.
Product Name:  ProtectFile for Linux
Key features:  ProtectFile delivers transparent and seamless encryption of sensitive data stored in Apache Hadoop clusters. It presents limited drag on performance and doesn't require the re-architecting of existing big data implementations. More info.
Product name: Marketing Cloud Management (MCM)
Key features: is a SaaS solution that helps lines of business leaders to collaborate and evaluate digital marketing technology investments including operational costs, site performance and data leakage. More info.
Product name: iboss 7.0
Key features: expands malware and APT protection by incorporating 'lean forward' technologies such as Behavioral Data Baselining to detect anomalies, Sandboxing, and increased detection and response capabilities for infected devices on the network. More info.
Product name: Chekkt.com
Key features: Chekkt is a new B2B hub that helps businesses discover and compare the best SaaS solutions and services based on crowd-sourced user ratings and reviews. More info.
Product name -  iNetSec Smart Finder
Key features - is an all-in-one solution that combines full network visualization of all wired and wireless devices and applications used, with the addition of new IPS features. More info.
Product name – SignNow by Barracuda
Key features – The new SignNow Kiosk Mode for iPads can be used in waiting rooms, check-in tables or anywhere else that requires gathering multiple signatures on fresh copies of a document. More info.
Product name: Governance Portal for Third-Party Anti-Corruption
Key features: Software run in the cloud that allows clients to manage onboarding, response collection, automated watch-list lookup, false positive analysis and risk scorecard development for third-party business partners. More info.
Product Name: Co3 Privacy Module
Key features: Latest enhancements include modified breach notification regulations covering the U.S., Europe (EU), the Middle East and Africa (EMEA) and Latin America.
Product name: Qubell, Enterprise Edition
Key features: Qubell is an enterprise devops platform. Main features include:
-          One-click deployment of any application on any cloud
-          One-click provisioning of test sandboxes
-          One-click production upgrades
-          Self-service portal for collaborative release management
Copyright © 2014 IDG Communications, Inc.
Next Up: Check out these related slideshows