Indix, the Google of products
Getting competitive intelligence on products and keeping up to date used to be hard but Indix has the answer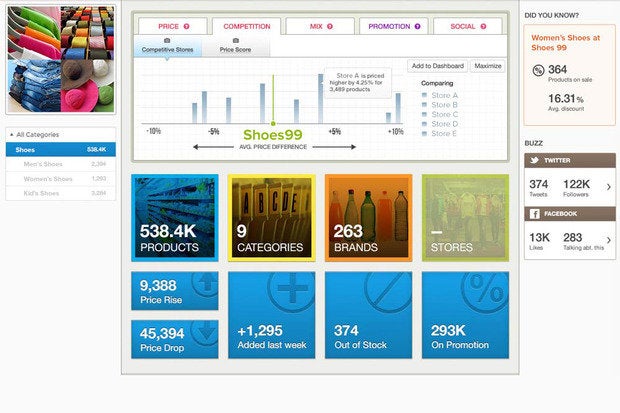 Competitive intelligence can be hard to come by particularly in complex markets crowded with products from many manufacturers. Consider a pharmacy or supermarket chain, businesses in which pricing of many product lines is ultra competitive. If they don't know for a week or more that a competitor has reduced the price of some common consumer product they stand to lose more than the revenues from being undersold on that one item; they risk the total loss of consumers who go to the competition and buy that and other products while they're there so a small pricing edge can translate into a significant revenue hit.
To solve this kind of problem Indix is building what they plan to be the "world's largest product database"; as the company explained to me, they want to be the Google of products and they're off to a good start with something like 400 million products currently indexed. They plan to reach more than 1 billion in the near future.
The data Indix gathers and stores includes "catalog" data, which are static product details, and "offers", dynamic data that can change frequently.
To gather this data Indix uses crawlers along with intelligent algorithmic filtering to mine Web sites for product data on a roughly weekly schedule. Machine learning keeps the amount of human interaction to a minimum and, at present, only data in English is ingested (support for other languages is on the way). Of course, there's an enormous range of formats that product data can come in so a team of five humans backends the mining to ensure relevance and quality.
So, what can be done with this vast ocean of detail? Indix provides some very powerful analysis and tracking tools; for example, consider a fictitious shore retailer, Shoes99. They carry a number of lines and styles and want to ensure that their pricing and product mix is competitive. 
To do this Shoes99 would select all products they carry on the Indix site and then Indix would  scour their market data and produce a dashboard showing the products priced lower than other retailers, those priced higher, those that competitors charge more and less for, which products only Shoes99 carries and which only their competitors carry, and so on. For buyers and sales managers this makes product planning and pricing much easier and far more timely. 
Product data can also be displayed over time and aggregated data, such as product mix by category, can be analyzed as well as with key indicators which makes upwards reporting far easier.
As an Indix user you can create alerts for product price drops, competitors running out of stock, new products, and so on, as well as generate reports, search for products, and import and export data. There's also an API that allows for integration with other systems such as accounting, in-house analytics and reporting tools, as well as other applications and services.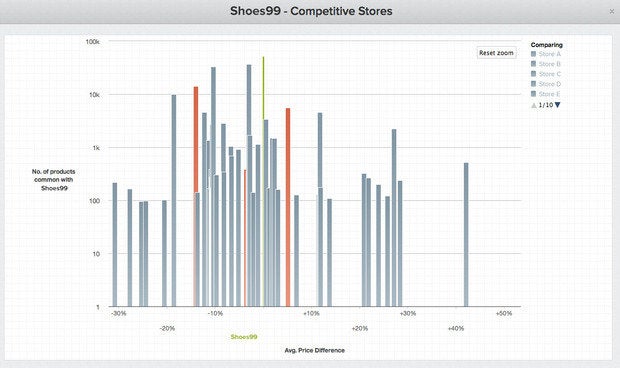 Indix currently has 15 large customers and they claim that they're enabling a 15% to 20% productivity improvement and a 2% profit improvement which, in businesses with low margins such as grocery and pharmacy, can be a significant gain.
Indix's system (priced on application) is amazing and and beautifully designed and has value to both retailers and brands - in particular, mass market brands which have a huge incentive to keep Indix updated to ensure that buyers can find their products as soon as they come to market. Indix is definitely a company to watch.