These old-timey Radio Shack photos prove techies have been nerding out since 1931
Just as Radio Shack moves to reinvent itself for 2014, we look at the most adorable photos from the company's archives.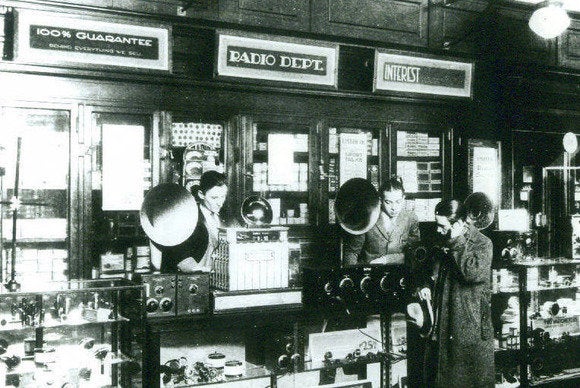 Vintage Radio Shack style
Radio Shack first opened its doors in 1921 to serve radio officers stationed on ships in Boston Harbor. Today, the chain has more than 4,000 stores across the U.S., all of them packed with hardcore nerdware. You probably already know that Radio Shack is a good place to go for batteries and computer cables, but as the company battles the Amazons and Best Buys of the world, it's doubling down on enthusiast gear like smartphone-controlled drones. 
I'll get into the Radio Shack of 2014 at the end of this slideshow, but for now, join me on a tour of vintage Radio Shack moments. This first slide was shot in 1931 at a store in Boston. Then as today, customers visited Radio Shack to listen to audio equipment before making a purchase.
Listen to this
Radio Shack says it invented the in-store audio equipment listening experience—a service that pure audiophile shops adopted many years later.
Here we see the audio room of a Radio Shack location in Boston (year unknown). Notice the two turntables beneath the wall of amplifiers. It appears switching equipment in the middle of the two turntables lets the clerk demo different amplifiers at will.
The primordial makers movement
Yep, Radio Shack has been selling educational science and electronics kits since the days when all men were required to wear hats by federal law.
The sign on the left reads, "Each kit chock-ful of electronic parts and instructions!" I'm guessing this photo was shot sometime after 1958, as the "record store" kiosk in the upper right of the photo is advertising a recording of the original Broadway cast of the The Music Man.
Science!
You have to love the branding on this Braintree, Mass. storefront circa 1961. At this point in the Atomic Age, America was still celebrating the "friendly atom."
You probably couldn't buy the now-infamous Gilbert U-238 Atomic Energy Lab, but Radio Shack sold other science kits, and of course the atom icon in the store logo spoke to general electronics. Today, Radio Shack remains one of the few brick-and-mortar retailers that keeps electronics parts in stock.

Let's do some A/B testing
Look how far the "audio room" experience has evolved since 1931. This photo was shot in 1961 at a Radio Shack location in Stamford, Conn. We see vinyl on the bottom, amps and turntables in the middle, and speakers on top.
But how in the world did an all-in-one Windows PC make it into this environment?! Or how else would you explain what's going on behind the two turntables in the middle of the photo? 
A groovier day and time
I don't know much about this photo. Radio Shack didn't share when and where this image was shot. But judging from the storefront, it was probably photographed around the time when Peter hit Marcia in the face with a football.
We speak TRS-80 here
This image speaks volumes about the birth of the personal computer revolution. In 1977, Radio Shack rolled out the TRS-80, a 1.77MHz machine that cost $600 a pop (that's about $2,300 in today's money). The "Tandy/Radio Shack, Z-80 microprocessor" would give about 200,000 Americans their first experiences with PCs, and apparently meant so much to Radio Shack's business, this store was branded a "computer center." 
Note the "Sign Up for Lessons" invitation in the store window. This store's grand opening was in 1980.
This is a radio, not a piece of NASA equipment
Imagine: In 1980, high-end radios were called "receivers." They cost $600, and you still needed to pair them with amplifiers—which cost their own pretty pennies—in order to integrate them with home stereo systems.
Today, we just stream radio over our mobile phones. 
The audio room revisited
Fast-forward to 2014. Radio Shack says it's making a concerted effort to give tech enthusiasts a reason to visit its 4,000 store locations throughout the U.S. More stores are rolling out interactive features like hands-on phone-testing kiosks, and Radio Shack is partnering with small, indie, cutting-edge tech brands like littleBits (an interactive electronics kit for kids), Lively (an innovative monitoring system for seniors), and Sphero (the app-controlled ball of fun).
Radio Shack is also updating its store design. Just check out the 2014 version of the "audio room" here. Point to the Bluetooth speaker you want to hear, and the room's ambient music will drop so you can listen in isolation. There's a similar listening station for headphones as well.
The one slide that says it all
Select Radio Shack stores now sell the Afinia 3D printer, as well as more boxes of printer filament than you can stuff in the backseat of your Prius. If this isn't evidence of Radio Shack's interest in the nerd market, then nothing else will convince you otherwise.
Next Up: Check out these related slideshows