Heading back to school? Try these 11 terrific tech tools.
We've found some cool devices for your academic adventures, including innovative ways to power your smartphone, a tiny but powerful portable speaker and a new app that helps you share your notes.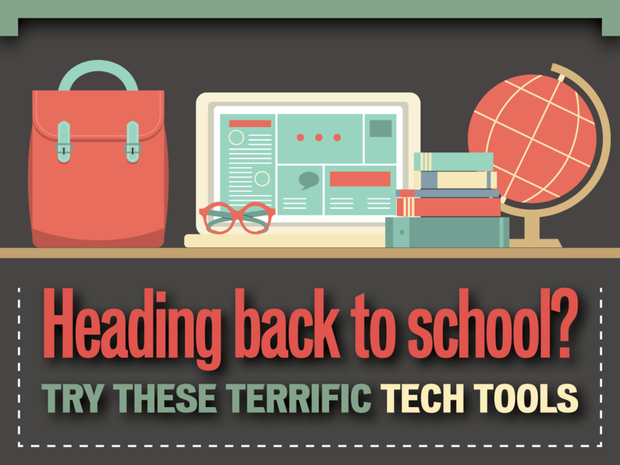 The digital generation is heading off to school again -- and as we do every year, we've picked out some gadgets and apps that'll help with studying, relaxing and just plain being a student.
We've made our selections with a budget in mind: Our priciest item lists for $130, while the lowest-priced accessory comes two for $10. Check the usual online suppliers, though, because most are available at a discount.
This is our sixth year of scouting out student-friendly tech. If you're still looking for ideas, be sure to review our previous roundups, from 2009, 2010, 2011, 2012 and 2013. A few of the products may no longer be available, but most of them should still be around.
Kreative Power Powramid P108
Modern life can feel like an ongoing search for an outlet. You've got plugs fighting for space on overmatched power strips and USB cords in desperate search of an empty port. But just find an outlet for the Kreative Power Powramid ($35-$40, depending on length of cord), and all your power needs will be taken care of by one nifty device.
The Powramid provides six outlets with 1080 joules of surge protection, arranged in a circle to keep your plugs out of each other's way. Two USB ports supply 5 volts at 2.1 amps, enough to charge a tablet and more than enough for a smartphone. No more deciding whether to unplug your speakers or your lamp overnight so you can charge your phone.
iWerkz Universal Foldable Bluetooth Keyboard
If you're the tablet type, no doubt you've looked at Bluetooth keyboards -- and found it almost impossible to choose among them. Well, here is one that stands apart.
The metal-framed iWerkz Foldable Bluetooth Keyboard ($80) is, when completely opened, the size of a 13-in. laptop keyboard. But when it's time to move, it folds up and slides into its own hard case like a small notebook. The case has a slot for holding up a tablet and a tab for holding up a phone, making it easier to type on your mobile devices.
The keyboard comes in six colors and its Li-Ion battery lasts for up to 44 hours, perfect for those weekends spent in the library.
Geometrical Pocket Tripod
Think about all the times it would be useful to have your iPhone propped up at an angle. Watching presentations. Recording lectures. Making Skype or FaceTime calls. Checking notes during class. And, of course, taking selfies.
The Pocket Tripod ($25) is the size of two credit cards when folded up, so you can keep it in your purse or wallet at all times. It unfolds and has sliding slots that can hold the phone at any angle -- some users even report using it with their iPad mini. The company is planning versions for more devices, including some Android phones, but they're not quite ready yet.
Plantronics BackBeat Go 2
Headphones are good and no wires is good, so combining the two has to equal good squared. The BackBeat Go 2 ($80, $100 with charging case) connects to your phone or tablet via Bluetooth, letting you listen to music for up to five hours with your phone safely stashed in your pocket. It also has a microphone and inline controls, letting you take calls with up to 4.5 hours of talk time.
When your phone's not nearby, the headphones "hibernate," keeping the batteries ready for up to six months, according to the company. The optional charging case has its own battery and, when fully charged, can give the BackBeat Go 2 enough power to let you listen for up to 14.5 hours.
Felix StretchWrite
If you like to use a stylus, you've got a problem: Standalone styluses are just another thing to carry around, while combination pen-styluses often are just not very good pens.
The StretchWrite solves those problems by giving you a way to use your favorite pen or pencil (albeit not the kind that clicks) as a stylus. You simply stretch the rubbery band around your writing implement: The point sticks out one end and the StretchWrite adds an eraserlike stylus to the other.
Each $10 package contains two StretchWrites, in either red and gray or blue and pink.
Booq Boa squeeze
Everything a backpack should do, this one does. The Boa squeeze ($130) has separate internal pockets for your laptop, tablet and notebooks; side pockets for pens, pencils and small devices; and front pockets for your headphones, phone, ID, wallet, keys, etc.
But two features really make the Boa squeeze special. First, it's waterproof -- so no more books ruined while you're standing at the bus stop getting drenched. And second, it has a light-colored interior, so if you're looking for some small object like a pen or an eraser, you don't have to scrounge around in the dark depths of your bag to find it.
It's thoughtful touches like that that put the Boa squeeze on our list.
Nomad NomadKey
How often have you left your phone charger at home -- or forgot to charge it? And when you ask to borrow someone else's, the story is, "Sorry, I'm using it."
With the NomadKey ($29), you'll never have to ask. The NomadKey attaches to your keychain and is small, flexible and durable enough to keep in your pocket all the time. It's got a USB plug on one end and a Lightning or micro USB connector on the other, so it works with most smartphones and tablets, as well as cameras, portable speakers and anything else with the right connector.
One caveat: the NomadKey won't be shipping until September 18, but your card will be charged as soon as you order.
StudyBlue
StudyBlue is a free app (for the Web, iOS or Android) that connects you to fellow students so you can share materials and notes. Sign up, add your school and classes, and then you and your peers can create flashcards, get personalized quizzes and access other collaborative study materials.
If you want more features, a subscription to StudyBlue Pro ($9/month, $24/3 months or $48/year) also lets you browse the notes and flashcards from other schools around the world -- StudyBlue claims to have more than 200 million pieces of educational content available. StudyBlue Pro also adds audio and images, an equation editor for math flashcards, text formatting and the ability to save content in PDF format.
JBL Clip
Most portable Bluetooth speakers are either too big and heavy to carry around, or put out sound as meager as their size. The JBL Clip ($50), on the other hand, is lightweight and small but still delivers satisfying sound whatever your genre. (The bass drop won't shake the room, but what do you expect from a 3.5-in., 5.5-oz. speaker?)
The JBL Clip -- so-called because of its built-in carabiner -- works over Bluetooth but also comes with a cleverly stowed 3.5mm connector. With five hours of battery power, it also has a built-in microphone so you can take and make phone calls, making it a handy portable conference call option.
Protag Duet
The Duet ($30) is a tiny device you can attach to your keys, backpack or what-have-you, and pair with the free Protag app (iOS and Android). If you lose the item with the Duet attached, you can use your phone to make the Duet beep so you can find it. It works in the other direction, too: Push a button on the Duet and your phone will sound off so you can locate it.
You can even set the Duet to beep if you get more than 30 feet away from your phone, so you won't leave it somewhere accidentally. You can sync up to 10 Duets to one Protag app. Shipping in September.
Fluxmob Bolt
What if you could charge your mobile battery and your phone at the same time? That's the idea behind the Bolt ($60), a combination wall charger and backup battery.
Plug the Bolt into the wall and your normal phone charge cable into its USB port, and your phone will charge as usual -- but so will the Bolt's 3000mAh Li-Ion battery. When you leave (even the country -- it works with 100 to 240V outlets), take the Bolt with you. If your phone needs to be recharged, plug it in and the Bolt's 1-amp power supply will soon have it ready to go.
Jake Widman is a freelance writer and a regular contributor to Computerworld. Liam Widman is a senior at the University of California, Santa Cruz.
Copyright © 2014 IDG Communications, Inc.
Next Up: Check out these related slideshows