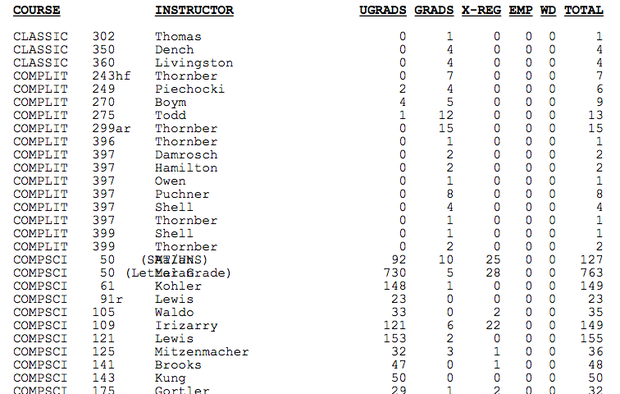 Harvard College's CS50, the school's Introduction to Computer Science course for undergrads, has attracted about 1 in 8 students this fall -- a new record for the school and yet another sign of just how hot this field is becoming for the job-hungry.
The news, first reported by the Harvard Crimson, is based on stats released Wednesday by the Faculty of Arts and Sciences Registrar's Office.
MORE: Top 20 colleges for computer science majors, based on earning potential
Overall, 818 undergrads (or 12% of the student body) signed up for the challenging course this semester, and nearly 900 students are registered when factoring in graduate and cross-registered students. Topics included in the syllabus include Linux, cryptography, HTML and JavaScript. David Malan, a Harvard CompSci grad, teaches the course.
(If you'd like to join in the fun, virtually, CS50 is available via the free Edx online course system.)
CS50 has been around for 30 years and has attracted more students than any any other course in the past 5 years at Harvard, according to the Crimson. Principles of Economics is #2.
Rising interest in CompSci courses has been documented as well by the Computer Research Association, which earlier this year reported a 22% increase in enrollment for computer science bachelor's degree programs at U.S. schools in 2013 vs. the year before.