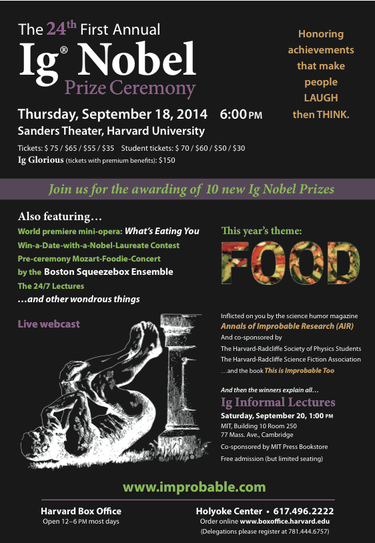 The annual Ig Nobel Prize ceremony, honoring inventions in science, medicine and technology that first make people laugh and then make them think, will be held this Thursday, Sept. 18 at Harvard University in Cambridge, Mass.
According to organizer Improbable Research:
Winners travel to the ceremony, at their own expense, from around the world to receive their prize from a group of genuine, genuinely bemused Nobel Laureates, in Harvard's historic and largest theater. 1100 improbable persons fill the theatre, and the whole affair is broadcast live.
I'm pleased to announced that our own Jon Gold will be on hand to report on the festivities (limited tickets remain available for those of you who are local).
The theme for this year's event is Food, so whether the honorees will really have much to do with our sweet spot -- enterprise networking -- is iffy. But if one thing is true about Improbable Research's annual event, the unexpected is to be expected. 
Here's a look back at last year's Ig Nobel Prize winners, including researchers who assessed the effect of listening to opera on heart transplant patients who are mice.