A visual history of Netscape Navigator
To commemorate the 20th anniversary of Netscape Navigator's release this week, let's take a look back at the rise and demise of the browser that introduced many to the World Wide Web.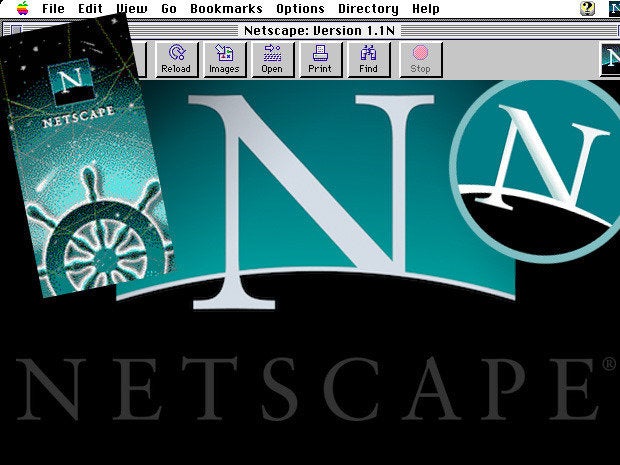 20 years after Netscape Navigator's debut
This week marks the 20th anniversary of the release of Netscape Navigator, the venerable web browser that unquestionably helped popularize the World Wide Web in an immeasurable way. Developed by Jim Clark and Marc Andreesen, Netscape Navigator was a revolutionary piece of software that fundamentally changed the way the masses used and accessed the Internet.
These days, Netscape is nothing more than a memory, having been discontinued and replaced in the market by familiar names like Chrome, Internet Explorer, Firefox, and Safari.
To help commemorate an incredible milestone in the history of the Internet, here is a visual history of the Netscape web browser, from its early beginnings to its untimely death at the hands of AOL.
Mosiac Netscape 0.9 beta
The first iteration of the Netscape browser was actually called "Mosiac" and was released on October 13, 1994. The software was free to download and, for Mac users at the time, required System 7 or higher. The initial version of Netscape offered full support for HTML 2. By late 1994, the Internet revolution was about to get underway, with Netscape and AOL each playing an instrumental role in that regard.
Netscape Navigator 1.0
The first non-beta version of Netscape Navigator was released in December 1994. For many people, Netscape Navigator 1.0 represented their first exposure to the World Wide Web.
Netscape Navigator 2.0
Released in 1995, the second iteration of Netscape Navigator was an important update as it pioneered browser support for animated GIFs, Java, JavaScript, plugins and more.
Netscape Navigator 3.0
Released in August 1996, Netscape Navigator 3.0 offered enhanced multimedia support along with expanded built-in mail features. Though hardly used in web design these days, the once vaunted "rollover" image effect was originally supported with this version of the Netscape browser.
Netscape Communicator 4.5-4.8
In 1997, Netscape Navigator was re-branded as Netscape Communicator. More than just a standalone browser, Netscape Communicator offered users a full suite of Internet-enabled software, from a web browser to an email client to an HTML editor and more. Over a period of five years, there were a few iterations of the Netscape Navigator 4.x browser software, whose feature set slowly but steadily expanded to include such features as enhanced audio and video support, flash support, and CSS support. Netscape Communicator 4.8 was released in 2002.
Netscape 6
In November of 1998, Netscape was bought by AOL. In the process, Netscape Navigator 5 development was halted and work began on Netscape 6, which was based on the Mozilla web browser. Netscape 6 was famously subject to repeated delays and didn't see the light of day until 2000. Like Netscape Communicator, Netscape 6 came bundled with an array of software add-ons, including built-in support for AOL Instant Messenger. Initial reviews of Netscape 6 were rather poor on account of sluggish performance. And while performance improved in later updates, Microsoft's Internet Explorer by this time was already the top web browser in the world.
Netscape 7
Still fighting the good fight, Netscape 7 was released in August of 2002 and featured a few notable additions, such as a built-in pop up blocker, tabbed browsing, and a download manager. Netscape 7 was based on version 1.0.1 of Mozilla.
Netscape 8
Netscape at this point was an afterthought for most Internet users. Released in May 2005, Netscape 8 offered improved performance in many different areas. But again, the browser war at this point had been won quite decisively by Microsoft years earlier.
Netscape 9
Released in June 2007, Netscape 9 marked the last release of the iconic Navigator web browser. AOL officially discontinued Netscape in February of 2008.
Next Up: Check out these related slideshows