Survey: Most enterprises will be on IPv6 by 2013
IT professionals overwhelmingly say they want their companies to be leaders not laggards in IPv6 adoption, Network World survey finds.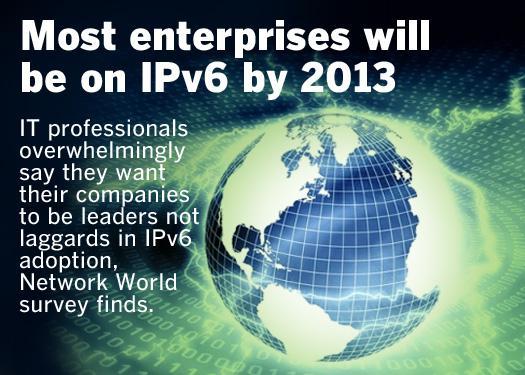 IPv6 makes significant progress in the enterprise
2011 is the year that IPv6 moved among the top priorities for many enterprises. Network World wanted to know where organizations stood in their implementation plans. So we asked and 210 readers, representing businesses of all sizes, responded. We expected people to tell us that they were making progress on IPv6 for their websites, and they are. We were surprised at how far along many are with IPv6 on their internal networks as well. And we were blown away by how many agreed that IPv6 isn't just hype, but fundamentally important to the growth of the Internet and that they didn't want their companies to be left behind. The following slides offer the full results of the survey.
Hands on with IPv6
Most IT professionals have at least played with IPv6, according to a Network World survey. Two-thirds of respondents indicated that they've worked with IPv6 in some capacity with one-third actually implementing it at their workplace. "I lead the IT team and we have numerous dual stack websites," said one respondent. Another offered, "We just finished upgrading all our switches/routers to dual-stack. Servers are next." Meanwhile, about one-third are just beginning their IPv6 journey. One wrote, "I am a network engineer for a small business IP. We still have a plethora of unused IPv4 addresses, but I know that I will soon have to create the dual stack. The experience will also go a long way in job security and the potential for a higher paying position."
Vendor gear lags
There's good news and bad news when it comes to software and hardware. The good news is that a big chunk of enterprises, almost half, know that most of their gear supports IPv6 and another 16% knows that all of it does. The bad news is that this also means that companies are still working with a lot of gear that can't route an IPv6 address. One told us, "Our WAN suppliers and network vendors are currently the largest barriers to dual-stack IPv6 deployment. Currently our carrier does not offer MPLS service (or Internet) in IPv6. Also, our previous network vendor (Nortel/Avaya) will not be offering upgrades on our existing gear to route IPv6. Our new network vendor (Juniper) does not yet have a full feature set (example: DHCPv6 Relay, important to campus VLANs, is missing)."
Almost all agree: IPv6 is critical
More than 90% of respondents believe that IPv6 is fundamentally important to the growth of the Internet. The majority intend to make their websites available via IPv6 as well as running IPv6 natively on their internal networks (though more are concerned with their website than their networks). Because many IT professionals have already ensured that the gear they are buying supports IPv6, most do not believe supporting the next Internet Protocol will be a big financial burden, though many still feel like they need more education to get it done. As one wrote, "It's a complex protocol, lot's of new thing's to learn, 128 bits ... manic!" Unlike other technology migrations, most users are not waiting to be convinced. Three-quarters say they would rather be leaders than laggards when it comes to adoption.
Most plan to have IPv6 on networks by 2013
One of the surprises of the survey was how much movement enterprises are making with using IPv6 on their internal networks. Almost 13% report that they've already completed rolling out IPv6 on their networks. Another 25% are in process. All told, about 65% will be using IPv6 internally within 24 months. However, this leaves a fairly large percentage, about 35%, that have no network adoption plans, or won't be done for more than two years. One told us, "I'd just like to let everyone know: JUST DO IT! It was much easier than I expected. I do have to keep reminding myself, oh yeah, there's a multicast group for that in IPv6 so I don't have to set it. It's pretty sweet, actually."
Half will have websites IPv6-enabled within a year
Not surprisingly, most IT professionals in the survey were planning on upgrading their websites to IPv6 by 2013. 72% will be done by then, with 13% already done. All told, about half will be done in the next year. "IPv6 is an eventual inevitable and will only make more devices available and make IP networking more secure and easy to implement, so it's not a question of will I, it's a question of when will I," said one respondent.
Smaller is faster when it comes to IPv6
Size matters when it comes to the speed of adopting IPv6. Smaller companies will adopt somewhat faster. 70% of small companies (less than 100 employees) will have IPv6 on their internal networks and 68% on their websites within the next year. Among large companies (1,000-plus), half will have IPv6 on internal networks and 52% on their websites in the next year. The slowest adopters of the bunch will be midsize companies (101-1,000), of which 32% will have IPv6 on their networks and 39% on their websites in 12 months. This group also had the largest percentage of respondents who said they don't plan to use IPv6 on internal networks at all (26%). "There's no business need at my company for IPV6 now or in the foreseable future," one told us. Others are frustrated by that attitude, writing, "If I could only convince them to move on IPv6 for just their few public-facing resources ..."
Copyright © 2011 IDG Communications, Inc.
Next Up: Check out these related slideshows