IBM's classic Selectric turns 50
New U.S. postage stamp honors the Selectric as an icon of design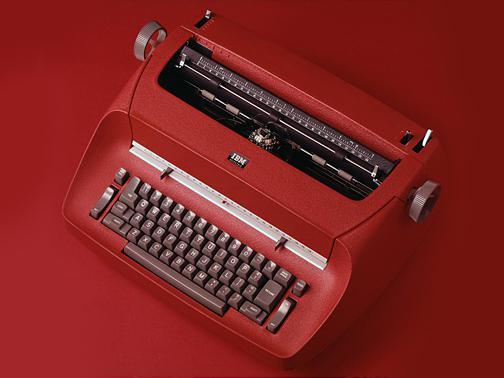 IBM is celebrating the 50th birthday of its iconic Selectric typewriter, which was designed by Eliot Noyes and made its commercial debut on July 31, 1961. Noyes, an architect and industrial designer, served as IBM's consulting designer for 21 years and commissioned many of the period's greatest architects, graphic designers and artists to do work for Big Blue.
IBM at 100: How Big Blue helped redefine corporate architecture
The Selectric switched typeface styles by changing its golf ball-like elements, which were equipped with different fonts, scientific notations and languages. According to IBM: "By using various Selectric typing elements, a user could type away in Hebrew (from right to left), or in Thai (left to right, with occasional ups and downs), or in modern or ancient Greek, or in Japanese phonetic Katakana, or in all of the romance languages, and perhaps even in Labanotation (the symbols used in choreography)."
The Selectric had 2,800 parts and it took IBM seven years to work out the manufacturing and design kinks. IBM expected to manufacture 20,000 Selectric typewriters in its first year, but by the end of 1961 it had orders for 80,000. By 1986 -- the year the Selectric brand was retired -- it had sold more than 13 million Selectrics.
The Selectric came in different colors, including green, red, blue and yellow, and custom colors were also available. The University of Kentucky purchased Selectric typewriters in the school's signature royal blue, IBM says.
A key selling point of the Selectric was its spherical typing element, which eliminated the need for typebar baskets. Traditional typebars (pictured) were prone to jamming when a user struck more than one key at a time. For speedy typists, the type ball represented a significant productivity gain. Thomas Watson Jr. called the type ball "the most totally distinct invention we've ever made as a company."
The Selectric formed the basis for early computer terminals, IBM says, and paved the way for keyboards to emerge as the primary way for people to interact with computers, as opposed to pressing buttons or levers. A modified Selectric could be plugged into IBM's System/360 computer, for instance.
The Selectric now has its own stamp. It's featured in the new "Pioneers of American Industrial Design" stamp series from the U.S. Postal Service, which includes Noyes among 12 industrial designers who helped shape the look of everyday American life in the 20th century.
IBM Senior Vice President Linda Sanford, left, posed with Kathya Dunn-Moodie, officer-in-charge of the U.S. Post Office in Armonk, N.Y., in front of a mockup of the new postage stamp honoring the Selectric typewriter as an icon of design. IBM's Sanford worked as a development engineer on the Selectric.
Next Up: Check out these related slideshows