10 Things We Love and Hate about Ubuntu Oneiric Ocelot 11.10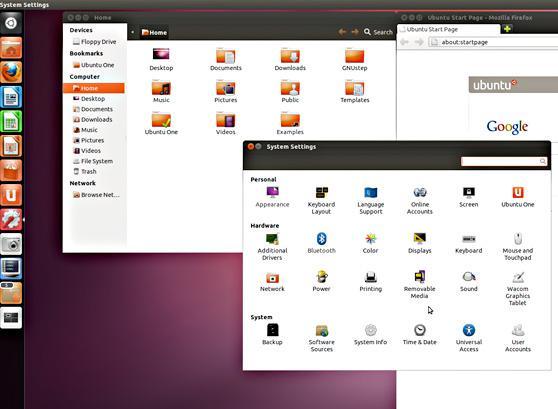 1. Love
Ubuntu 11.10's Unity interface now works on more hardware. We'd love it even more if Canonical came out with a comprehensive list of devices that Ubuntu is compatible with.
2. Love
In Ubuntu 11.10, there's better integration with LibreOffice. In the next version, we'd like to see an integral terminal app.
3. Love
Ubuntu 11.10 users receive Ubuntu One benefits, a cloud-based storage and multiple device synchronization utility vaguely like Apple's iCloud. Canonical gives application download experiences like those you'll find on a smartphone, or perhaps from an "apps store" with categories divided into self-identified groups. Some organizations might want to ban use of Ubuntu One, if only to control unvetted/insecure apps. We found it handy.
4. Love
Ubuntu 11.10 lacked a few commonly-delivered Linux distribution apps, but we love the fact they they're available, along with everything from games to developer's tools, at Ubuntu's Software Center. We liked its organization, and it'll be familiar to Android and iOS users in its feel.
5. Love
We liked hacking Ubuntu onto a tablet, in this case, the HP TouchPad. We found info at here ,  but you'll need apps that are recompiled for the Touchpad's ARM-based Snapdragon processor.
Source: liliputing.com
6. Hate
Heaven help you if you want to use a font bigger than 12pts. We want binoculars with the next release, Squinty Squawker. Our screencap makes it look bigger than it really is. Sadly, we tried to make the fonts bigger but resorted to guessing because settings changes didn't.
7. Hate
Ubuntu shoots for the clouds in this new release, but it still has a long way to go before delivering a fully integrated cloud platform. Today, there are bits here and pieces there. Canonical and Ubuntu are now aligned with OpenStack, although OpenEucalyptus remains for cloud seeding and control. Much of the integration is left to OpenStack, CSS Corp, and others.
8. Hate
Again, Juju and its charm "engines" have unbelievable power to deploy into the cloud, especially the Amazon Web Services-compatibles. But Juju is also a seemingly arms-length endeavor that's not fully integrated with Ubuntu.
9. Hate
Some Ubuntu users have reported that their systems blew up when upgrading to 11.10. We didn't experience any of those woes, but suggest end users search for specific environmental upgrade issues, usually running 11.04 in a desktop hypervisor, before making the jump to 11.10.
10. Hate
Disturbing the faithful can lead to problems. Few people heard of the LinuxMint distribution until Canonical changed from Gnome to their "own" Unity user interface. Now, LinuxMint's popularity is skyrocketing. LinuxMint is also based on Debian (a conservative distribution perceived to be "rock solid"), and doesn't have all of those crazy changes. While we like Mint, it's vastly less ambitious — especially in the NOC. Read a story version of this slideshow.
Related:
Five things we love and five things we hate about Ubuntu 11.04
Copyright © 2011 IDG Communications, Inc.
Next Up: Check out these related slideshows