10 IBM design gems
IBM?s corporate design program spans architectural, graphic and industrial desig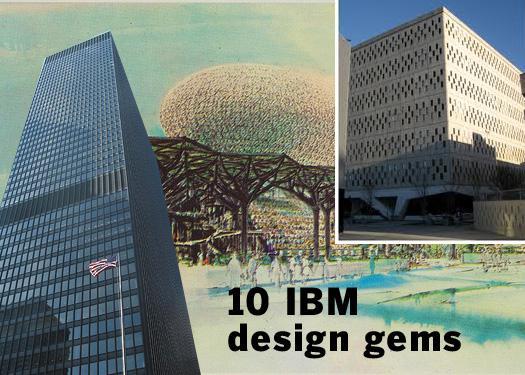 IBM is well known for its computing products, but less celebrated for its role as a patron of modern architecture. Between the years 1956 and 1971, IBM commissioned approximately 150 plants, labs and office buildings. In honor of IBM's 100th anniversary, we're singling out 10 architectural gems crafted for Big Blue.
Thomas Watson Jr., who became president in 1956, orchestrated IBM's building boom. He recruited Eliot Noyes (pictured), an architect and former curator of industrial design at New York's Museum of Modern Art, to help him implement a corporate design program that spanned not only architectural design but also graphic design and industrial design. Noyes, in turn, recruited some of the best artists, designers and architects of the time, including Charles and Ray Eames, Eero Saarinen, Marcel Breuer and Ludwig Mies van der Rohe.
Known for his technologically expressive structures, Eero Saarinen designed IBM's facility in Rochester, Minn., with a sweeping curtain wall of blue-hued glass. When it was dedicated in 1958, the Rochester facility included 576,000 square feet of floor space. Today, IBM occupies more than 3 million square feet on the campus – making Rochester the largest IBM facility in the world under one contiguous roof.
Photo: Ezra Stoller © Esto
A curved expanse of glass and stone defines Eero Saarinen's second building for IBM, the Thomas J. Watson Research Center in Yorktown Heights, N.Y. It was completed in 1961.
Eliot Noyes' design for the IBM Aerospace Building, completed in 1962, is a play on computer punch cards. The windows were created to filter sunlight into the Los Angeles building. Today the building is home to the Otis College of Art and Design.
The IBM Pavilion at the 1964 World's Fair in New York was designed by Charles Eames and Eero Saarinen. A grove of manmade steel trees surrounded an egg-shaped multi-screen projection theater, clad with the letters IBM. The exhibits included pentagon theaters, where puppet-like devices explained the workings of data processing systems. The pavilion also housed a computer applications area, a probability machine, scholar's walk and administrative space.
The gardens at IBM's corporate headquarters in Armonk, N.Y., were designed in the mid-1960s by noted Japanese American artist and landscape architect Isamu Noguchi
Designed by Marcel Breuer and Thomas Gatje, IBM's Boca Raton, Fla., facility was dedicated in 1970. Vertical and horizontal sunshades made out of precast concrete defined the exterior of the 620,000-square-foot complex, which included administrative offices, product testing areas, a laboratory building, and manufacturing and distribution facilities.
British architect Norman Foster designed the IBM Pilot Head Office in Portsmouth, England, completed in 1971. It was conceived as a temporary solution but stood the test of time and remains in use today. As Foster+Partners describes it: "Although it cost no more per square foot than off-the-shelf temporary structures, it embraced high architectural and environmental standards and anticipated the changing role of the computer in the workplace – a key factor in its long-term survival."
Mies van der Rohe designed the beautifully proportioned steel-and-glass One IBM Plaza building in Chicago, an icon of modern architecture and the architect's last American building (he died in 1969). Completed in 1971, One IBM Plaza achieved Chicago Landmark status in February 2008 and was added to the U.S. National Register of Historic Places in March 2010.
IBM commissioned a local architect for its manufacturing plant in Guadalajara, Mexico. Designed by Ricardo Legorreta and completed in 1975, the low slung complex combines modular forms with native materials, such as plaster and clay tile palling. As the architects explain on their web site: "The main objective was to create a plant for people integrated to the Mexican character and with the local environment."
Graphic designer Paul Rand's Eye-Bee-M poster was created in 1981 in support of IBM's motto, THINK. Rand was the first person Thomas Watson Jr. and Eliot Noyes recruited when they set out to build an integrated corporate identity for IBM. In 1960, Rand redesigned IBM's logo. He tweaked it again in 1972, creating IBM's signature eight-bar logo, which is still in use today. Rand continued to design packaging and marketing materials for IBM until the early 1990s.
Built on former ranch land outside of Fort Worth, Texas, the IBM Solana office and retail complex was conceived by a team of architects, engineers, planners and landscape architects including Barton Myers, Mitchell/Giurgola Architects, Ricardo Legorreta, and Peter Walker and Partners. Completed in 1989, it included a village and recreation center, office complex and retail center. New York Times architecture critic Paul Goldberger wrote of it in 1989: "This is a place whose design begins to address the critical problems of suburban office parks everywhere: how to deal honestly with the infuriatingly necessary automobile, and how to create a convincing and meaningful sense of place."
Next Up: Check out these related slideshows