10 HP TouchPad apps for newbies
The bare essentials for HP TouchPad noobs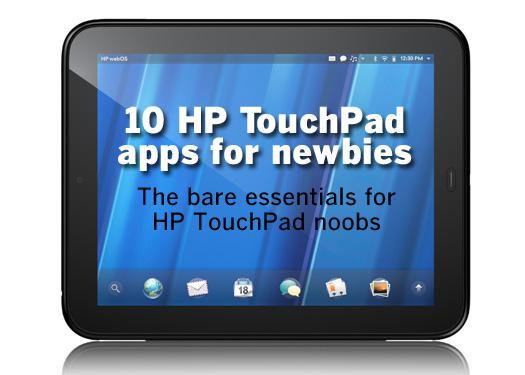 HP took the wraps off its shiny new webOS-based tablet –the TouchPad -- on July 1.  And like the Apple iPad, the Motorola Xoom and the BlackBerry PlayBook, this tablet debuts with a pack of applications customized for the tablet form factor.  In this slideshow we'll provide you with a quick and handy guide to the 10 applications that will give you a good start with your TouchPad experience.  (Note that we're excluding Facebook and Twitter from the mix since we assume you've heard of those before…)
HP MovieStore
Developer: RoxioNow
Price: Free
This is just what it sounds like: A tablet-customized application where you can rent or buy movies and stream television shows to watch on your TouchPad. The application wasn't up and running from the start, although HP promises to send users a notice through Software Manager the minute it comes online. HP says the app will update available movies every week and available TV shows every day.
WordPress
Price: Free
Developer: Automattic
For those of you who like to blog on the go, the WordPress app gives you all the capabilities of the popular blogging software on your tablet. WebOS's multitasking capabilities let the WordPress app give you the ability to quickly swipe through managing, editing and browsing your content on multiple panels. The software is available in English, Spanish, French, Portuguese, German, Italian, Dutch and Japanese.
EA Need for Speed: Hot Pursuit
Price: $9.99
Developer: Electronic Arts
No tablet experience is complete without some games to play and EA's tablet adaptation of its acclaimed " Need for Speed " action racing game is one of the most promising out there. "Need for Speed" is a perfect game for tablets because it doesn't rely on overly complicated controls and lets you turn your car simply by shifting your tablet. EA is also hyping up an "enhanced interface" that takes advantage of the TouchPad's multi-touch capabilities.
Translator HD
Price: Free
Developer: MojoJungle
This app uses Google's translation software to give you an easy and quick way to translate text from 45 languages. The Translator HD app is a tablet-centric version of the original Translator app that appeared on Palm's webOS-based smartphones.
Coffee Guy
Price: $0.99
Developer: AnotherGuy
For coffee aficionados who want to branch out beyond Starbucks, Coffee Guy searches your location to find any coffee shop in your area. So if you're on a business trip and looking for a high-quality cup of coffee near your hotel, you'll never have to settle for the cheap hotel brand ever again. The app also lets you save your favorite cafes and record a list of your favorite drinks. (Note: While this app was not specifically designed for tablets, it was simply too cool to let pass.)
KitchenCalculator
Price: $1.25
Developer: Canny Technologies
If you've ever been stumped by a cookbook that only tells you how to make a meal with the metric system, this app is for you.  Know your pinches, dashes, pints, liters, teaspoons and tablespoons, all in one convenient location.
OfficetoPDF HD
Price: $2.99
Developer: Jason Cheeks, Inc.
Here's a nifty workplace application that will take any Microsoft Office file – whether it's Word, Excel or PowerPoint – and change it into a PDF. Cheaper versions that only convert Word, Excel or PowerPoint files to PDFs are also available.
NPR Reader
Price: Free
Developer: SpinBytes
For people who like having their news told to them in a soothing, comforting voice (as opposed to having it yelled at them through cable news), the NPR Reader brings all the fun of public radio to your tablet. This application is particularly swell because it performs YouTube searches for videos of the stories you happen to be reading.
iheartradio
Price: Free
Developer: Clear Channel
As the official app of America's biggest radio station chain, iheartradio gives you access to more than 400 radio stations across the country. Whether you like pop, hip-hop, country or Latin music, you'll probably find something to enjoy with this application.
Angry Birds HD
Price : Free
Developer: Rovio
No mobile device these days is complete without Angry Birds, the hugely popular game that involves slinging wrecking-ball birds at villainous green pigs. Owning a tablet without Angry Birds installed is a little like having a classic rock album collection without any Beatles records. It's something that's just not done.
We want to hear from you! Are you planning on getting any of these apps for your TouchPad?  Or are you just content with your iPad for the time being? Let us know in the comments!
HP plans major enterprise push for TouchPad
Next Up: Check out these related slideshows