Mac OS X Lion's top 20 features
Mac OS X 10.7 Lion has dozens of new features, big and small. Here are the top 20 for professional users.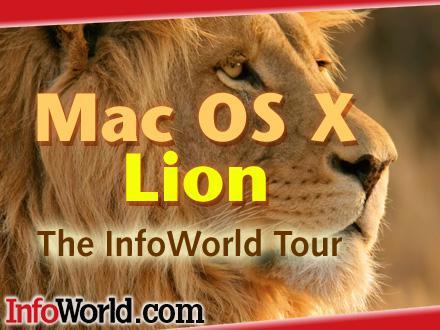 Mac OS X 10.7 Lion is now shipping (from the online Mac App Store only) for $30, with dozens of new features, some inspired by the iPad 's iOS and others aimed squarely at business-level computing needs. This visual tour highlights the key new features in Mac OS X Lion. I've been a beta tester of Lion for four months and have written the " Mac OS X Lion Bible " to explain all its capabilities in glorious detail, so I can confidently say there's much more to Lion than these 20 capabilities. But they do represent some of the most significant changes.
Among the features that I can't show because they are under-the-hood changes is the ability to develop sandboxed apps, to restrict the interaction between them and other apps, to reduce the ability of malware to infect them. And still to come is the full iCloud support , such as for automatic daily backup of your iOS devices when they're in Wi-Fi range. Also new: Mac OS X Lion can be installed on virtual machines (VMs), such as those created by Parallels Desktop and VMware Fusion, a capability previously limited to Mac OS X Lion Server . (The Lion license permits installation on two VMs per Mac in addition to directly on the Mac's physical disk.)
Finally, I had no software compatibility issues with Lion; Apple seems to have kept its OS changes from affecting the vast majority of existing applications . But Lion does drop support for Apple's Rosetta technology, which let it run apps compiled only for the IBM PowerPC chip that Apple stopped using in 2006. Such PowerPC apps -- Intuit Quicken is one of the most widely used ones -- will not run in Lion.
Whole-disk encryption for the startup disk
One of the knocks in business against Mac OS X has been its lack of built-in whole-disk encryption. That's changed in Mac OS X Lion, which can now encrypt your entire startup disk, not just a user's Home folder. Once a disk is encrypted, a user needs a password or the unique passkey generated for that disk to access its contents. That passkey can be stored on Apple's servers should you ever need to retrieve it.
Backup and external disk encryption
Encrypting the startup disk protects a lot of user data, but it's not enough for many organizations. Mac OS X Lion can encrypt Time Machine backups as they are created and external disks as they are formatted -- thus, anything a user saves to is encrypted. The one potential weak spot is that users could forget to encrypt external disks that they format.
Configuration policies for setup and restrictions
iOS devices have supported configuration profiles that IT can set up and distribute to users for several years now. With Mac OS X Lion's optional Server application, Apple brings that capability to both Macs and iOS devices. Plus, you can distribute and update the policies over the air through the directory services managed or relayed through Lion Server.
A new Server application
Mac OS X Lion Server has an all-new Server application that centralizes hardware, service and user management into one console. The various server utilities -- Server Admin, Workgroup Manager, Server Monitor and System Image Utility -- remain available but must be separately downloaded if you want to use them. Lion Server is an optional, $50 install from the Mac App Store for Mac OS X Lion users, rather than delivered as a separate Mac OS X operating system, unlike past versions.
Automatic, internal file versioning
Remembering to save intermediate versions of your documents is an easily skipped hassle. But with Mac OS X Lion, developers can now use the Versions capability to have the documents keep each intermediate edition every time you save within the document file (so you don't have lots of copies floating about), then let you revert to any version using a Time Machine-like interface. When you copy or email a file, the recipient doesn't get the internal iterations, just the final version, so no worries about revealing secrets deleted from earlier drafts. However, this safety feature also means you must work with the file only at its original location if you want to maintain the version history, so working on copies of files such as when traveling or with groups via file shares means the version history is gone. Lion's version of TextEdit and Preview implement this technology, and iWork will soon.
Locking files against accidental saves
How many times have you opened an old document to read something in it, accidentally made a change, and then saved the document without thinking? In Mac OS X Lion, that's harder to do. Developers can now implement the Auto Save capability that locks a file after a user-specified period. Users can also immediately lock a document using a new title bar control. Lion's TextEdit takes advantage of this capability.
Drag-and-drop file-sharing across the network
Mac OS X Lion introduces AirDrop, an automatic network file-sharing capability based on Apple's Bonjour technology. Compatible Macs (built in 2009 or later) automatically detect each other if they're on the same Wi-Fi network segment, and users can drag files from their Mac to another user's via the Finder window. The recipient has to accept the dropped file, so you can't carpet-bomb other users' Macs with junk files.
Viewing your entire Mac's contents, sorted
All Finder windows now have the All My Files smart folder available. It shows all your Mac's files in one window, and it gives you the ability to sort the contents and arrange them, to quickly peruse your Mac by various categories. The ability to sort files is new to Mac OS X Lion as well, providing a second way to filter files in addition to the previous Arrange By capability.
More powerful file previewing
The Quick Look feature in Mac OS X has long been an easy way to preview a document's contents -- simply press the spacebar to see what's in a selected document. Mac OS X Lion takes this capability further by letting you flip through a multipage document's contents right from its thumbnail when viewing your folders in icon view -- no need to invoke Quick Look. And Quick Look itself has been enhanced, with additional controls in both the standard and full-screen Quick Look windows.
Previews when you search in Spotlight
Apple has applied the Quick Look technology to its Spotlight search results. If you hover over a document in the results sheet, a popover (a user interface element copied from iOS) opens and displays a preview of that document.
A system preference for all your accounts
The new Mail, Contacts & Calendars system preference gives you one-stop access to all your accounts -- email, IM and so on -- so you can enable related services (iCal, Mail, iChat, Address Book) for accounts that support them. You can also quickly jump to the apps' Accounts pane to modify your access credentials.
Managing your location privacy
You may not have realized it, but Mac OS X can tell where you are based on knowing your Wi-Fi access point -- and so can location-savvy applications. Mac OS X Lion extends the old Security system preference to become the Security & Privacy system preference, where a Privacy pane lets you turn off location detection and monitor which applications are accessing your location data.
Navigating your apps and windows via Mission Control
The new Mission Control feature subsumes and expands the old Spaces and Exposé capabilities into a unified navigation view that can display every space defined for your Mac, plus all open applications and all their open windows. (A space is a collection of applications that you open in a separate instance of the Finder, to reduce application clutter.) You then can navigate to any of these -- plus the widgets-containing Dashboard -- from one place.
iOS-style application navigation
In October, Apple CEO Steve Jobs said Apple would take the best of the iPad and bring it to Mac OS X, so it's not surprising to see the iOS concept of home screens come to Mac OS X as an alternative navigation method for applications, called Launchpad. But truth be told, computer screens are so big that I find the large grid of app icons to be overwhelming and less easy to navigate than a good old Finder window list. Fortunately, Launchpad is not a required navigation tool; if you don't like it, you don't have to use it.
Secondary bookmarking in Safari
If you're not careful, your bookmarks list can get out of hand with dozens and dozens of links to articles you meant to read and then forgot about, mixed in with the bookmarks to websites you visit regularly. Safari 5.1, which is introduced with Mac OS X Lion, adds a separate facility called Reading List to store the links to online articles you mean to read, so they don't get mixed in with your "real" bookmarks. Reading List can even be set to not display a link once you've read it. Reading List is also promised for iOS 5, so your list will be available on all your devices -- and kept current through iCloud syncing.
A new view of your email
Mail 5.0 in Mac OS X Lion changes the Message Viewer layout so that your message previews appear in a wide column at the right of the screen (as on an iPad), not in a window below the message list. If your monitor is 19 inches or larger, this is a better arrangement; Mail shows you the entire conversation -- meaning all the messages in that thread -- in that column.
Mail 5.0 also adds new shortcut links to your inbox and other common folders below the toolbar. It's easier to get to them, enhances its message flagging, and changes how you interact with file attachments. If you use Exchange, you can now set up out-of-office alerts directly from Mail.
A more iPad-like iCal and Address Book
The iPad effect also reaches iCal and Address Book, both of which have been visually redesigned to look like their iPad counterparts. iCal, for example, uses popovers for its accounts list, appointment details and to-do item details.
The Mac now speaks multiple languages
Mac OS X Lion has added new voices to its Speech system preference, optimized for each of a dozen languages and dialects. If you want the Mac to speak in English to you with a Scottish brogue or South African twang, it can. If your native language is French, Spanish or any of another score or so other languages, the Mac can now speak to you with the correct pronunciation in them.
Let your fingers do the walking
Three-quarters of Mac users work on MacBooks, and for several years they've come with gesture-savvy touchpads. Apple has a cool external Bluetooth touchpad, the Magic Trackpad , that works with any Mac, including MacBooks whose cases are shut when connected to a monitor. Mac OS X Lion now uses that gesture savviness, providing dozens of gestures and taps to maneuver apps and windows and manipulate objects. You almost don't need a mouse.
Forget about syncing with iOS devices -- it's automatic
With Mac OS X Lion and iOS 5, your e-book, app and music purchases are automatically synced across devices tied to the same Apple ID or iTunes Store account -- if you set up devices to do this. You don't have to sync them through iTunes on your Mac; instead, new content appears on each device so that you can choose whether to download it from Apple wirelessly (yes, you can configure the iPad and iPhone to not download when using 3G connections). This is Phase 1 of the free iCloud service ; coming this fall is automatic daily backup of iOS devices over Wi-Fi, as well as iCloud syncing of photos, e-magazine subscriptions and documents in iCloud-enabled apps such as iWork .
More on Lion:
Next Up: Check out these related slideshows