Five potential Facebook killers
And three sites crushed by Facebook that are hoping for a re-birth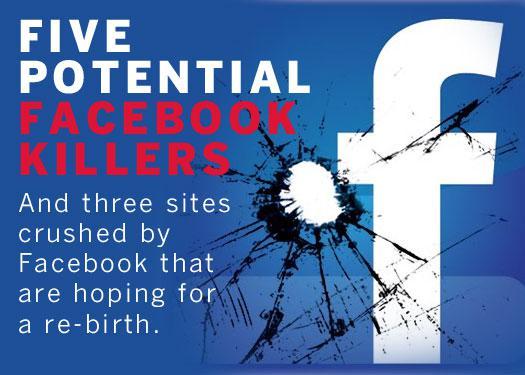 The social networking scene is constantly in flux. Facebook is at the top of the heap right now,  but challengers are springing up all the time, hoping to leverage the next big wave into a lucrative IPO. Here are five social media sites that are creating a buzz.
Where IT pros do their social networking
Empire Avenue : Show me the money
What it is : Empire Avenue is a social media exchange network. Members invest virtual currency in people and brands that interest them. Share prices are based on the individual or the brand's activity, engagement, and reach across other social media networks including Empire Avenue, Twitter, Facebook, YouTube, LinkedIn, and others. Basically, it's a social network and a game that helps members meet and connect with new people, gain insight and metrics of their social media activity across the web, and have fun while becoming better at using the social media environment.
Why it's hot: Empire Avenue asks its members one fundamentally different question, and that is: if every connection members made cost them money from a limited source (even if that source is virtual currency), who would they connect with and why? Web traffic grew by more than 150% from March to April. And, as it continues to climb, they are keeping their members highly engaged, averaging over 10 page views and 12 minutes per visit.
Color : Color me nearby
Color is a free iPhone and Android app that creates an instant social network based on users location and proximity to others. The objective is to facilitate better relationships with neighbors and co-workers without the rigors of establishing permanent connections. Users can instantly share images, videos, and text conversations with others in proximity by capturing information as a group instead of an individual.
Why it's hot: Color is addressing the question: What is social networking in the post PC era?
foursquare : Don't oust me, bro
Foursquare is a location-based mobile service that enables participants to share their location with friends by checking-in via a smartphone app. It facilitates real-world experiences by allowing users to bookmark information about venues they want to visit, then provides customized recommendations. Merchants and brands benefit by using the self-service tools to attract and engage customers and fans.

Why it's hot: Individuals use foursquare to "discover" new experiences, then make or provide recommendations to friends. "Encouragement" thrives through check-ins, which generates points that are displayed on a Leaderboard showing the top users each week. Participants compete for high scores using exploration in their own cities as a baseline. And "loyalty" is rewarded with specials and free tools to attract, generate, and maintain continued relationships and increased growth.
Hunch : Who are you?
Hunch maps people to their interests. It calls this a "taste graph," which tracks everything that users like and dislike. The site asks users a series of questions about specific topics, then lets them rate the answers. In a nutshell, Hunch customizes its results by asking questions about who you are and then makes recommendations for things that other users like you prefer.
Why it's hot: Members can search their friends' favorite things and use the information for purchasing gifts. Users can explore another's preferences to prepare for a date or job interview. It's a very useful and clever way to get acquainted with new people and avoid those embarrassing situations such as giving your boss a bottle of wine that he dislikes.
IMVU : 3D swap meet
IMVU is an online, social entertainment network for members to meet new friends, to chat, join groups, share interests, and play games. Membership and participation is free, and the site provides each new member 1,000 promotional credits of virtual currency to get started. Members earn more promotional credits by participating in other experiences.
Why it's hot: IMVU members use 3D avatars to represent themselves on the site. They can create these avatars using virtual products such as clothes, shoes, etc. or purchase one of the many hundreds of predesigned avatars from the avatar catalog. In addition to the games and social environment, members can create and sell their own virtual products such as furniture, clothing, jewelry, hair, animations, and/or anything else that other members might use to create their virtual identity including personalized homepages and private rooms.
And three sites that went from hot to not…..and are trying to reinvent themselves
MySpace : Is there life after Facebook?
The new MySpace is an entertainment network that connects members to music, celebrities, TV, movies, and games. Users customize their own pages to feature their entertainment specialty. MySpace Music has an expanding catalog of free streaming audio and video content for members to view and use.
Why it declined: Back when Facebook membership was limited to college students only, MySpace built up a strong following among high-schoolers and others without an .edu email address. But once Facebook opened its membership up to everyone, MySpace started to spiral down. In January, MySpace tried to re-invent itself by focusing primarily on pop culture and entertainment. It still ranks in the top five social networks for members/usage, but the popularity of this one-time giant and only real Facebook competitor has fallen drastically. In fact, it was announced last week that News Corp has sold social media site Myspace for about $35 million to online advertising company Specific Media, according to a source familiar with the transaction. The deal calls for News Corp to retain a minority stake in the website that it purchased six years ago for $580 million, the companies said.
Friendster : A textbook case of what not to do
Like MySpace, Friendster has redesigned its site to focus more on music and gaming. It looks a lot like IMVU with its new offerings of games and avatars, but has also incorporated a number of the MySpace features in the music areas. It provides similar options for connecting with friends and family, but still lacks the numerous features and functionality of Facebook and MySpace.
Friendster famously lost out to Facebook in the battle to become the social networking site. Jonathan Abrams, himself, told students in a Stanford Graduate School of Business class that Friendster is now used as a business school case-study of what not to do. Still, Friendster is popular in Asia.
Classmates (now called Memory Lane): Facebook victim goes back to the future
Originally, it was just set up to allow members to search for classmates by the years of school attendance or by graduation date, plan events such as reunions, and create bulletin boards for notes and messages; however, it was just completely redesigned with a sort of "50s" look and a new slogan claiming that it's the "premier destination for accessing nostalgic content, yearbooks, and connecting with people."

Why it declined: It has less functionality than its competitors (Facebook, MySpace, etc.), a confusing interface, and it charged members for services that all the other social networks provide for free.
Where IT pros do their social networking
Next Up: Check out these related slideshows