10 wicked off-the-cuff uses for retired NASA space shuttles
Who wouldn't eat at the Space Shuttle Café or sleep at the Shuttle Inn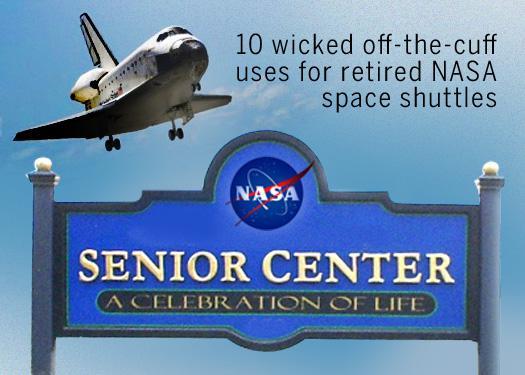 It will be a sad event when the iconic NASA Space Shuttle program ends this week with the landing of Atlantis. After the last mission the flying shuttles will all be assigned to museums where millions will admire them as static displays. But wouldn't it be cool if they were put to use in places where you might not expect? Here we take a tongue-in-cheek look at some not-shuttle-retirement-home-like uses for the venerable craft.
Shuttle hotel: Who wouldn't want to stay at the Space Shuttle-On- Inn? Imagine the attraction for kids alone? And of course the grown up kids! You could park one on top of a giant space theme-based hotel in Las Vegas called the Space Palace!
Gigantic Starbucks: Starbucks is always looking to be on the cutting edge, why not outfit the baristas with space suits and sell a space brew.
SpaceWorld Water Park: As part of a space-themed water park, the shuttle would certainly shine as a star. Not to be confused with the actual Space World park in Japan of course.
Cadillac ranch: The iconic Cadillac Ranch in Amarillo, Texas would pale in comparison to a line of space shuttles lined up on a road on the Space Coast. You might even want to face them skyward rather than nose in, pining for space.
Stunts-R-Us: Hire the big machine out as the ultimate stunt plane…Of course you'd need a little camera magic to make it look like it was flying but it would be worth the effort. It would be the star of Independence Day II.
Corporate team leader: Are there better teams than NASA astronauts? The shuttle would be a perfect learning center for corporate team building exercises, led by former astronauts.
The Dark Side of the Moon Theatre: Here you could outfit the interior of the shuttle as a cozy theatre for laser light shows and midnight showings of Star Wars. Pink Floyd's Dark Side of the Moon laser show of course would have to run daily
The Tang restaurant: This one seemed obvious but since NASA loves its food science and it created a number of unique food-stuffs for the space, a space-shuttle-based restaurant would be perfect. You could even have retired astronauts as guest chefs since they had to prepare some of the food themselves.
Parabolic Curves: A strip, or should I say gentlemen's club that would have zero gravity dance poles. 'Nuff said.
Traveling salvation show: Take the shuttle and that 747 it piggy-backs on (known officially as the Shuttle Carrier Aircraft) and fly it around the country on the air show circuit. You could even charge admission for it with proceeds going to NASA, we know it needs the money.
Copyright © 2011 IDG Communications, Inc.
Next Up: Check out these related slideshows