Products of the Week
Our round-up of intriguing new products from HP, Apple, Palo Alto, among others.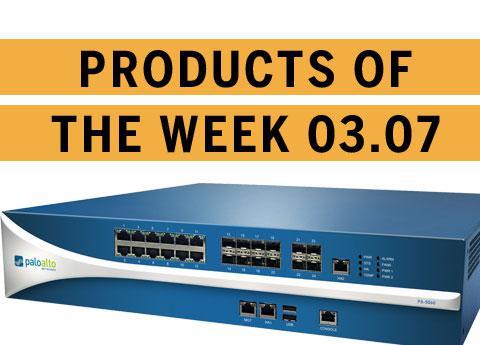 Our round-up of intriguing new products from HP, Apple, Palo Alto, among others.
Read how to submit an entry to Network World's products of the week slideshow.
Product name: Nexsan E60
Key features: The Nexsan E60 is high density storage that features 60 SATA/SAS drives in a 4U size for up to 120TB of capacity per chassis. The new storage system includes Active Drawer Technology for continuous operation during maintenance and AutoMAID Technology for up to 87% reduction in power. More info.
Product: AutoVirt version 3.5
Key features: Enhancements include ability to discover and classify all file data across heterogeneous file storage environments; identify opportunities for data center optimization (i.e., tiering, consolidation, capacity balancing, archiving) and migration obstacles; and transition from the assessment configuration to production in minutes. More info.
Product: XcelaSAN Model 100
Key features: XcelaSAN Model 100 with High Availability for mission-critical applications can boost the performance of high I/O performance up to 30 times with block-level read and write caching. Also includes an enhanced Graphical User Interface (GUI) and Command Line Interface (CLI), an improved SNMP management interface; and advanced performance monitoring and statistics reporting to assist with SAN performance planning. More info.
Product: SafeNet Authentication Manager (SAM) 8.0
Key features: Enterprise platform that combines strong authentication and identity federation to help organizations centrally manage user identities and access to both on-premise and cloud-based services and applications without additional user provisioning. More info.
Product: VirtualETL and CloudETL
Key features: VirtualETL and CloudETL provide easy, automatic connections between applications, reducing integration time by up to 75%. ETL teams can mix any combination of relational, object, cloud or XML-based applications, without SQL. More info.: VirtualETL and CloudETL .
Product name: PA-5000
Key features: The PA-5000 series represents Palo Alto Networks' high-end security gateways with next-generation firewall protection. With 20Gbps firewall protection and 10Gbps of threat protection, these devices are designed for data centers, and can be deployed in active-active pairs, so if one fails the other can take over.
Product name: ExtraHop Application Delivery Assurance system
Key features: The ExtraHop application performance management (APM) solution provides real-time analysis of application transactions across the network, Web, database and storage tiers. The latest update adds support for IBM DB2, enabling agentless monitoring for all seven major database systems, including IBM DB2 and Informix, Oracle, Microsoft SQL Server, MySQL, Sybase and PostgreSQL. More info.
Product name: Openbravo 3
Key features: ERP system improves  business performance, productivity and agility with access to more than 275 pre-integrated, commercial and open source modules and a redesigned user interface. More info.
Product name: Grid Gain 3.0
Key features: Open source cloud application platform tightly integrates computational and data grids with patent-pending deployment and provisioning technology for seamless auto-scaling on any managed infrastructure. More info.
Product name: RecoverGuard version 5.3 (v5.3)
Key features: Significantly expanded heterogeneous storage, compute, virtualization and database support, as well as vulnerability detection for host-based replication platforms – ensures private cloud data protection, application availability, and disaster recovery. More info.
Product name: E-Series Multi Service Mobility 802.11n access points
Key features: Aimed at the enterprise, the 400 series models use Atheros' latest Wi-Fi silicon, and implement a range of optional 802.11n features to improve signal and connection quality with clients. The 460 and 466 support three data streams (3x3 MIMO), for a data rate of 450Mbps per radio. Updated controller firmware, and a new release of HP's WLAN management application.
Pricing: All three models have two radios; entry-level MSM430, lists for $699; the MSM460 and 466, with three spatial streams, list for $999 (460 has mounts of exterior antennas)
Related story: HP touts greater capacity of new 11n Wi-Fi access points
Product name: iPad 2
Key features: Thinner, lighter, with twice the overall performance and eight times the graphics punch of the original thanks to Apple's custom dual-core A5 processor. HDMI output option. Don't look for a USB port or Adobe Flash.
And you can get it in white. Promise.
More info Slideshow – First look at Apple iPad 2: what's new, unchanged and still missing
Product name: Actiance Unified Security Gateway (USG) on Crossbeam X-Series Security Platforms
Key features: Actiance's Unified Security Gateway (USG) is now certified to run on Crossbeam's X-Series security platforms. USG provides granular security and compliance controls for Web 2.0, instant messaging and social media, powered by Crossbeam's hardware and software platform that delivers carrier-class performance, reliability and scalability. More info.
Copyright © 2011 IDG Communications, Inc.
Next Up: Check out these related slideshows