A brief history of the Apple MacBook family
A look into the origins of the MacBook Pro as Apple refreshes the line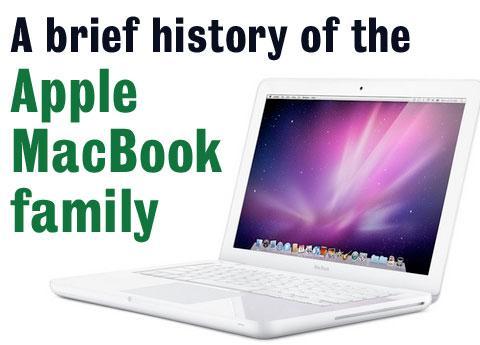 While the iPad and iPhone seem to grab the lion's share of Apple headlines these days, this week the MacBook Pro laptop line should get its due as Apple is expected to introduce new products. Here's a look back at the evolution of the increasingly popular MacBook line.
MacBook Pro
The original 15-inch MacBook Pro was announced on Jan. 10, 2006 by Apple CEO Steve Jobs at the Macworld Conference. The 17-inch model was unveiled on April 24, 2006. The first design was largely a carryover from the PowerBook G4 and utilized Intel Core CPUs as opposed to the PowerPC G4 chips used by its predecessor.
MacBook
First introduced in May 2006, the original MacBook replaced the iBook and 12-inch PowerBook series of notebooks as a part of the Apple–Intel transition. Positioned as the low end of the MacBook family, the MacBook is aimed at the consumer and education markets. It is by far the best selling Macintosh in history.
MacBook Air
The MacBook Air was a 13.3-inch model, promoted as the "World's Thinnest Notebook", was introduced at the Macworld Conference on Jan. 15, 2008. The original MacBook Air featured a custom Intel Merom CPU plus Intel GMA graphics that was updated to a faster non-custom Penryn CPU and Nvidia GeForce graphics in late 2008. The MacBook Air, which is lighter than most competing models, was the first MacBook produced using a single sheet of aluminum with Apple's unibody technique.
Unibody MacBook Pro
On Oct. 14, 2008, at a notebook-oriented event at Apple's headquarters, a 15-inch MacBook Pro was announced featuring an aluminum unibody construction and tapered sides similar to those of the MacBook Air. This method of construction has been dubbed "precision aluminum unibody enclosure" by Apple, usually shortened to "unibody". All of the MacBook Pro's ports were shifted to the left side of the case. The optical disk drive slot was moved from the front of the unit to the right side, similar to the MacBook.
Unibody MacBook
On Oct. 20, 2009, Apple released a MacBook that introduced a new polycarbonate unibody design, faster DDR3 memory, a multi-touch trackpad, an LED-backlit display, and a built-in seven hour battery. The polycarbonate unibody MacBook, like its aluminum predecessor, lacks FireWire and, like the 13-inch MacBook Pro, has a combined audio in/out port. On May 18, 2010, the MacBook was refreshed with an updated processor, a faster graphics card, and improved battery life.
New MacBook Pro
Here's a mock-up of what's expected to be introduced by Apple on Thursday. We'll update when the announcement is made.
Copyright © 2011 IDG Communications, Inc.
Next Up: Check out these related slideshows