Ultimate guide to the flat data center network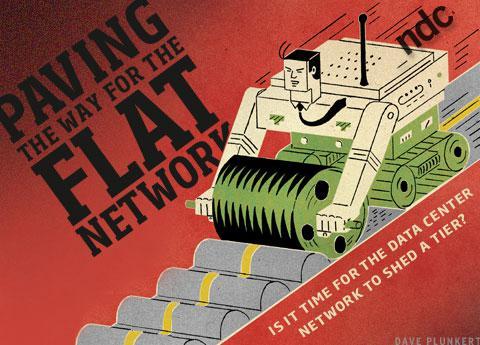 Is it time for the data center network to shed a tier?
The traditional three-tier network had a good run, but its age is starting to show in today's brave new world of server consolidation, virtual machines, cloud computing and 10Gigabit switches. Here's a look at where we've been and where we might be headed.
Loopy LANs
Building large local area networks isn't easy. In the early days, a major problem was figuring out how to provide redundancy, in case a bridge or switch failed, without triggering a dreaded network loop.
Perlman's propitious protocol
In 1985, Radia Perlman, then an employee at Digital Equipment Corp., created the Spanning Tree Protocol (STP), which solved the problem of LAN loops and set the basic ground rules for how traffic on a LAN behaves. STP uses the concept of a "root bridge" from which all branches of the spanning tree emanate.
Perlman immortalized Spanning Tree Protocol in verse
STP's secret sauce
Spanning Tree Protocol eliminates the loop problem by blocking certain redundant paths and establishing "single active paths."
The three-tier network
Unfortunately, STP has weaknesses which have become glaring in light of the increased demands being put on today's data centers. For example, by blocking some network paths in order to avoid loops, all the available bandwidth is not being used. Also, when a device fails, STP reconfigures the network and sets up new pathways, but it does so relatively slowly.
Radia redux
All of the major switch vendors have come out with approaches that flatten the network down to two tiers, and in some cases one tier. The two-tier network eliminates the aggregation layer and creates a switch fabric based on a new protocol dubbed TRILL for Transparent Interconnection of Lots of Links. Perlman is a member of the IETF working group developing TRILL.
Cisco's FabricPath
Cisco isn't waiting for TRILL. The company has come out with its own pre-standard version of TRILL, which it is calling FabricPath. Here's what a Cisco-based two-tier network would look like:
Brocade One
Brocade's Virtual Cluster Switch architecture flattens the network by collapsing the traditional access and aggregation layers. Since the fabric is self-aggregating, there is no need for aggregation switches to manage subscription ratios and provide server-to-server communication. Brocade's architecture is based on emerging standards like TRILL (a new and improved version of Spanning Tree) and DCB (data center bridging).
HP/3Com
According to HP, the problem with traditional three-tier data centers is that the current Spanning Tree Protocol has limitations when it comes to scalability and performance.
Juniper: Easy as 3-2-1
Using products available today, network architects can create a two-tier network using Juniper gear.
The one-tier network
Juniper has announced Project Stratus, which would enable a single-tier architecture. Products aren't slated to ship until next year.
Extreme measures
The way Extreme sees it, blade server switches introduce a fourth tier, and the virtual switch that is part of every hypervisor adds a fifth tier of switching. Extreme's "Direct Attach" data center architecture eliminates tiers both on the server domain and the network domain, enabling a two tier network.
Copyright © 2010 IDG Communications, Inc.
Next Up: Check out these related slideshows