Inside SharePoint Server 2010 beta
A sneak peek at some of the new and improved features in Microsoft's SharePoint Server 2010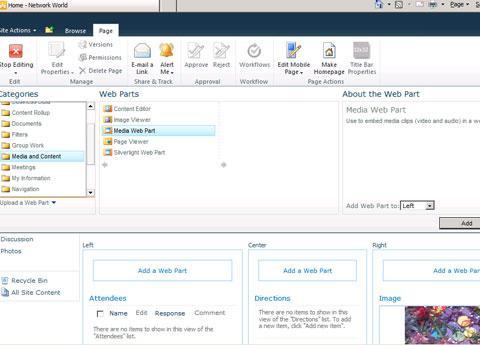 Better backups
New backup and restore capabilities let you select which components to backup.
Health Checks
The Central Administration site has been redesigned for better usability and includes new features for monitoring the health of SharePoint servers
Easier blogs, wikis
You can now format blogs and wikis using advanced editing features though the Office Ribbon.
Excel excellence
Excel Web Access lets you embed live Excel charts and data within SharePoint 2010 sites
The blue ribbon
The Microsoft Office ribbon user interface pervades SharePoint 2010, allowing end users to easily edit Web sites.
Previews of coming attractions
A new tool in the document library lets you preview videos and other multimedia assets.
Super search
The improved SharePoint 2010 search function provides very relevant results, which are organized according to various criteria or taxonomies.
Social swirl
New social functions let users follow colleagues' activities, tag content of interest, and see a dynamic organization chart.
Workflow visualization
Approval workflows are shown visually, and can be easily edited in Microsoft Visio.
Copyright © 2009 IDG Communications, Inc.
Next Up: Check out these related slideshows