Google's April Fools hoaxes in 2010
Text-based YouTube videos, a new name for Google, and 12 more pranks.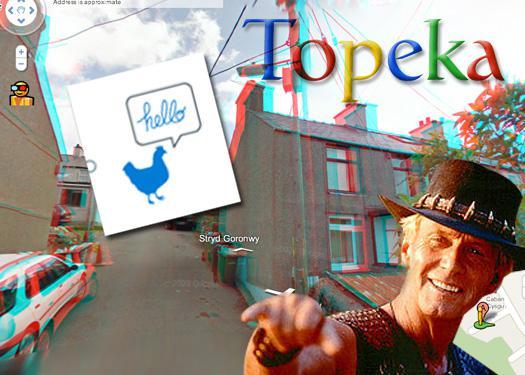 Google changes name to Topeka, introduces text-based videos
It's definitely April Fools' Day again: Google has changed its name to "Topeka," in honor of the city in Kansas that temporarily changed its name to "Google" last month, and introduced text-based YouTube videos. These are just two of 14 Google pranks unveiled April Fools' Day 2010. Read on for a complete list.
Google = Topeka
Google has changed its name to "Topeka," in honor of the city in Kansas that temporarily changed its name to "Google" last month. "Early last month the mayor of Topeka, Kan., stunned the world by announcing that his city was changing its name to Google. We've been wondering ever since how best to honor that moving gesture. Today we are pleased to announce that as of 1 a.m. (Central Daylight Time) April 1st, Google has officially changed our name to Topeka," the company's blog explained.
Text-based YouTube videos
YouTube videos now come with a TEXTp option for watching videos in text-only mode, which Google claims will save the company $1 per second by lowering bandwidth costs.
Google Books – in 3D!
Google Books now features an option to read digital books in 3D. Just like a real book, only much less pleasant.
Store anything in Google Docs
Google Docs now allows you to store anything - including physical objects such as keys and remote controls.
A more colorful Google Street View
Google Street View is now available in Anachrome 3D. Just click the little guy with 3D glasses to gain a whole new perspective.
Chuck a left, mate
Google Maps in Australia now features directions with Australian slang phrases like "mate" and "chuck a left."
A new epoch in search results
*Google's search results show the time taken to load results in different units such as microfortnights, nanocenturies and epochs.
How does a pig say "April Fools"?
A new animal translator bridges the language gap between animals and humans.
Remember the 1980s?
Google Voice now includes "standard voicemail mode," for those who think modern technology is overrated.
API in evil mode
Google added an "evil bit" to its API to differentiate legitimate API traffic from malicious actions.
Google Wave wave notifications
New "wave" notifications for Google Wave have humans wave at you when Google Wave has been updated.
Java geek humor
Google Annotations Gallery, "an exciting new Java open source library that provides a rich set of annotations for developers to express themselves."
A really specialized Japanese keyboard
A new Japanese keyboard that looks like a drumkit and includes a single key for each Japanese character, including emoticons.
Next Up: Check out these related slideshows