Confessions of tech hoarders
How much hardware do you have hidden in your home's nooks and crannies?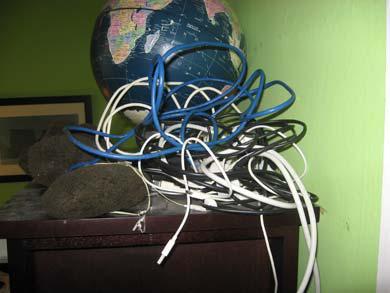 The A&E reality show Hoarders has become something of a sensation of late, with TV viewers tuning in to see the harrowing results of a specific kind of obsessive-compulsive disorder. The victims have difficulty throwing anything away, and end up living amidst piles of their own trash -- though they insist that they're "getting around to cleaning up" or that they "need" some of the obvious garbage they have on hand.
But much of the fascination of shows like these comes from the "there but for the grace of God go I" moment of recognition from viewers. And I have to admit that, while my living room isn't waist-deep in newspapers, I do have some definite hoarding tendencies -- and a lot of them revolve around electronics. Take that picture above up there. Yeah, that comes from my home office. It's on top of the bookcase near my desk, and it's my most high-priority pile of cables. Most of the things in there are things I actually use on a regular or semi-regular basis -- after I took the picture, I had to dive in there to dig out my camera's USB cable, for instance. But then there's stuff in there that's significantly less useful -- like a DVI-to-VGA adapter, which I would have last needed, oh, about 2005 or thereabouts?
If you want to go further down the rabbit hole of tech hoarding with me and a few other folks brave enough to have sent me their pics, read on!
Trapped in the closet
Here's the top shelf of the closet in my home office, where the "stuff that gets used less often" (i.e., never) lives. Up there are some Ethernet cables, which you can obviously never have too many of, especially when you live in a house with Wi-Fi available throughout. Then there's the old landline phones (my wife and I stopped using our landline when we got iPhones, but we still have a dial tone for emergencies, and you never know when such an emergency will arise), and, of course, a USB cradle for a Handspring Visor and a 220V-to-110V power converter. (Don't forget these; they'll come up again later.)
See also:
Facebook's most wanted
Beyond the smartphone battle: Seven patent lawsuits you should know about
Flops and vapor: 10 ways Microsoft tried and failed to rule mobile
A blast from the past
This is my top left desk drawer, and right there in the midst of an admittedly disorganized pile of stuff that I actually use fairly regularly is a Handspring Visor PDA, purchased circa 1999, last used regularly in late 2003 when I finally joined the modern age and bought a cell phone with PDA capabilities. I think I kept this because I planned to use it as a handheld calculator. You may have noticed that they have calculator programs on computers now.
While writing this article, I popped some new batteries into the Visor and -- what do you know -- it still works great. Of course, all my contact and calendar data is gone. Fortunately I still have that syncing cradle.
Headed for eBay ... any time now
And oh, what's this in this cubbie beneath my desk? That's my trusty G5 PowerMac tower, in exactly the space where it belongs -- except that it hasn't been powered up since I got my current MacBook in August of 2008. I keep meaning to wipe the hard drive and put it up for sale on eBay, though at this point it's pretty lame and out of date, and I'm not convinced anyone would buy it. Maybe I should wait another two or three years and it will become a valuable antique.
The last stop
Believe it or not, none of those previous pics include stuff that I have definitively decided to throw out. No, the equipment in that category has been banished to the basement, where it awaits a trip to the electronics recycling center that never seems to get organized. Pictured above in the computer equipment graveyard: non-functional speakers; a fried keyboard (milk and electronics don't go together, kids); a dead flatscreen monitor; a broken wireless hub; and a moribund inkjet printer that I purchased during a brief stint living in Germany (thus the need for the aforementioned 220V-to-110V adapter).
The sad thing is that this collection only represents material gathered since I moved into my current home in the fall of 2003. 18 months earlier, when I moved out of my California apartment on relatively short notice, I actually had to do a purge of a similarly diverse collection of computer crap, including a Mac SE/30 that I had dreams of turning into a Linux file server and a pile of external hard drives of varying levels of reliability. You'd think I would have learned my lesson once I got the chance to start with a clean slate, but apparently you'd be wrong.
But I am not alone in my affliction! Read on to see some of the impressive collections sent to me by readers with piles of stuff.
Get floppy
Steve Jobs famously signaled the death of the floppy drive in 1998 when he introduced the floppy-less iMac, but many of us still have disks and drives "just in case." (Yes, I said "us" -- I have a USB floppy drive connected to my USB hub right now, because you never know when you'll stumble across an old disk you need to see the contents of.)
The picture above was sent to me by Brenda Huettner. "I still have boxes of 5.25 disks. And probably a drive for them somewhere. Periodically, I go through my home office and rather than throw stuff out, I move it to the garage, so the cabinet in the attached picture only goes back to 3.5 inches. I guess I pretend that I'm just being practical -- why throw out something that still works? -- or that it's just a question of being prepared, like having an extra ink cartridge on hand. But honestly, there is also an element of frugality (or cheapness) -- if I ever did need, say, an extra internal 3.5" diskette drive, it would just about kill me to know that I had a perfectly good one and threw it out, forcing me to buy another. Or maybe I think that someday it will all be worth money on the antique market?"
The long arm of the law
Those laptops above belong to Ben Wright, who has a better rationale than most for hanging on to them. He's an IT lawyer and an instructor on investigations law for the SANS Institute, and he practices what he preaches. "I keep my old laptops, hard drives, and flash drives because they contain old electronic business records," he says. "The legal system expects responsible parties like enterprises to keep more electronic records, especially e-mail . Early destruction of business and professional e-records is dangerous ." (Those are links to Ben's blog, which goes into much more detail on those topics.)
"As the information age matures, courts (and government regulators) are expecting generous retention of other records such as text messages, spreadsheets and so on," he explains. "I predict that the courts will become even more demanding in the future. Many enterprises and professionals are surprised (even shocked) at how the law on record retention is changing. From my point of view as a lawyer who can get involved in audits, lawsuits and disputes, the cost of keeping old laptops, hard drives and flash drives is small compared to the risk."
10 percent necessary
Steve Burgess is another fellow who has a legitimate professional reason for holding onto the collection of archaic computers and storage tech that you see above. "Along with computer forensics , my main gig, I actually do data transfer and conversion. But I don't do that much of it. I would say that 80 percent of this stuff has been used once or twice by me, 10 percent has never been used by me but looked too good to pass up -- just in case -- and 10 percent does get used once in a long while, and I keep moving it around."
Sometimes just imagining an outsider's perspective on your pile can change your attitude towards it, though. "The funny thing is that, just responding to your request has made me look at much of this stuff in a different light," he told me. "Like, if I haven't used it in 5 (or 10) years, what is the point, really, of keeping it? I may do the unthinkable and clear some out." You and me both, Steve.
Creative reuse
We conclude with Brian Ghidinelli, who has found something useful to do with his old equipment. "My living room has a stack of eight or nine late '90s 2U VA Linux servers that were once used for my company but now have no home and nowhere to be sold. We use it as an end table. The stack is a mess of various 1U and 2U VA Linux servers with Pentium III hardware in them and one Compaq machine. We still run some of these in production today (for low powered things like DNS) but some have been decommissioned and/or are broken. At this point it's basically a salvage yard of old PC parts."
PC parts are, of course, not something one should dismiss lightly, especially for older hardware. "I could probably realistically get rid of half of them and just keep a few spare parts but the conundrum is that tech hardware goes through this inverse bell curve in pricing where initially it's incredibly expensive to purchase and over time the price decreases as new hardware comes out. But that trend reverses at some point when parts become scarce and pretty soon you're paying three to five times the original cost to get parts or surfing eBay and Craigslist to find a replacement. When we moved from a shelf to an actual rack at our colo facility, just the bloody rail kits were $100 a machine. For servers worth $100 each!"
But the latest tech trends may finally spell the end of Brian's unique interior decorating. "I'm currently looking to migrate my business to a cloud-based service like Amazon because it means no more physical hardware -- and thus, no more end table. You can't imagine how giddy that makes my wife."
See also:
Facebook's most wanted
Beyond the smartphone battle: Seven patent lawsuits you should know about
Flops and vapor: 10 ways Microsoft tried and failed to rule mobile
Copyright © 2010 IDG Communications, Inc.
Next Up: Check out these related slideshows