Products of the Week
Our round-up of intriguing new products from McAfee, Norton, Netscout among others.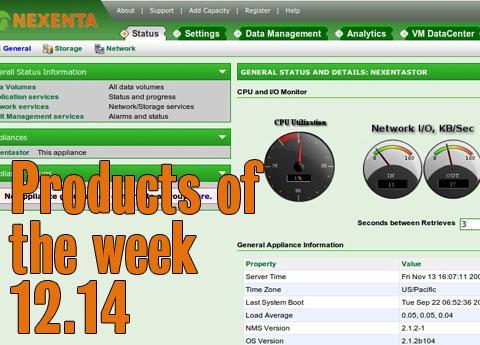 Our round-up of intriguing new products from McAfee, Norton, Netscout among others.
Product: McAfee NTBA
Key features: McAfee's NTBA, introduced as the T-Series T-200 and T-500 models, is an appliance that watches traffic flows at aggregation points internally on a corporate network to detect outbreaks associated with malware worms and botnets coming from devices on the network to be able to alert and block it through an IPS and access-control lists. More info.
Product: Fortify on Demand
Key features: Fortify on Demand provides integrated static and dynamic security testing for internal and third-party applications suite delivered via software-as-a-service. More info.
Product: Infoexpress' CyberGatekeeper 7.0
Key features: This latest version of software for the InfoExpress NAC appliances adds support for Windows 7, role-based guest access and better integration of the software with Alcatel-Lucent switches. So the devices can perform endpoint checks on Windows 7 machines, and can discern different classes of guests to restrict access more precisely based on role. For instance, a guest who is a consultant for the finance department could get different access rights from a mobile worker who usually works on the road but drops into a corporate facility for the day. CyberGatekeeper 7.0 also features custom reporting in formats that fit with customer platforms.
Product: Norton Online Backup Version 2.0
Key features: Cross-platform functionality for Windows and Mac computers supports Microsoft XP, Vista, Windows 7 and Mac OS X. Users can e-mail any backed-up file via download links sent through the redesigned Web dashboard. Ninety day file versioning saves previous versions of backed-up files for up to 90-days, so older versions can be easily retrieved. Advanced search allows users to search for backed-up files by name, date, size and/or type of file. More info.
Product: Cyberoam CR25ia and CR35ia
Key features: Offers stateful inspection firewall, SSL VPN & IPSec, gateway antivirus, antispyware, antispam, IPS, content filtering, bandwidth management and multiple link management. Appliances can be centrally managed through a console. More info.
Product: NexentaStor 2.2
Key features: New version of storage software based on ZFS file system includes additional support for virtual server management; virus scanning; an API for integration with databases; and support for Asian language search. More info.
Product: Local Cloud on Network Attached Storage
Key features: A hybrid cloud service that combines an on-premises NAS device with an online storage service to provide online and offline access to file and folders. Egnyte describes Local Cloud on NAS as a "file storage, sharing and backup solution that combines the speed and security of a local file repository with the access, flexibility and unlimited storage capabilities of the Internet cloud." More info.
Product: Gluster Storage Platform
Key features: An open source clustered storage platform. It runs on commodity hardware and clusters storage building blocks, aggregating disk and memory resources and managing data in a single unified namespace. A Web interface simplifies deployment of petabyte-scale storage to two installation steps and a few mouse clicks. Gluster, which was named last month by Network World as an open source company to watch , also provides tools to support virtual storage to complement virtual machine environments. More info.
Related story: 11 open source companies to watch
Product: AmberPoint Governance System
Key features: Monitors an application environment for changes and updates, discovering application components and resources. Further pricing info: $5,000 per CPU; and AmberPoint Governance Starter Kit starts at $25,000, which includes AmberPoint Governance System for two CPUs, SDK, training and consulting. More info.
Related story: AmberPoint offers apps governance
Product: InfoVista Vista360
Key features: Allows flexible and simplified management of operational and customer reporting; and enables business users to take advantage of InfoVista data. More info.
Product: NetScout nGenius Subscriber Intelligence
Key features: Provides mobile operators a comprehensive session-oriented view of the subscribers' experience for voice, video and data services. Further pricing info.: nGenius Subscriber Intelligence is deployed part of a unified solution with the nGenius Service Assurance Solution. Entry-level solutions start at approximately $200,000. More info.
Related story: NetScout delivers deep packet analysis in smaller package
Product: WatchGuard Managed Security Services Program
Key features: WatchGuard is promoting a program under which it authorizes managed security service providers to use WatchGuard security gear as the basis for managed security services. So providers would install WatchGuard devices at customer sites and manage them rather than customers having to buy and manage the gear themselves. The company sweetens the deal by giving providers a discount on the platform they need to managed the devices and authorizing them to return faulty gear without direct WatchGuard approval.
Product: NetVanta line
Key features: Adtran is announcing that it has incorporated into its NetVanta line the unified communications gear it acquired in August when it bought Objectworld. These include UC Server that integrates with third-party IP PBXs; Enterprise Communications Server that includes an IP PBX and UC features; and Business Application Server for integrate communications features into business applications. Adtran is bundling the UC server with a NetVanta 7000 switch, calling the package Business Communications System that includes a conference bridge and data-connector software to integrate communications enabled business processes that would otherwise cost extra.
Copyright © 2009 IDG Communications, Inc.
Next Up: Check out these related slideshows