Products of the Week
Our round-up of intriguing new products from F5, Crescendo, Citrix among others.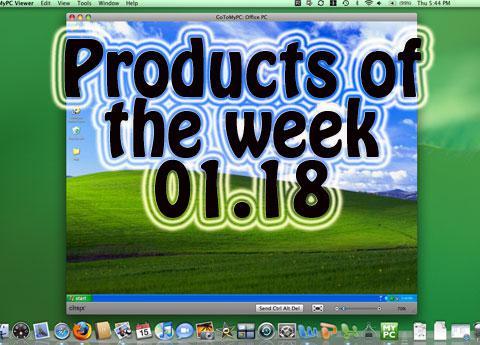 Our round-up of intriguing new products from F5, Crescendo, Citrix among others.
Product: GuardianEdge Encrypted Drive Manager
Key features: GuardianEdge Encrypted Drive Manager is enterprise-class software for management of TCG OPAL-compliant hard drives; offering a unified management approach for hybrid enterprises with both hardware and software based encryption. More info.
Product: MetaDefender for Media
Key features: Using eight antivirus engines MetaDefender for Media protects organizations from risks associated with infected files on peripherals like USB drives and CDs/DVDs. Available as software or a scanning station kiosk. More info.
Product: Storage Center 5
Key features: Compellent's latest automated tiered storage system with RAID 6 protection "reduces the time, cost and complexity of replicating data for disaster recovery purposes," and includes up to 384 SAS drives, virtual I/O ports, and automated deployment of virtual servers and clusters, the company says. More info.
Product: PB200
Key features: This is a new card for F5's VlPIRON application delivery chassis that boosts the throughput of a fully loaded box to 72Gbps, designed to prevent data centers from bogging down in heavy traffic. VIPIRON offloads SSL termination, compression, caching and TCP optimization from servers, improving their performance.
Product: Red Condor Version 7
Key features: Red Condor v7.0 powers Red Condor's family of antispam appliances and its hosted service. The software update includes new encryption and certificate management features that enhance the confidentiality and trust of e-mail communications. More info.
Product: DIGIPASS Pack
Key features: DIGIPASS Pack for Remote Authentication is a total solution for user authentication in a box. Available for five, 10, 25 or 50 users, including IDENTIKEY server software and DIGIPASS GO6 authenticators. More info.
Product: ActionPacked Networks LiveAction 1.8
Key features: Monitor network devices such as Cisco routers for potential configuration problems, find fixes to the problem based on embedded knowledge and then validate that the applied solution did actually fix the problem; and offers an alternative to command-line interface for network engineers. More info.
Related story: Network newcomer offers free Cisco router management software
Product: Crescendo Networks AppBeat SC Service Controller
Key features: Collects and stores networking, device and service-level information for up to 18 months; and offers customers the option to receive alerts via Twitter, e-mail or SNMP, with the benefit of Twitter access via mobile handsets as well as Web browsers. More info.
Related story: Blue Coat restructures, strikes a deal
Product: NitroSecurity Enterprise Security Manager (ESM) and Enterprise Log Manager (ELM) 8.4
Key features: Provides integration between comprehensive log and security event management capabilities; offers unified workflow and 'single pane of glass' view of operations for all security information and log management functions; and includes advanced geo-location tracking. More info.
Related story: Security appliance analyzes network behavior
Product: Advanced Systems Concepts ActiveBatch V7 Service Pack 2
Key features: Offers users the ability to trigger plans and/or jobs when an Oracle database is altered; supports a set of VMware Job Steps that allow users and developers to easily deploy and maintain VMware virtual machines; and gives SAP users tighter integration with ActiveBatch. More info.
Related story: Job scheduling software gets a facelift
Product name: NetWrix Change Reporter Suite
Key features: Securely managers and reports on system changes while automating auditing and compliance processes so that organizations may prevent security breaches and reduce risk; and combines change reporting products for Active Directory, Group Policy, file servers, SQL Server, Exchange and VMware into one auditing and compliance solution. More info.
Related story: 8 little-known technologies that instantly make Microsoft shops run smoother
Product name: Precise 8.7
Key features: Offers end-to-end breakdown of customer transactions from SAP portal to back-end storage; provides that ability to isolate performance issues across heterogeneous environments, including J2EE, ABAP, custom applications, databases and storage; integrates with SAP's Solution Manager and includes a new user interface to help isolate the most challenging performance issues. More info.
Related story: Precise upgrades app performance management software
Product name: Pillar Axiom Slammer storage controller
Key features: Upgraded version of Pillar's application-aware storage system doubles the cache, CPU power and virtual LUNs, quadruples the CIFS connections, increases backend performance and supports 2TB, 7200 RPM SATA drives. More info.
Next Up: Check out these related slideshows